Fortnite Battle Royal has just been announced for mobile devices. Everyone out there was waiting for this game to be launched from a very long time. Now the thing is that the players have to sign-up for the game in order to play it.
Players can enjoy the game where ever they go until they have an Internet connection. So, before wasting any more time of yours, let me tell you How to sign up for Fortnite iOS. And it's not iOS-only there, as soon you can enjoy the game on PC and Xbox ONE platform as well.
How to Sign Up for Fortnite iOS for free
Now, first of all, you have to follow the sign-up link that is given below in order to get to the website.
After that, you will see a screen like the one below. You have to click the Sign Up for Email Invite button.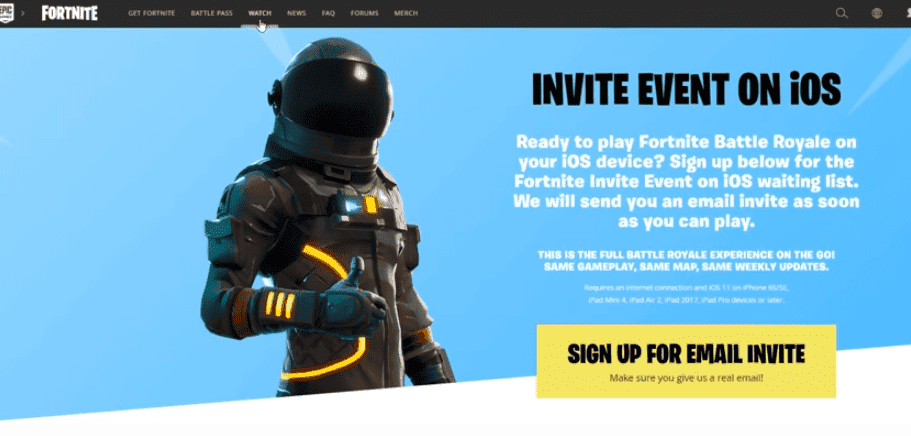 Once you click on that you will advance to the next page. It will prompt you to select the model of your iPhone.
Once you have actually done and signed up which is a simple process. It will say that we will send you an invitation link to download the game from the store as shown in the picture below.
If you don't get the invitation letter in a week then don't worry because it will take some time to add new players to the game.
So at the moment, it looks like this invite thing is going to take a long time. You just need to be patient at this time of the year.
Every week game developers are inviting thousands of people to the game. This might be due to the fact because if they invite everyone at once, it will slow down the game server and serious issues might happen.
However, the good news is that if you get invited to the event, you get 3 extra keys. Through these keys, you can invite any of your 3 friends to the event.
Finally, this was the easy way on how to sign up for Fortnite iOS. Keep visiting for future updates about the game.