If you are a 3d artist in Blender and work in 3D sculpting or modelling, you must be looking for a graphics tablet. As we all know, Blender is free and open-source graphics software for creating visual effects, art, 3D modelling, and motion graphics.
Working in Blender software requires a drawing tablet or also referred to as a Pen tablet. Well, using a Laptop or Desktop computer with a mouse can be sufficient to learn the basics techniques in digital sculpting.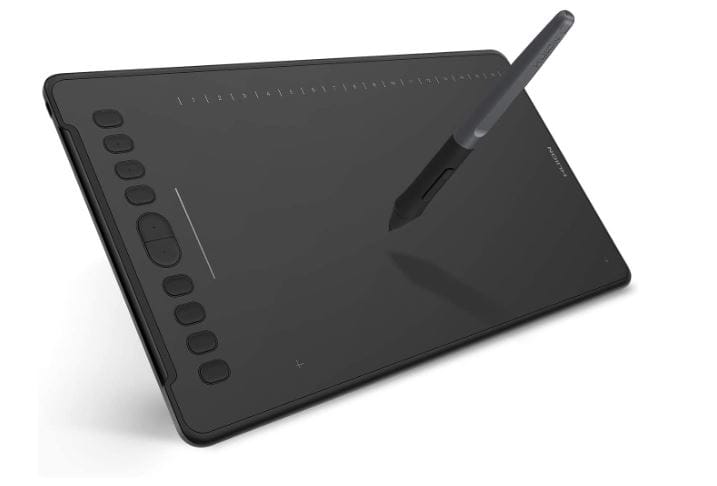 The HUION Inspiroy H1161 comes with an 11-inches drawing surface for having a paper-like experience while drawing your art in Blender. The 8192 levels of pressure sensitivity give you natural flow as you draw through it.
But a drawing tablet is a must if you want to take your skills to the next level and enhance your learning speed. Compared to the mouse, the drawing tablet comes with a pen that feels natural to use. It makes you feel like you are interacting with your characters and carving the details.
The benefit of having a drawing tablet and Pen is that you get unmatched control during the drawings and while working on graphics.
There are many options for choosing the best tablet for 3D modelling, but sometimes deciding which is better is great pain.
Many cheap alternatives float around in the market, but they will give you more trouble and are not worth spending your hard-earned money on.
So, what are the best types of tablets for 3D modelling, and what features should you look for? we will answer all of the questions in this article.
Many beginners have no idea what options are available in terms of digital drawing devices; they don't know which one is the more beneficial to their journeys as graphic designers or 3D modellers.
What is A Drawing Tablet?
A drawing tablet known as a pen- display shares several features with graphic tablets.
Graphic Tablets and drawing tablets consist of a drawing surface and a pressure-sensitive stylus. They use the same technology.
The main difference between both is their integrated screen. The LCD screen is incorporated into the tablet and works as your monitor and drawing canvas.
The drawing tablet can draw directly on the screen, making it a more intuitive option.
Drawing tablets are available in different styles, some have a standard touch screen on which you can draw and sketch, while others come with a pressure-sensitive touchscreen that feels more like paper.
The main reason is to replicate the natural drawing experience as accurately as possible.
Another difference between the two is that drawing tablets come with superior technology; hence they are more expensive than graphics tablets.
Do You Need A Drawing Tablet for Blender?
One of the biggest reasons to consider buying a drawing tablet for Blender is its sensitivity and precision in drawing and sketching.
Sculpting and texturing are the most suited tasks of a Drawing tablet, and you can reap so many benefits by having one.
The pressure sensitivity helps to adjust the brush strength and lets you draw with great precision. You will not get the same precision and clarity with graphic tablets. It's better to opt for a drawing tablet.
Review of the Best Tablets for Easily Drawing in Blender
If you are looking for a good quality product, we have the best five drawing tablets for you.
1. Huion Inspiroy H1161 – Overall Best Tablet for Blender
The Huion Inspiroy H1161 drawing tablet is compatible with Android phones and other android devices. It is a very slim and compact design with 11 inches drawing area made with premium materials is perfect for those who need a device so portable.
The Huion H1161 is the perfect tablet for any artist looking for affordability, portability, and premium quality. It comes with ten customizable press keys to match the shortcuts so you can draw without reaching over large distances.
It has 8192 pressure levels and 266 PPS lag-free report rates, giving you artistic experience with precise and natural drawing abilities. The Stylus uses USB Type -C for increased data transfer speed and power efficiency.
You can connect to your computer via a USB Type-C connection and carry on your work with no delay. The Pen tablet is compatible with Windows and Mac OS and the Android operating system.
You can use it with famous software like Photoshop, Illustrator, and Blender for 3D Modelling. It has ten press buttons, 16 soft touch buttons, and a slider to control the brush size.
The Huion H1161 is an impressive tablet; it is very affordable and packed with outstanding features. You should opt for this tablet without thinking if you are on a budget.
2. The Wacom Intuos Tablet – Best Value Tab for Designing in Blender
Wacom's creative tablets help bring a physical hands-on experience to creating digital art. The company is known for delivering the best professional tools and is still very affordable for illustration, design, and editing.
The Wacom Intuos tablet comes in two sizes small and medium. The small one comes with 7 inches and the medium one with 10 inches. The smallest one comes with or without Bluetooth, while the medium one includes standard Bluetooth.
This model comes with 4,096 levels of pressure-sensitive Wacom pen control for users. The Pen feels like a writing pen in the hands. It also has two buttons on the side of the tablet that can be customized.
It is made of black plastic material, which gives a similar feel to the keys on MacBook. The Wacom Intuos drawing tablet is a valuable tool for taking your creative skills to the next level with enough control and precision.
It is connected with a single wireless USB dongle. You will get the functionality of a traditional Pen tablet without any mobility constraints. You need first to install Wacom's software which allows you to customize the buttons, and you can view your battery life and other settings.
Set it up is very easy. You can follow the on-screen instructions from the software. It is compatible with Windows OS, Mac, and Android systems.
The Wacom Intuos is an entry into Pen and tablet-based photo editing on a budget. The tablet is handy for drawing graphics and illustrations. It's a very versatile tool for everyday use.
3. The Wacom Cintiq Pro 24 – A High-End Tablet for Blender Professionals
Anyone in art, design, and illustration knows the name Wacom. They made terrific graphic devices for years. The Wacom Cintiq Pro 24 has a display size of 24inches that can be used to draw with a wireless Pen.
It has 17 customizable buttons and a touch Ring for zooming in and out. Also, it has two fold-out legs for drawing, and an adjustable stand is also available. In addition, it requires a wired connection to connect to a computer to work, just like an extra monitor, but you can still draw on it.
The Wacom Cintiq Pro 24 comes with four externally accessible USB 3.0 Type-A ports, One USB 3.1 type C port, one HDMI 2.0 port, and one display port. The tablet has a robust design. It has a matte black finish and pleasing to the touch. It looks great to place on the desk.
Due to its enormous size, it is pretty heavy. The materials used on this one are not cheap, they look very premium. Setting it up is easy, with simple instructions to connect the table, and you start working in little time.
An excellent colour range powers it, and the brightness is terrific. The 4K displays are bright and sharp, and all the colours look fantastic. As a professional artist, you will love to work with it, giving you fantastic drawing and illustration experience.
4. XP Pen Deco Pro – Affordable Option for Blender Users
If you are looking for a drawing tablet, it's sometimes very tricky; there are various options for drawing tablets available in the market, and each claims to be the best.
Some of the tablets are cheap, but they cause a lot of pain and trouble, while the others are costly for their offer. Here we have the XP Pen Deco Pro, which is available in two sizes Small and medium.
Other than the size of the drawing area and price, there is not much difference. The tablet design looks excellent with a modern look, and it has matte black and metallic silver colour that complement each other.
When you hold it in your hand for the first time, it feels made with high quality. And it feels like they put a lot of effort into making this tablet; everything is well laid out with the use of excellent materials.
The tablet has a large drawing area on the left with buttons and a shortcut option on the right. There are rubber strips that grip the surface to keep the tablet placed on the surface.
The tablet is 16.5mm thick and just 7mm near the drawing area. As it is available in two models, small and medium, the small model is available in 9×5 inches, and the other model comes with 11×6 inches of work area.
The tablet comes with a textured surface, providing slight resistance to control the Stylus for drawing better. The shortcut buttons are convenient for making changes on the go and also minimize the keyboard's use, saving time and providing a fantastic drawing experience.
The Deco Pro has a very capable stylus with 8192 levels of pressure sensitivity as it supports tilt up to 60degree. The Stylus has an excellent design with metal at the back and silicone grips.
It has a matte finish which helps to hold the Pen better. The Stylus comes with two shortcut buttons on the side; pressing the button lets, you know the click has been registered.
These buttons are customizable and can be set to any shortcut in pen settings. If you want a large drawing area, a great stylus, a high-quality textured surface, wireless connectivity, a metallic build, and an attractive design, you should go for this tablet.
5. XP-PEN Innovator 16 – The Last Option
XP Pen new is one of the most compelling level graphics displays on the market. It is lightweight, solidly built, and highly customizable, all for a minimal price.
Also, it cannot be the perfect device in the market, but no other Full HD pen display offers this kind of experience. And it is solid metal with a space grey finish and measures 1.4 inches thick.
It is still very portable, and you cannot hesitate to take it anywhere you want. The innovator 16 features 15.6 inches pressure-sensitive drawing area with a built-in 1080 pixels screen.
There is a large bezel around the drawing area and shortcut keys to one side, it is pretty bulky measuring 17.5 inches wide and 10 inches tall. On its other side, there are eight keys as well as a physical dial.
It would help if you used the tablet on the desktop stand, which sits at a 20-degree angle. The tablet offers tilt sensitivity up to 60 degrees and 8192 levels of pressure.
The only painful thing is the three-way cable you must use to connect and power the XP pen innovator 16. A single USB-C connection into an HDMI cable for display, a USB Type-A for pen input, and another USB Type-A cable for power.
There is no USB-C to USB-C single cable connection. On the other side, the design is impressive, the buttons feel nice, and the mechanical dial is something great to adjust the brush size, zoom in and zoom out or rotate the canvas.
The most important part of a graphics tablet is its IPS panel, or the colours should be vibrant; that's how it feels to draw on it. The Stylus feels fantastic to hold. It's pretty thick with a smooth and grippy surface. It is not too heavy or too light to use for extended periods.
This tab is suitable for drawing, and the pressure sensitivity is very responsive. The Innovator 16 is an incredible device for drawing or illustrations with great specs that can outdo any competition at this price.
What Features do You Require in a Drawing Tablet?
1. Pressure Sensitivity
Drawing tablets come with different ranges of pressure sensitivity, such as 2048, 4096, and 8192. Simply put, the harder you press the Stylus, the greater the pressure level and the thicker the drawing line.
The most significant advantage of going with high-pressure levels is that it enables you to make finer distinctions in the thickness of lines, which is of great importance in high-resolution drawings. If you are advanced, you should opt for at least 2048 pressure levels.
2. Size of the Tablet
There are two significant factors to consider while buying a drawing tablet.
1. The size of the active area
2. The size of the device.
The active area means the space where you draw. A Bigger active size enables you to work and draw on larger drawings without zooming.
You should choose a device with a large active area to work comfortably.
3. Stylus Type
Drawing tablets mostly come with three styluses, Battery-powered, rechargeable, or electromagnetic resonance.
Battery-powered Styluses:
These are often thicker and extended to accommodate the battery. If you have this type, it's wise to keep extra batteries with you if the Stylus dies unexpectedly.
They are usually slim and can fit in your hand, they can be charged just like your phone or laptop, and you need a power source to Charge them before they die on you.
Electromagnetic Styluses:
They transfer power to the Pen wirelessly from the tablet, and you don't need to charge them. These are the most advanced type.
You need to ensure the Stylus is comfortable and fits perfectly. It is easy to grip and hold and doesn't slip while drawing for a long duration.
4. Controls
Most tablets enable you to customize buttons on the Stylus to perform tasks. It is a huge time saver, especially when you need to switch back and forth during the drawings.
5. Tilt Sensitivity
It is another excellent feature to consider. A sensor in the Stylus adjusts its display to produce different types of lines as you would with pencil and paper.
6. Battery
If you are a frequent traveller with your drawing tablet, make sure it has a battery life of at least 4 to 5 hours. There are so many companies out there that sell drawing tablets with great features and drawbacks.
Final Verdict
A blender is a convenient tool for drawing, illustrations, and all the graphics work. We have reviewed the best five tablets to use for Blender Software. All the tablets are impressive in terms of performance, design, and budget. You can choose any tablet from the list for a great drawing experience, as all the tablets come with great perks.