If you enjoy listening to music, you should get the best tablet for audiophiles. It is one of the painful experiences when listening to music with bad-quality speakers. If you cannot experience the emotions that the musician has put into the songs, it makes no difference which tunes you are listening to.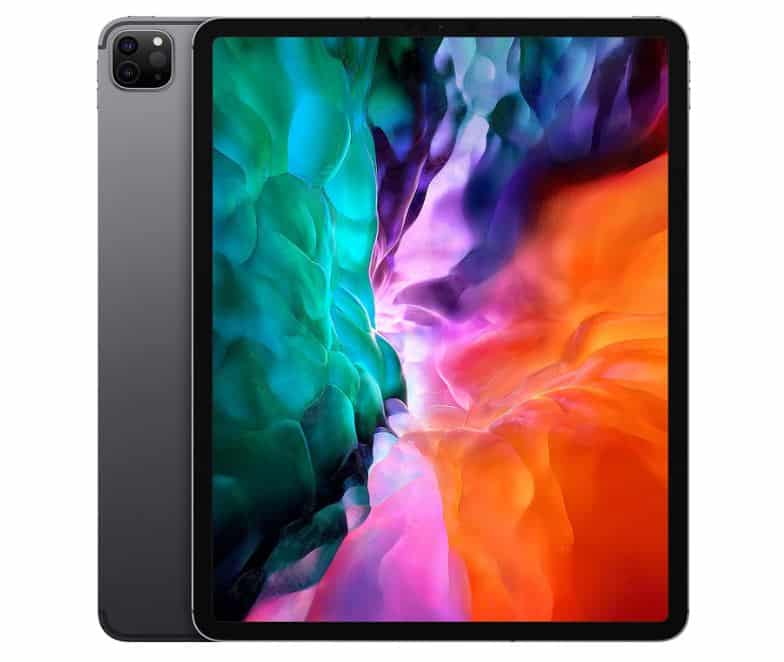 The Apple iPad Pro 12.9″ is one of the most reliable tablets for Audiophiles. It comes with a bigger screen enabling you to open multiple tracks in a mobile DAW workbench like Cubase, Garageband, and FL Studio.

The sound quality on the iPad Pro tablet is cleaner and much improved compared to previous generation Apple tablets. Audio on iPad Pro has a bass, punch, and a nice crisp to it.
You should be aware that not all tablets are manufactured for the same purpose. If you enjoy music, choose one of the tablets with excellent audio capabilities. You must know which tablets best suit your demands and what considerations to make when purchasing a music tablet.
Quick Shopping Tips
Good Speakers: When you are into music you can't do much without having good speakers on your tablet, the reason is listening to music is directly related to good speakers. Good speakers are vital to enjoying great-quality music, you should always pick a tablet with great sound quality.
Display: To watch your videos or other graphic content, you must ensure that the display size is sufficient. The bigger the screen, the easier it is to navigate, it's an important factor when buying a tablet. The reason is you are dependent on the screen size to view everything you do on the tablet. Always opt for a tablet that has a large screen size for an amazing viewing experience.
Processor & RAM: Music production, listening to music, or editing apps can use a lot of resources, which is why it's so important to look for a tablet with a lot of processing power. Try to find a tablet with at least 4GB of RAM if you are using the tablet for music purposes.
Storage space: Storage space is equally important when buying a tablet, you need enough space as a music lover to store your music files.
Bluetooth: For connectivity 3.5mm jack is used to listen to music with headphones. Now tablet manufacturers are shifting to wireless technologies. t is wise to consider the latest technology in the form of Bluetooth, which is, used for wireless audio. It does affect the listening experience if you use a Bluetooth-enabled device with your tablet.
Battery life: Finally, the battery life is of great importance, if you want to enjoy non-stop music you should have a battery that can last for longer durations. As a music lover, you can take your tablet with you anywhere so if your tablet is equipped with a weak battery, then you are not going to enjoy your music for a longer period. Always look for a tablet with great battery life, so you don't get any issues and pain while taking your tablet outdoors.
Review of the Best Tablet for Audiophiles
We will discuss the top tablets with True Master sound and other fantastic features without further ado.
1. Samsung Galaxy Tab S8 – Overall Best Tablet for Audiophile
If you are looking for a tablet for music then you should have a look at the Samsung Galaxy Tab S8. The latest Samsung Tab S8 looks pretty standard with black glass on the front silver metal and squared edges.
S8 Tab has a very sensible shape and affordable price and it still packs great features. The screen size is 11 inches LCD Display with no AMOLED.
But even with no AMOLED, colours are still bright, punchy, and sharp, and the 2560 x 1600 resolution packs plenty of detail. Samsung Tab S8 has no physical buttons on the front end, all of the actions can be done around the edges.
The S8 Tab runs on Qualcomm Snapdragon 8 Gen 1 processor, has 8 GB of RAM, and comes with a storage space of 128GB. Galaxy S8 Tab gives an excellent balance between productivity and portability with a manageable size and weight.
It has a 12MP front-facing camera and joined by a 13 MP rear camera, the camera is capable of producing 4K video recordings. While taking selfies with the S8 Tab camera does a great job, the images are sharp and clear.
Also, the microphone's noise reduction and auto-framing features improve video calling. The S8 camera quality is totally fine if you are somewhere with decent light, it can shoot amazing pictures without any doubt.
The Samsung S8 has the same fingerprint sensor, it has no 3.5mm headphone jack and relies on just one USB-C port. All of the tablets in the S8 line come with an S pen. It is made of plastic material and measures about 6.5 inches long.
Samsung's S pen is among the best in class with no lag as you write or draw anything on the 120Hz display. The panel boasts a 120Hz refresh rate with the same benefits of smooth scrolling.
In addition to the stylus, the Tab S8 does support a keyboard case, it is not included with the package, but you can get it by spending a little more.
For audio and music, you get quad speakers that deliver stereo sound firing of the top and bottom of the Tab. They are sufficient for streaming videos, gaming, and music.
The battery life on S8 Tab is excellent lasting around 12 hours which involves continuous web surfing. You can get an all-day battery even for more intensive work.
If you are looking for a tab for watching movies, taking notes and some light productivity tasks the S8 tab is an excellent choice and it will not disappoint you.
Pros:
Vivid display
S Pen Included
Solid performance
Excellent cameras
13 hours of battery life
Cons:
2. Apple iPad Pro – Best Value Tab for Audiophiles
The iPad Pro is fast than any other tablet on the market out there armed with a super-fast M1 processor making it a super machine for all kinds of jobs.
It is the best iPad you can buy one with a bright display, a superfast chip, and an improved camera from the last model. The new iPad has remote sensing technology also with a LIDAR scanner.
The iPad Pro is a performance tablet with an A12Z Bionic chip with 8-core graphics. Also, it comes with a dual camera system that has a wide lens and a LIDAR scanner, which offers a responsive experience.
The iPad Pro is identical to its predecessor and it's not as bad as you think. It has a 12.9-inch display for almost the whole screen with nice-looking narrow bezels on all sides and an ultra-slim profile.
The only port is on the right, the USB-C port for charging and plugging. The iPad Pro is missing a 3.5mm headphone jack which is a big miss for a machine like this and it is ideal for musicians.
iPad Pro comes with dual camera systems one with a regular 12MP wide-angle lens as well as a 12MP ultra-wide lens. The quality is not great as the iPhones but still, they offer something better for a tablet.
The Apple Pencil has a lovely matt finish and feels like a real pencil, it connects magnetically for storage and wireless charging. The iPad Pro has a True depth camera up front which enables Face ID for quickly logging into the device.
It measures the same as 11.4×8.46×0.23 inches and weighs a bit heavier than the previous one is 1.42 pounds. The iPad Pro tab has a liquid Retina display that is among the best screens on any mobile device.
It is bright and colourful and has a refresh rate of up to 120Hz. iPad Pro-Magic keyboard is a great accessory that makes the iPad Pro look like a laptop, it's an excellent keyboard but it's expensive.
If docking with the 12.9inch screen it will increase the weight of the device. The keyboard is amazing it has clicky keys that feel better and stronger to type on them.
The battery life is for 10 hours of wireless web surfing over Wi-Fi, it is still good that you can use it for most of your day with a single charge. We highly recommend the iPad Pro is an awesome device with ultimate performance, better cameras, and a longer battery.
Pros:
Trackpad support is useful
Improved microphones
Face ID
Lidar scanner
Fast A12Z Bionic
Brilliant display
Long battery life
Cons:
Same design as the previous model
Very pricey
Magic Keyboard is very expensive
3. Samsung Galaxy Tablet A7 – A Decent Tablet for Music Listeners
Samsung Galaxy Tab A7 is an entry-level tablet in terms of performance, it has the computing power of 8 core CPU. This kind of performance is sufficient for watching movies or gaming sessions.
This smart tablet has stereo speakers with Dolby Atmos support and a great battery to last for a whole day. The Display is 8.7 inches it relies on the TFT panel with a resolution of 1340×800 pixels.
Samsung offers the colours Dark grey and Silver, it is very compact in dimensions it fits well in hands but still feels heavy at 366grams. Despite the low price, the build quality is solid it has a high-quality exterior.
It is equipped with 3GB of RAM and 32 GB of internal storage, but it can be expanded via a microSD card. The Samsung A7 other features include a USB 2,0 port, Dolby Atmos speakers, and a 3.5mm jack.
The selfie camera is 2MP and the main camera is 8MP both can record videos with a resolution of 1920×1080 pixels. The main camera delivers good-quality pictures and shoots in good lighting conditions.
However, in low light or dark conditions, you don't expect good quality from a tablet that is of very low price. Samsung Galaxy Tab doesn't have a fingerprint sensor it offers only biometric authentication via face scan.
Pros:
Cheap
Lightweight
Access to the Google Play store
Cons:
Low-resolution display
Bad cameras
Sluggish performance
4. Apple iPad Air – A High-End Laptop for Audiophile Enthusiasts
The iPad Air is the 3rd Gen in the Apple family of tablets, it has a 10.5 inches display with thin bezels a faster chipset, and a high-resolution front-facing camera. You will get an A12 Bionic chip for much better performance and graphics, you can play games or work on graphics without any issues.
It comes with new options to its predecessor, it has large storage, compatibility with the Smart Keyboard cover, and doubles in performance. It works with the first Gen Apple pencil, not with the magnetic one.
Also, the optional smart keyboard doesn't light up like a MacBook keyboard which makes it hard to type in dark conditions. It has a laminated display which means there is no gap between the thin glass on the top and the LCD panel under it.
The screen is fitted right against the glass and it lets the colours pop. It also uses Apple's True Tone display technology to better adapt to the environment.
At the bottom of the iPad frame, there is a traditional lighting port that has no USB-C port like other latest models. If we have to talk about cameras on this tablet it has an 8MP front camera and 2.4 on the rear with auto HDR and autofocus.
Another good feature is its headphone jack if you are a music lover will rejoice for sure. iPad Air is a great choice it comes with great features and a great display size.
The new Ipad Air has thin bezels, a laminated screen, a True Tone display and an anti-reflective coating is enough to convince someone to pick it up.
Pros:
Brilliant screen
Cheapest Smart Keyboard
Fast charges
Cons:
1st Gen Apple Pencil
Traditional design
5. The Lenovo Tab M10 – Best Music Listening Tablet with High-Quality Speakers
The Lenovo Tab M10 Plus has a 10.6-inch display with a resolution of 2000×1200 pixels which boils down to 220ppi. The display is crisp, and clear and gets the job done, you can watch movies on Netflix or surf the web with a higher refresh rate.
The Tab M10 doesn't come with a Stylus, however, it does support the precision Pen 2. If you are a beginner artist and want an inexpensive device to take notes or draw then M10 is just for you.
The Lenovo M10 tablet is baked with a Mediatek Helios G80. It has 4GB of RAM and a storage space 64GB. You can run games like PUBG mobile with the highest possible settings but it is not capable to play highly demanding games.
You can still play light games with high performance for hours without any issues. Lenovo M10 is great for casual multitasking, web surfing, and watching movies or videos and it can handle such tasks with ease.
The Camera on Lenovo M10 comes with an 8-megapixel on both the front and the back. The only difference is the front camera comes with a mediocre LED flash. Photo shooting or video shooting isn't great on this one you need to spend more to get a great tablet for those purposes.
The battery life is great it will give you 13 to 14 hours when it's charged fully. Ultimately for long battery life, you don't need to worry about charging and it will keep you busy for a whole day also you can carry it around without any thinking.
Overall the Lenovo M10 is for someone who needs a big screen for graphic content and light productivity. It has a great battery life, it can be a great travel companion you can enjoy great music by plugging your headphones into the 3.5mm jack and doing other things.
Pros:
Bright IPS panel
Good speakers
Stylus input
Long battery life
Great audio
Cons:
Mediocre camera
Slow performance
20-watt power adapter
6. Microsoft Surface Pro 3 – The Last Option
Now features a gorgeous 12 inches display with a sleek magnesium body. If you are looking for a tablet for listening to music or music production then Surface Pro is the right choice.
It is the slimmest and lightest, Surface Pro 3 is a beautiful and very productive tablet with all the essential elements. You will stay productive anywhere you can just slip it into your bag and work anywhere thanks to its portability.
The Pro 3 offers laptop-like performance and you have a choice of Core i5 or i7 processors. It is a 4th Gen Intel Core i5-1.9GHz processor with Turbo boost technology up to 2.9GHz with Intel HD graphics.
Which delivers faster performance, the Surface Pro 3 cover provides great stability to work comfortably even on your lap or desk. The storage space is a 256GB Solid state drive, which is enough to store your movies, music files, and other product data.
You can also connect your peripherals and transfer files with a USB 3.0, microSD card reader, and Mini Display port as well. The Surface Pro 3 comes with a Surface Pen for amazing writing and drawing experience, you can use the pen to draw or markup the presentations or enjoy the art apps.
You can watch your favourite movies or shows on a brilliant Full HD display and enjoy Dolby audios as you stream video or audio songs or import your iTunes playlists. Also, you can connect your social content with free applications like Facebook or Twitter to stay productive and connected.
The Surface Pro comes with 5MP front and rear-facing cameras, It has Stereo speakers with Dolby Audio for an enhanced audio experience. Microsoft did a great job to scrap the Touch Cover and focusing on the mechanical Type Cover to provide a laptop-like typing experience.
Typing is much improved over its predecessors but still, you can't match it with the full desktop and laptop keyboard. The battery life is not so bad with continuous playback of videos and gaming you can still get 8 to 9 hours of battery life.
The Surface Pro 3 is very improved over its predecessors, the design is amazing, the display is gorgeous and the battery life is quite decent as well.
Pros:
Gorgeous display
Type Cover upgrade
Can truly do both
Easier to use
Improved kickstand
10-finger multi-touch support
Pressure-sensitive stylus
Cons:
Only one USB 3.0 port
Lacks full SD card slot
Runs hot
Final Verdict
After reviewing all six tablets for audiophiles, we can say, if you don't want to spend a lot of extra cash to get a high-end tablet, Microsoft Surface Pro 3 is a great choice, it has loads of features.
There are multiple reasons you can buy this Tab, it uses Windows OS, and as a music lover, you should be happy that it comes with Dolby Atmos for better audio quality than the average tablet.