We understand that choosing the perfect laptop can be a daunting task, which is why our meta serves as your ultimate resource, simplifying the decision-making process.
By exploring the best laptops with smart card readers, we empower you to make an informed choice, ensuring that your digital life remains secure without compromising on performance or functionality.
A smart card reader, typically integrated into the laptop's chassis, provides an additional layer of security by requiring a physical smart card to authenticate user access.
Smart cards, often in the form of small plastic cards embedded with microchips, contain cryptographic keys and personal information.
By inserting the smart card into the reader, users can gain secure access to various systems, networks, and sensitive information, safeguarding against unauthorized access and potential data breaches.
In this guide, we present a curated selection of the best laptops with smart card readers available in the market.
Our comprehensive analysis considers factors such as security features, hardware specifications, user reviews, and overall usability.
Whether you prioritize security above all else or seek a harmonious blend of security and performance, our guide will assist you in finding the perfect laptop that meets your specific requirements.
5 Best Laptops with Smart Card Readers
1. HP ZBook Fury G8 Mobile Workstation: Overall Best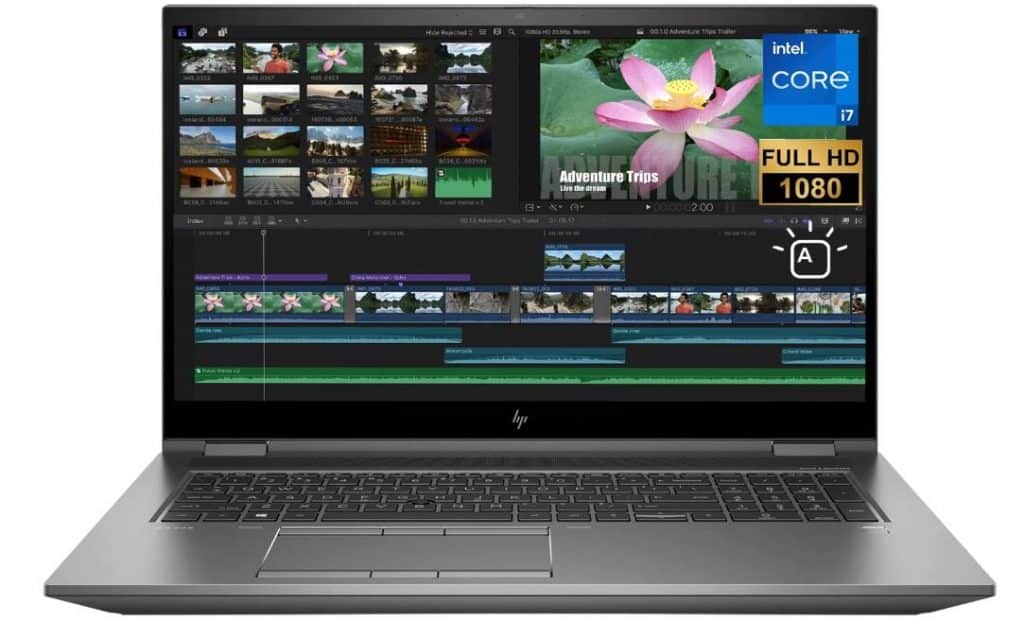 There is no doubt that the HP ZBook Fury 17 G8 ranks among the most potent business laptops available.
It has powerful internals that can handle any work you throw at it, and it flaunts a clean, minimalist design that quietly conceals its might.
The HP ZBook Fury 17 G8 is a delight to use for engineers and designers that work with complex 3D models and CAD files, making it simple to work on enormous files without a hitch.
Display
You have the option of customizing the ZBook Fury 17 G8's display, which can be as bright as a beautiful 4K panel with 550 Nits.
Our review model had an FHD display with a maximum brightness of 300 Nits and a refresh rate of 60Hz.
As the FHD panel seems like such a waste on such an outstanding device, we strongly advise you to choose the higher resolution panels instead if you are going to be paying such a hefty price tag.
Even though it only has an FHD panel, the display performs admirably in everyday use.
Performance
When it comes to performance, the ZBook Fury 17 G8 definitely doesn't skimp.
You are definitely receiving the performance you pay for because it can easily handle most applications, including CAD manipulation, 3D renderings, and video editing.
It has an Intel Core i7-11800H Processor (8 Cores, 16 Threads, 24MB Intel Smart Cache, 2.3GHz at Base Frequency, Up to 4.6GHz at Max Turbo Frequency) with Intel UHD Graphics installed.
When connected to one or more external screens, the ZBook Fury 17 G8 is a formidable competitor for engineering and 3D work.
Ports
Ports selection is ideal in this laptop, it comes with RJ-45, 2 Thunderbolt 4 ports with USB Type-C 40 Gbps signaling rate, 3 SuperSpeed USB Type-A 5 Gbps signaling rate, HDMI 2.0b, Mini Displayport, Headphone/Microphone combo, Smart Card Reader, Nano Security Lock Slot, Power Connector, Intel Wi-Fi 6 AX201 (2×2), Bluetooth 5, Fingerprint Reader, and Backlit Keyboard are all included.
Security and Stability
It's possibly the strongest laptop you can buy. It genuinely wants to be able to survive extreme temperatures, heights, sand, debris, mugginess, and chief-like stuns.
When we consider this laptop's durability, the multiple network ports you have access to, and the numerous security features that work to protect your information and personal data.
Battery life
Powerful computers typically have short battery lives. This laptop is made to be a workstation.
So, if you plan to use any software outside an office suite and a web browser, you will need to stay connected to a power source.
When working in AutoCAD without a power source, we achieved just under two hours of battery life,
So you can only do brief bursts of design work when in an airport lounge or client office before needing to plug in your power adapter.
It won't be too long to wait for a complete charge, which will take only a little over an hour.
You can get slightly more than six hours of battery life with Wi-Fi on and the brightness set to 50% if all you are doing is browsing the web or doing a little bit of email.
Pros:
Beautiful 4K display
A powerful Core i7 processor
Available ECC memory
Great serviceability and security
Cons:
Ultra-expensive GPU fails to impress
Wi-Fi 6, not 6E
2. HP Elite x360 1040 G9: Best Value HP Laptop with Smart Card Reader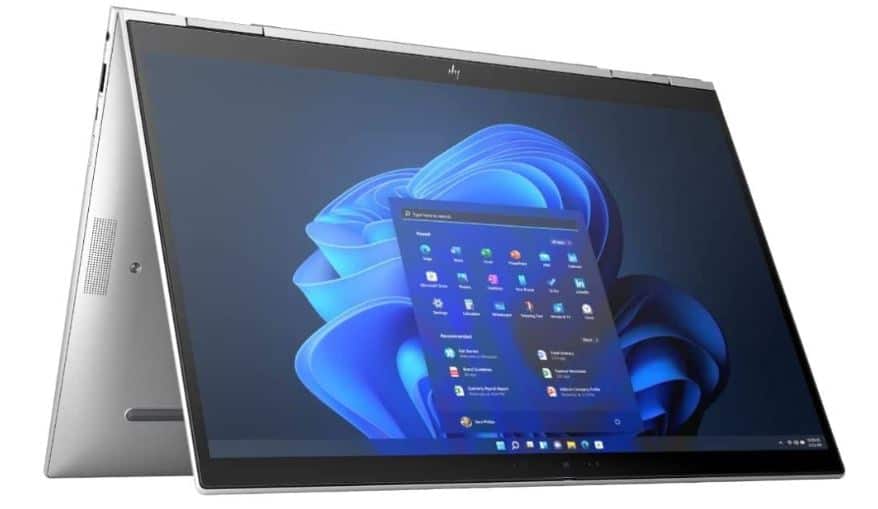 Explore the potential of greater mobility with the HP EliteBook 1040.
This workstation enhances PC design, connectivity, and security because it was made for dynamic workstyles and constantly changing corporate environments, wherever your job takes you.
It has extra HP Wolf Security capabilities in addition to business-grade security features including a fingerprint reader and TPM 2.0 module.
According to the X360, the screen may be folded around backward to convert the device into a tablet.
Display
The EliteBook 1040 G9 comes with a 14-inch WUXGA (1,920 x 1,200 resolution, 16:10) IPS LCD screen as standard.
There are various screen options available, such as one with a brightness of 250 nits, another with 400 nits, and a fancy one with 1000 nits.
Performance
A 'low-power' Intel Core i5-1235U CPU with two performance cores and eight efficiency cores is housed inside the HP Elitebook X360 1040 G9.
A fairly pitiful 256GB hard disc and (only) 8GB of DDR5-4800 RAM are placed on either side of it.
The HP Elitebook X360 will be highly competent at handling all types of office work (as well as a few more demanding tasks).
Additionally, it received scores of 1,328 and 7,102 in the corresponding Cinebench R15 and R23 CPU rendering tests. For a notebook this compact, that is also impressive.
Security
A number of security measures are included in the HP EliteBook 1040 G9, such as an Absolute persistence module, HP DriveLock and Automatic DriveLock, Power-on authentication, and TPM 2.0.
Also featured is a 720p HD webcam with a privacy shutter. By using an additional IR camera, Windows Hello capabilities can be added.
For biometric authentication, a fingerprint sensor can also be included.
Portability
The HP Elitebook X360 is sturdy and well-constructed, making it suitable for life on the road.
It just weighs 1.48 kg, and the power brick only increases the weight by 320g.
Even when pressed, the HP Elitebook X360 1040 G9 remains quiet and cool.
Battery Life
It achieved 10 hours and 54 minutes of battery life in the battery test.
That's longer than a whole day spent away from the office, which is what we anticipate from this class of ultraportables.
Ports
Two Thunderbolt 4 compatible USB-C 4 ports, an HDMI 2.0 port, a USB-A 3.2 Gen 2 port, and a SecurityCard reader are located on the left.
A 5G microsIM slot, another USB-A 3.2 Gen 2 connector, a 3.5mm audio jack, and an optional 4G microsIM slot are all located on the right.
This is the first laptop we have seen with Bluetooth 5.3, and it has Wi-Fi 6E inside.
Pros:
Compact, solidly built 14″ convertible
Long battery life
Smart card reader
HP Sure View Privacy Screen option
Multiple ports
Cons:
Expensive
Active Pen is not bundled
No privacy slider for the webcam
A lot of bloatware
Hazy display
3. Dell Latitude E7270 UltraBook: Affordable Pick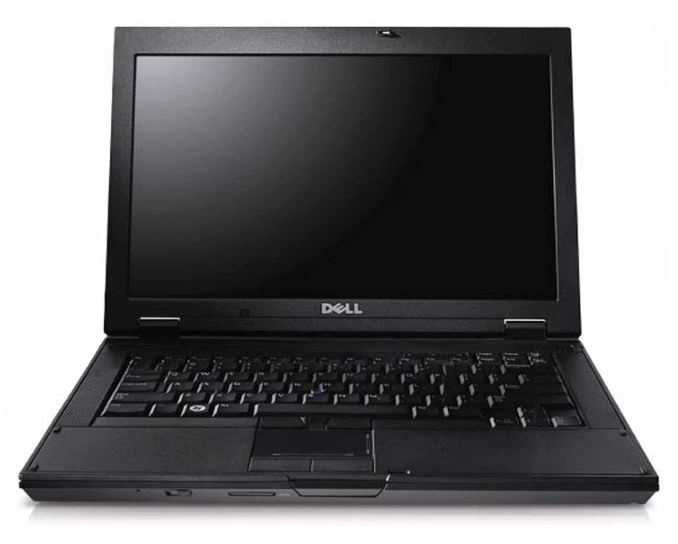 This 12-inch laptop can manage any workload thanks to its strong processor.
Configuration includes a 256GB SSD, a fantastic full-HD touch screen, and a Core i5-6300U CPU in a design that is both serious and pleasant.
The E7270 gives the presentation and speed you will need to get the job done, even though other business ultra-portables might be lighter.
Display
The E7270's 12-inch 1080p screen is sharp and beautiful enough for word processing and accounting pages, but it is impractical for enjoying historical narratives.
Processor
The Latitude E7270 is a quick, outstanding workhorse thanks to its sixth-generation Core i5 processor, 8GB of RAM, and a quick 256GB laptop SSD.
I had 16 Chrome tabs open, was writing in Open Office, streaming 1080p video from YouTube, and there was no discernible lag.
Security and Resilience
Dell claims that the Latitude E7270 has passed MIL-STD-810G testing, which indicates that it has passed evaluations for a variety of demanding conditions, such as resistance to drops, extreme temperatures, and high statures.
Similar to this, our study unit chose a Gorilla Glass display; however, this was an optional upgrade that came at an additional cost.
Ports
This laptop includes all the ports you need and more for expansion and peripherals, including connectors on all three sides and the back of the E7270.
The lock opening and smart card reader are on the left side, and the headphone and mouthpiece jack, smart card reader, USB 3.0 port, and SIM card slot are on the right.
Numerous additional ports, including the power port, two USB 3.0 ports, a small Display Port, an HDMI port, and an Ethernet port, are located on the back of the device.
Battery Life
The Latitude E7270 will support your entire workweek.
On the Laptop Battery Test, which entails using the laptop to browse the internet at 100 nits of brightness, the battery life was 8 hours and 10 minutes.
Pros:
Robust casing
backlit keyboard
bright IPS panel
SD card reader
Impressive battery life
Outstanding expandability
Good performance
Good components
12.5″ touchscreen LCD display
Cons:
Backports hard to reach
Weak speakers
Unremarkable webcam
Excessive cost
4. Dell Precision 7550 Mobile Workstation: A Fast Laptop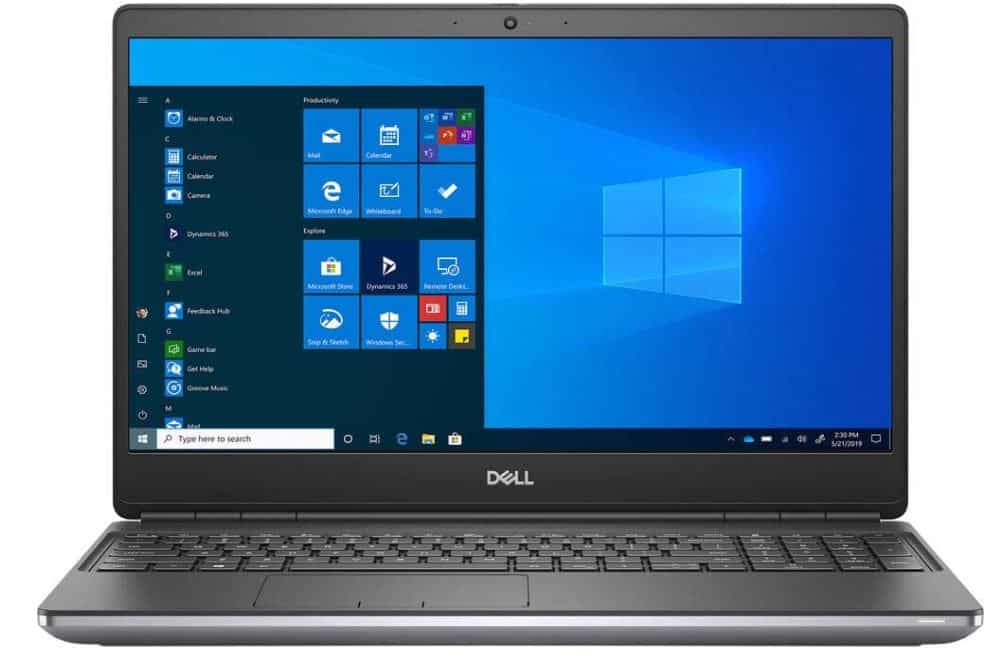 The Dell Precision 7550 is the first laptop on this list of the finest laptops with smart card readers.
As far as I could tell, one of the main considerations while compiling this list was that the laptop needed to include a smart card reader, and the Precision 7550 succeeds on that level.
Display
Unlike the carbon fiber-heavy ThinkPad P53, the chassis is MIL-STD 810G approved and made primarily of metal for a more durable first impression.
Its structure seems substantial, providing a longer-lasting impression than you would typically get from most consumer laptops.
Due to the new thin bezel design, the chassis is actually thicker than last year's Precision 7540 (27.4 mm vs. 25 mm), yet it has a lower overall footprint.
However, weight hasn't significantly changed, making the Precision 7550, at 2.8 kg, one of the heaviest 15.6-inch workstations available.
It has a 15.6 inch Wide View Angle Anti-Glare FHD (1920 x 1080) 60Hz 220-nits 45% NTSC Non-Touch Display.
The display of the Precision 7550 is an excellent 4K presentation, and it also has incredible graphics and CPU performance.
Performance
This computer has a 6-center Intel Core i7-10750H processor, 16GB of RAM, and a 6GB Quadro RTX 3000 graphics card.
All things considered, this device has a 512GB Laptop M.2 NVMe Class 40 SSD as part of its memory.
Ports
You have a lot of possibilities with this machine in the ports division as well.
In addition to two Thunderbolt 3 connections, a Dell clever card slot that supports two-factor authentication,
A respectable lock opening, two USB 3.2 ports, an earphone jack, an SD card opening, a Mini Display port for screen sharing, an HDMI 2.0 connector,
Moreover, with an RJ45 Ethernet port, you also have two USB 3.2 ports and two USB 3.0 ports.
Slot for Smart Cards
Speaking of security features, this laptop has Intel vPro technology, a contactless and contact smart card slot,
A fingerprint reader, an IR camera for Windows Hello, and express sign-in,
Which locks the laptop when you leave and opens it when you return to your desk or workstation.
Stability and Security
The Precision 7550 is among the most durable laptops available after passing 17 MIL-STD 810G tests.
It genuinely wants to be able to survive extreme temperatures, heights, sand, debris, mugginess, and chief-like stuns.
When we consider this laptop's durability, the multiple network ports you have access to, and the numerous security features that work to protect your information and personal data.
Pros:
Powerful performance and graphics
Bright 4K display
Amazing battery life
Comfortable keyboard
High-quality speakers
Super configurable
Cons:
The display could be more colorful
Costly
Not exactly an ideal console format
5. Dell Latitude 7410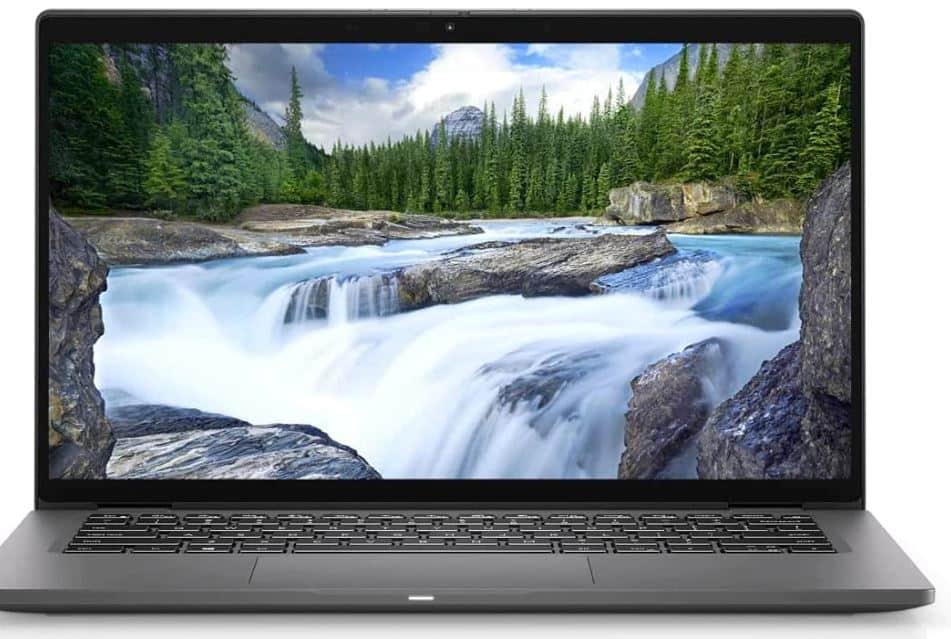 For a number of reasons, the Dell Latitude 7410 is regarded as one of the finest laptops for usage with a smart card reader.
The Dell Latitude 7410 is a genuine challenger in the corporate world with its powerful performance, host of security features, and outstanding battery life in a super-light design.
Display
The Dell Latitudes' 14-inch, 4K anti-glare display is an office powerhouse and a media creators' dream.
I never had any difficulty viewing this screen whether I was outdoors or indoors under regular lighting conditions.
Built-in Smart Card Reader
Users who frequently use a CAC will find the Dell Latitude 7410's built-in smart card reader to be helpful.
An external smart card reader is no longer required thanks to this feature. It facilitates mobile access to sensitive information.
Portability
The Dell Latitude 7410 is a compact, light laptop that is simple to carry.
This is crucial for consumers who require mobile access to their CAC data without carrying a cumbersome laptop.
Security
The Dell Latitude 7410 was designed with safety in mind and includes a number of safeguards to help safeguard confidential data.
For Windows Hello facial recognition, it contains an optional IR camera and a fingerprint reader.
The integrated smart card reader also provides an additional layer of security for users who need to access sensitive or private data.
Performance
The Dell Latitude 7410 has robust hardware that offers quick and dependable performance.
For consumers who must rapidly and effectively access and use their CAC information without lag or slowdowns, this is crucial.
It has an Intel Core i7 i7-10610U 10th Gen 1.8GHz Hexa-core (6 Core) processor, 16GB of RAM, and a 512GB SSD for storage.
Ports
The Dell Latitude 7410 features all the right ports. On the right, you will find a 3.5 headphone jack, two USB Type-A 3.2 Gen 1 ports, and a wedge lock.
On the left, there is a microSD card slot, a pair of Thunderbolt 3 connections, and an HDMI 2.0 port.
Durability
The Dell Latitude 7410 was designed for longevity, making it a great option for users who need to utilize their laptops in challenging settings.
It is made to endure the rigors of daily use as well as unintentional accidents, spills, and drops.
The Dell Latitude 7410 is a great option for consumers who need to utilize a Smart Card reader with their laptop because it is compatible with a broad variety of clever card readers.
Battery Life
The long battery life on the Dell Latitude 7410 is crucial for customers who need to operate on the road without being connected to a power source.
Users can use their computers and access their personal information without being concerned about running out of power thanks to a long-lasting battery.
Pros:
Attractive, compact design
4K Display
Great performance
Clicky Keyboard
Good battery life
Cons:
Upgrades can get expensive
Heavier than rivals
Conclusion
We reviewed the best five laptops with Smart Card Readers for you and provided you with detailed information about the advantages and disadvantages of each item.
Now it's up to you to choose any laptop based on your requirements and budget.