Are you a content creator looking for the perfect laptop to elevate your OBS streaming game? Look no further! In this article, we've compiled a list of the best laptops for OBS streaming on the market. Whether you're a gamer looking to stream the latest releases or a vlogger sharing your daily adventures, these laptops have the power and performance to handle all of your OBS needs.
From lightning-fast processors to stunning displays and plenty of storage, these laptops have it all. So let's dive in and find the perfect laptop to bring your OBS streaming to the next level!
What to Look in a Laptop Meant for OBS Streaming
There are several important factors to consider when looking for a laptop for OBS streaming:
Processor: A powerful processor is important for OBS streaming as it can handle the demands of video encoding and decoding. Look for a laptop with a processor from Intel's Core i5 or Core i7 series or AMD's Ryzen 5 or Ryzen 7 series.
Graphics: If you plan on streaming games, you'll want a laptop with a dedicated graphics card. Nvidia's GeForce GTX and RTX series and AMD's Radeon RX series are popular options.
Memory: OBS can be resource-intensive, so it's important to have plenty of RAM. Look for a laptop with at least 8GB of RAM, but 16GB or more is even better.
Storage: A solid-state drive (SSD) is generally faster and more reliable than a hard-disk drive (HDD) and will allow OBS to run smoothly. Look for a laptop with at least 256GB of SSD storage.
Display: If you plan on streaming content with high visual quality, look for a laptop with a high-resolution display. A 1080p display is a good minimum, but a 4K display will provide even better visuals.
Portability: If you plan on taking your laptop on the go, consider the weight and size of the laptop. A lightweight laptop with a slim design will be easier to carry around.
Battery life: Streaming can be resource-intensive and may drain your laptop's battery quickly. Look for a laptop with good battery life so you can stream for longer periods of time without having to be plugged in.
Price: Determine your budget and look for a laptop that meets your needs within that price range. It's important to remember that you don't necessarily have to spend a lot of money to get a good laptop for OBS streaming.
Review of the Best OBS Streaming Laptops
Here are some of the top options to consider:
1. HP Omen 16 – Overall Top Pick
Even the best gaming laptops make me think of vibrant lighting and red stripes when I think of gaming laptops. The Omen may just as well be dressed in a tux despite having a GeForce RTX 3070 Ti graphics card and an Intel Core i7-12700H processor.
Some of those improvements are superficial. The enormous touchpad is mushy, and the webcam, which is now more crucial than ever, is still set to 720p.
However, the Omen 16 is a fair rival if you want a gaming PC with lots of ports and aesthetics to match its strength. The display of the HP Omen 16 allows for some customization. The 2560 x 1440 resolution, 16.1-inch panel offers a 165 Hz refresh rate.
Making it perfect for live OBS streaming on websites like Twitch, IGTV, and Facebook Games. You might choose to exploit the RTX 3070 Ti to its maximum potential and play games at a more cinematic 1440p or decrease some settings.
A USB Type-A port, an Ethernet jack, and a 3.5 mm headphone jack surround those fan inlets on the left side of the device.
Another pair of USB-A ports are located on the right side. For the back are two Thunderbolt 4 connections, an HDMI output, and a power jack.
If you plan to leave the laptop at a desk for a while, the HDMI and power cables will probably remain connected.
It would have been nice if HP had reinstalled the Ethernet port there, possibly exchanging it out for one of the two Thunderbolt 4 connections.
The Omen 16 measures 14.54 by 9.76 by 0.89 inches and weighs 5.29 pounds. The arrow keys and a number of other keys, such as Home, End, an Omen key, and page up and page down, are separated from the rest of the QWERTY layout on HP's keyboard.
When not using a gaming mouse, the 5.2 x 3.4-inch touchpad, which is large by gaming laptop standards, makes it suitable for use as a mobile productivity machine.
Not that gaming laptops are known for having exceptional battery life, but the Omen performed about average in terms of endurance.
The Omen operated for 5 hours and 41 minutes on our test, which entails online browsing, light graphics work, and video streaming with the display set to 150 nits.
HP Omen 16 has 512GB of SSD storage, 16GB of RAM, a 12Gen Intel Core i7-12700H processor, and an Nvidia GeForce RTX 3070 Ti.
2. Lenovo Legion 5 Pro – Best Value Streaming Laptop
Among the greatest laptops for OBS streaming is the Lenovo Legion 5 Pro. It is the ideal gaming partner for anyone, whether they are playing Shadow of the Tomb Raider and battling robots or using OBS to stream their gameplay.
You won't even notice the Legion 5's 16.0-inch QHD IPS 165Hz display when using it for extended periods of time because it is reflective and so thin.
A 16-inch display with tiny bezels on the screen's sides and a narrow top bezel that is somewhat thicker and houses a 720p webcam.
Lenovo Legion 5 Pro is a gaming-focused alternative for individuals who want to have a good time with the greatest equipment available.
It is one of the quickest laptops available for home streaming. GeForce RTX 3060 6GB, Ryzen 7 5800H processor.
The resolution is 1920 x 1080, which is typical for modern laptops, but you can always increase it if you want to play games at greater frame rates or with better-quality settings.
A full-size keyboard with a number pad and chiclet-style keys, which have flat edges on three sides and a rounded bottom, is located on the right.
On the left side of the 5 Pro's housing, either off-centre from the keyboard, the trackpad is located.
With the exception of the fictitious line on the trackpad, where every interaction is registered as a right-click rather than a conventional click.
The 3.5mm combo microphone and the headphone jack are located next to the switch. On the right side, there is a typical USB-A 3.2 Gen 1 port.
A USB-C 3.2 Gen 2 connector with DisplayPort 1.4 capability is located close to the front of the housing, and a USB-C Thunderbolt 4 port is located behind it.
There is a Thunderbolt icon next to the rear connector to let you know that's what you will want to utilize for quicker transfer speeds.
On the rear of the laptop's housing is an Ethernet port, another USB-C 3.2 Gen 2 Port with DisplayPort 1.4 support and power delivery of up to 135W for charging the laptop.
An HDMI port and two USB-A 3.2 Gen 1 ports are placed in front of the USB-C port.
Finally, there is the charging port that uses Lenovo's power-in adapter. This is the charging port you will want to use during gaming or resource-intensive tasks as it provides 300W of power when paired with the included power supply.
The Legion 5 Pro has been fun to game on. The speakers provide plenty of output to overpower the fans without making you feel like you are making way too much noise.
The Legion 5 Pro's battery life in regular use was adequate for doing light work for several hours before needing to be plugged in.
3. HP Victus 15 – A Budget Option for Streamers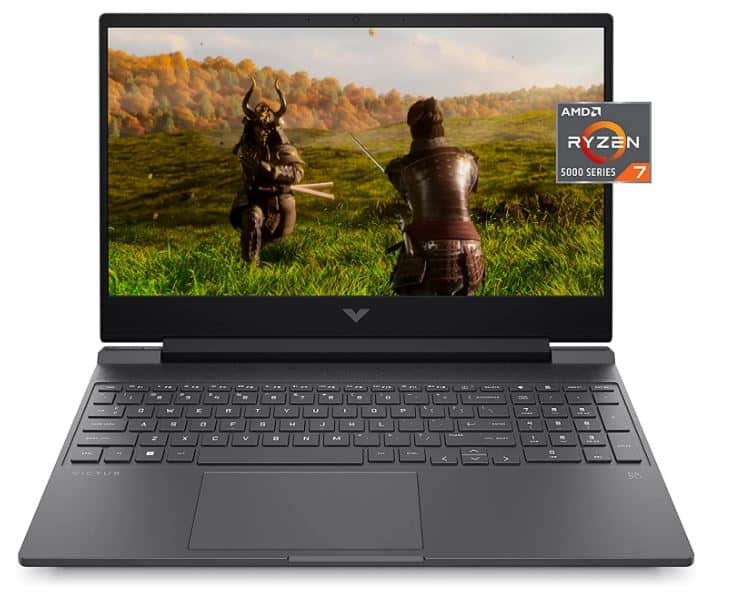 When considering a low-cost gaming laptop, the HP Victus 15 is what you should consider. One of the latest models in HP's growing lineup of low-cost gaming machines, the Victus 15 starts extremely affordable without compromising too much on specs.
The Victus 15 will be more challenging to fit in backpacks made to handle larger gaming laptops due to its size and durability.
The HP Victus 15 has a good assortment of ports and its 15.6-inch display is pretty good for the price, with solid visuals and resolution even in higher settings, and the 144Hz refresh rate is surprisingly good.
The bezels are perfectly fine but nothing particularly noteworthy, and the webcam is clear, so it will treat you well during OBS streaming sessions.
The keyboard is just as basic as its laptop's exterior and there is no backlight, which makes gaming in the dark a bit harder.
The keys, despite being a fair size and simple to use, are a little too smooth, which can occasionally trip you up and lead to more errors.
The 16 GB of DDR4 memory and an AMD Ryzen 7 5800H Mobile Processor offer desktop-level performance.
You can play all of your favourite games in amazing detail thanks to the NVIDIA GeForce RTX 3050 Ti.
Infuriating lag and visual ghosting can be reduced with a display that combines a 144Hz refresh rate and 1080p resolution for fluid, crisp gameplay.
Even when your gameplay becomes hot, the new thermal design is perfect for keeping your device cooled. You may now game or stream for a longer period without stuttering.
You can play at a higher level if you have a full-sized, all-in-one gaming keyboard with plenty of finger space, a bigger touchpad for accurate clicking, and a distinctive OMEN Gaming Hub key.
4. Lenovo Ideapad 3i – For Quality Streaming
If you are a creative professional, or you need a laptop for OBS streaming, you should consider investing in the Lenovo Ideapad 3i.
The Lenovo Ideapad 3i is one of the greatest lightweight laptops now on the market that is reasonably priced.
It enables you to carry out daily duties like reading your emails, browsing the web, making Zoom calls and streaming online without going over budget.
Due to its lightweight, the Lenovo IdeaPad 3i is immediately noticeable. Even though it just weighs 1.6kg, it seems like nothing at all.
Moreover, you would not hesitate to throw it in your bag on the way to work, the gym, or your neighbourhood cafe.
It isn't overly small, either; with a 14-inch screen, little more than 32 x 24 cm, and less than 0.8 inches (2 cm), it is a fair size for both work and plays.
We concur that the keyboard has a "stylish design," as advertised on a sticker.
When the lid is closed, this looks very similar to some laptops that are much more expensive because of the brushed metal surface.
It appears a little cramped because the keyboard only takes up a small fraction of the area.
The keys are consequently somewhat close together, but as they are at least comfortably sized, typing was often not an issue.
The 14-inch Full HD (1,920 x 1,080) TN display of the Lenovo Ideapad 3i has an anti-glare coating.
While that would appear to be a smart idea on paper, keep in mind that it lacks a touchscreen and doesn't offer the best visual quality for watching movies or playing video games.
With a maximum brightness of barely 220 nits, the video's colours appear washed out, and the contrast is minimal.
The two-1.5W speakers' audio quality is also subpar. The sound is really tinny and the bass is nearly nonexistent.
You shouldn't generally expect a high-end experience as this is an inexpensive laptop. An Intel Core i5-10210U (up to 4.2GHz) processor is included with the Lenovo Ideapad 3i.
You get 12GB RAM 512GB SSD storage, and integrated Intel UHD graphics.
Overall, the laptop is capable of handling the majority of computer chores, although we wouldn't suggest using it for demanding business software or resource-intensive operations.
However, it works flawlessly for routine tasks like responding to emails, browsing the web, viewing YouTube videos, writing essays and reports, and using programs like Google Calendar.
While browsing, we had no trouble opening many tabs, and we never experienced any significant slowdown or crashes.
The Lenovo Ideapad 3i was content to run many streaming applications at once, including Netflix, Spotify and using OBS.
The most costly ultrathin laptops typically have the least connectivity options, which is one of the ironies of the present market.
For instance, the expensive Dell XPS 13 only has four connectors. The Lenovo Ideapad 3i performs admirably in this regard, with seven slots.
The majority of these are located on the left side, where you will also find an HDMI port, two USB 3.1 (Gen 1) ports, two USB 2.0 ports, and a power connector.
A headphone jack, a Novo Button, and an SD card reader may all be found on the right.
This broadens the selection of connectors, but it's frustrating that there isn't even a single USB-C port.
Up to seven and a half hours of battery life are promised by the two-cell, 35Wh battery included with the Lenovo Ideapad 3i, and that seems about right.
With our rather demanding daily workflow of online browsing, emailing, word processing, software testing, and streaming videos, we were able to get between five and six hours done.
Also, read the full review of Lenovo IdeaPad 15.6″
5. MacBook Pro – A High-End Option
Despite having a similar appearance to its predecessor, Apple's newest MacBook Pro is the first to have the second-generation "M2" System on Chip.
Which is expected to provide up to 40% more performance than the original 13-inch M1 MacBook Pro.
The Apple MacBook Pro is another great laptop if you are looking for a portable device for OBS streaming.
The Apple M2 silicon has an integrated 10-core GPU and an 8-, 16-, or 24-gigabyte RAM configuration a useful increase from the original M1 MacBook Pro.
You still get Apple's illuminated Magic Keyboard with scissor key switches, a sizable trackpad with pressure-sensitive Force Touch, and perhaps shockingly, a Touch Bar.
Despite declining support, this once-promising technology is still available on the M2 MacBook Pro, offering a unique alternative to a touchscreen display that is more "traditional."
Additionally, the M2 chip's improved power efficiency allows for up to 20 hours of battery life, which is astounding.
The stunning 13.3-inch 2560 x 1600 Retina display is what photographers will find most appealing, while storage options vary from 256GB to 2TB.
This IPS LCD panel has excellent DCI-P3 colour space coverage and a high maximum brightness of 500 nits.
The one potential flaw is the relatively tiny 13.3-inch size, which, despite having good quality, may still be uncomfortable for extended sessions of picture or video editing.
This is an incredibly slim and portable computer, which is what we have come to expect from contemporary MacBook Pros. 1.4 kg in weight and 1.56 cm thick.
Apple's build quality is outstanding as always, and the gadget exhibits no noticeable bends or creaks despite being so thin.
While portability may benefit from the slimness, the physical connectivity is pitiful, with only two Thunderbolt/USB 4 Type-C connectors.
There is only one port left for connecting peripherals since one of these is needed to connect the charger.
Therefore, hauling around a second dongle will essentially negate the laptop's thin design and cost a significant amount more if you choose Apple's own USB-C Digital AV Multiport Adapter.
Conclusion
Nowadays, the majority of users stream content on their laptops rather than computers because they are portable and convenient to use. However, since streaming laptops are pricey, you must locate a good one at a reasonable cost. We have examined the top five cheap laptops for streaming in this guide. You may effortlessly stream content online using any of these laptops.