The Lenovo IdeaPad Laptop 15.6″ FHD is a mid-range laptop that offers a balance of performance, display quality, and portability. With its 15.6-inch Full HD display, Intel or AMD processor options, and integrated graphics, it is capable of handling everyday tasks like browsing the web, office work, and light multimedia consumption with ease.
The Lenovo IdeaPad touchscreen laptop is an inexpensive choice for handling the essentials, but that also means that it is super cheap.
If there is one thing to take away from this Lenovo IdeaPad review, it is that this is currently one of the greatest laptops available.
However, not because of its impressive performance or eye-catching design, but rather because it isn't outrageously pricey.
With a Lenovo laptop, you will definitely receive the most value for your money.
The IdeaPad must be worth considering if you want to spend as little as possible on a cheap laptop.
Undoubtedly, Lenovo laptops have become much faster and more sophisticated in recent months.
We will go into detail about why in our comprehensive Lenovo IdeaPad review. Although you won't be able to use it to begin a career in video production or play demanding video games.
It has a lot of great qualities that are worth emphasizing, such as fantastic TV and movie streaming options.
Additionally, it is suitable for processing emails, spreadsheets, accessing the web and other general computing tasks.
The IdeaPad is designed to be used at home and at school for a variety of tasks, including document typing and TV show streaming.
The Ideapad series provides more cutting-edge hardware in an equally portable size if you have a substantial task and require something with a little more power.
Lenovo IdeaPad Laptop 15.6″ Review
1. Design
Enjoy your photos, videos, and games with clarity on the touch-screen IPS Micro-Edge BrightView FHD (1920 x 1080) 250-Nits Display on the IdeaPad's 15.6″ screen.
Having the dimensions 14.17″ W x 9.29″ L x 0.70. The IdeaPad is comparable in size to other 15.6-inch laptops in the same class.
It is relatively thin and stylish, weighing only 3.52 pounds. The entire construction is of exceptional quality. The keyboard, the outside casing, and the hinge all have a premium, long-lasting feel.
The trackpad is also good, and the bezels are thin and barely noticeable.
The Lenovo IdeaPad's display is reliable whether you are surfing the web, writing an essay or just relaxing and watching movies on your preferred video streaming service.
Of course, Lenovo has been around for a while and that experience is evident in the IdeaPad's sturdy construction and comforting feel.
You get the idea that this laptop will endure forever because the screen hinge seems strong and the exterior plastic casing feels tough.
Since Windows Hello lacks a face-recognition camera or a fingerprint reader but does have a numeric keypad, you will be inputting passwords.
The Lenovo Vantage program centralizes hardware settings, Wi-Fi security, and file transfers from your old PC.
2. Power & Performance
Our IdeaPad review device had an AMD Ryzen 7 5700U processor installed.
It has an 8-core, 16-thread architecture, a maximum boost clock speed of 4.3 GHz, 16 MB L3 cache, and is more than capable of handling several standard computing tasks.
Because of the integrated AMD Radeon Graphics package, the laptop cannot handle graphically demanding jobs like gaming or video editing.
However, it works just well for the majority of computer-related tasks that the majority of us perform.
Although the review unit we received featured 24GB of RAM and 1TB of internal PCIe SSD storage, you can get by with this sort of specification.
On the Lenovo IdeaPad, we tested web browsing, emailing, and playing media, and each task moved along at a respectable pace.
However, if you really try to overstuff the laptop with many open applications or browser tabs, you can experience issues.
The AMD processor and the SSD storage ensure that you get some respectable speed for your daily computing duties.
Thus, the laptop is actually ideal for stacking up many images in Adobe Photoshop or trying to run anything but the most basic games.
The IdeaPad is light enough to be carried about easily and could easily get us through a full day of work.
It's important to note that the Lenovo IdeaPad was exceptionally silent during our testing, with the fans only infrequently firing up when the laptop was under stress.
In general, we discovered that the IdeaPad ran programs and websites efficiently. The built-in Dolby audio system won't be winning any prizes any time soon, but it's better than you might anticipate for a laptop at this price.
In addition, is more than sufficient for brief bursts of music or for the dialogue and sounds that accompany movies and TV shows.
As a media player, the Lenovo IdeaPad met all of our expectations.
3. Battery Life
A 3-Cell 41WHr Li-ion battery is included with the Lenovo IdeaPad. If you are willing to dim the screen a little, you will get more time between charges.
We were observing battery life of 3-4 hours with ordinary, undemanding use, but if you are happy to dim it a little, you will get more time between charges.
This laptop won't last all day without a power source, but it will work just fine for a train ride or an afternoon spent at a coffee shop.
Of course, other laptops have considerably longer battery life, but they also cost more.
In our test, two straight hours of video streaming with the screen at its brightest reduced the battery's capacity from 100% to 75%,
Indicating a total of 8 hours of video viewing if you don't use the laptop during that time.
That is not that bad at all, and if all you are doing is viewing videos, you can get through the day.
4. Ports & Expandability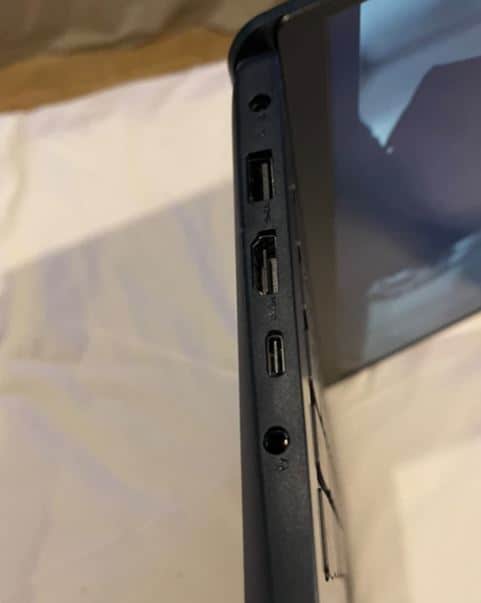 The IdeaPad has a wide assortment of connectors including 2x SuperSpeed USB Type-A, 1x HDMI 2.1, and 1x Headphone/Microphone Combination in addition to 1x SuperSpeed USB Type-C (USB Power Delivery)Jack and Dual speakers for Dolby Audio.
5. Keyboard
The best full-size keyboards in the business are found on Lenovo IdeaPads. The top row has keys for media control and microphone mute, but even with a numeric keypad included, the designers were unable to fit the Home, End, Page Up, or Page Down keys.
Instead, you must use the Fn key in conjunction with the cursor arrow keys, which are awkwardly arranged in a row in the HP style.
The keyboard has a drab and uncomfortable flat, plasticky typing sensation.
One of the nicest features of the entire IdeaPad package, the typing and trackpad experience is unquestionably worth repeating.
The Lenovo laptop is more than capable of handling a heavy workload of essays, reports, or spreadsheets.
Although it may not be made of the highest-quality materials, it feels sturdy and reliable and is ready for long work sessions.
6. Sound Quality
The audio system does the same. The audio coming from the front bottom edge speakers is faint and hollow even at maximum volume.
At best, the bass is muffled and weak; overlapping recordings are hardly audible. Rarely do you hear hard piano or drum beats?
By the way, here are some of the best laptops with good sound quality if you prefer good speakers.
With Dolby Audio software, you may select among presets for music, movies, games, and voice and experiment with an equalizer with little to no change.
7. Value
The Lenovo IdeaPad may seem like a very unimpressive laptop based on our evaluation thus far, but everything is relative depending on pricing, and this computer is really affordable.
Your Lenovo IdeaPad only costs you $769.99, but you can invest more to acquire a model with higher specifications and additional features.
Although you may spend more money on a laptop with a clearer, brighter screen, a longer battery life, and more powerful components.
The IdeaPad offers exceptional value for the money, which is why we are glad to classify it as a budget model.
The IdeaPad can be the best choice for you if you know what you are getting and what you are not getting from it.
REASONS TO BUY:
• Robust, durable build
• Comfortable typing experience
• Affordable price
• Touchscreen Display
• Dolby Audio
• Good connectivity options
REASONS TO AVOID:
• Average battery life
• Low-powered components
Conclusion
While the Lenovo IdeaPad has a few flaws, it also has some significant advantages, not the least of which is the current cheap price at which you can purchase the laptop.
It certainly checks the standards for price and toughness if daily computing tasks are your main priority.
The price must be taken into consideration primarily when evaluating the Lenovo IdeaPad.
You are going to get the touchscreen laptop at this price; however, we believe that the battery life could be improved.
In addition, you will get other great benefits such as overall usability, typing comfort and available connectivity options.
Moreover, the AMD Ryzen 7 5700U processor inside the laptop gives it high marks. This should be on your shortlist if you are looking for a cheap laptop.