Touchscreen laptops are the ultimate first choice and most favourite students because it is easier to type on a touch screen, take notes, draw and so on with single touch. The other scenario is because we spend most of our time scrolling or searching on our phones; we are used to typing, searching and reading using a touch screen.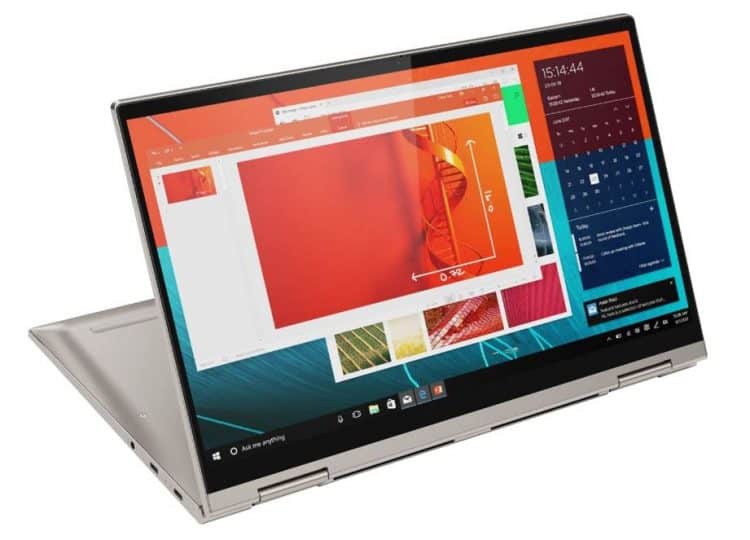 Lenovo Yoga C740 makes more sense for naming it a touchscreen laptop. You can twist the keypad away from you and use it as a tablet for watching movies or interacting with your routine files.

It comes with the most needed I/Os, a backlit keyboard, a fingerprint reader, and an amazingly smooth 14″ 1080p touch display.
There are numerous reasons why you might want a touchscreen laptop but I think we are capable and we find it much easier to work on a touchscreen laptop rather than a non-touchscreen laptop. In any case, there are a few things you might want to consider before switching to a touchscreen laptop.
There is an impression that touchscreen laptops are usually reliable and easier but they are quite expensive, this is not just an expression, it is the truth though but do not worry we have found some best touchscreen laptops under $500 for you.
Touchscreen laptops that are inexpensive and pocket friendly? Yes, the right laptop of your choice is now easier to find and accessible within your budget. But, before we share our list of the top 5 best touchscreen laptops under $500, you might want to look at some of the general factors before making the final decision about your purchase.
Key Factors to Consider in a Touchscreen Laptop under $500
These are a few important factors that are the core and backbone of any laptop. So either you are looking for a touchscreen laptop under $500 or you want to buy a heavy-end performer non-touch laptop; this information will help you find the best asset you wish with all features that are a must-have and will narrow down your search for the right one for you.
Screen & Resolution
Technically, you are only purchasing a screen, right? So the main focus should be how good it can display things, how fast and easy it is to navigate on it, what technology is being used on the screen and what is the size of your screen. All these factors of your touchscreen laptop will impact your user experience and navigation. So, a good choice will save you from the chaos you might face later on.
The best resolution to look out for is full HD resolution (1920 x 1080) or simply 1080p. This will give you a pretty good result and screen time. If you can get an IPS (In-Plane Switching) display screen, it will make sure you get the best view of angle and colours on your screen.
Additional Information: You might know it already, but touchscreens are generally smaller in comparison to non-touchscreen laptops.
RAM
RAM of your laptop makes sure that you efficiently run programs and multitask at the same time without facing buffers or lags. The minimum requirement for good RAM in almost any laptop is 4GB. For your touchscreen laptop, the requirements are the same and if you can grab a laptop with more RAM it will be an even greater option.
There are plenty of good quality touchscreen laptops under $500 that provides you with good screen resolution as well as RAM and other features, you will find out about them in our list later on.
SSD Storage
Another important aspect you need to look for is the SSD storage of touchscreen laptops. The SSD storage on your laptop helps with the speed of data transfer, switching to different apps, and multitasking.
SSD storage also determines the battery life of your laptop so the combination of a good RAM, SSD, and processor is very important when purchasing a laptop.
The minimum requirement for efficient SSD storage is 256GB and you know that more is always the merrier!
Processor
A processor acts like the brain of any computer or laptop. A good processor determines the effectiveness and performance of your device. Now, here is the tricky part, you can decide what type of processor you want according to the type of work you will be doing with it.
For example; if you use your laptop to just read, use Word to write, use social media apps, and watch binge-worthy shows on it, a normal processor would be enough for you. However, if you work on heavy-end projects, play games, or use heavy-end software your requirements for processors will be higher for even better performance.
A processor of Core i3 is the basic requirement for minimal tasks and Core i5 and i7 are considered to be really good processors for doing complex tasks and opening heavy programs.
Ports and Plugins
These are considered to be miscellaneous features but when the time comes, they are important and a must-have. So, according to your needs, look out for all the ports and plug-in options your laptop is providing you.
For example, USB port, audio jack, Wi-Fi, Bluetooth, USB-C port and so on. They are usually in there but get information on their features, what type of cables they can support and what type of devices you can connect them with.
"Necessity is the mother of invention", we all are familiar with this saying and it fits so right here because each innovation in the technological world is based on the needs of consumers. It also means that there is no good or bad device; it all depends on the needs of the person looking for it.
Touchscreen – is part of that necessity-based innovation. However, it surely has its benefits as well as drawbacks. To present a factual image for you, we are sharing the pros and cons of touchscreen laptops under $500 and touchscreen laptops overall.
Pros and Cons of Touchscreen Laptops Under $500
Pros:
The main convenience a touchscreen laptop provides you is the navigation – no mouse and keyboard hassle.
Switching between tabs and applications is made simpler.
A touchscreen with a stylus is a blessing in itself
Mostly suits artists to work easily on graphics, sketching, and architecture
Students find a touchscreen laptop more aiding while taking notes and working on assignments
It is the substitute for your traditional whiteboard
Cons:
Touchscreen laptops are indoor devices and work best only in dim lights.
Touchscreen laptops usually break faith by being unexpectedly heavier than they look – some people don't see that coming!
Touchscreen laptops are more expensive than non-touchscreen laptops
The average battery timing is far less than non-touchscreens
We tried to jot down each and every good as well as the non-benefitting side of touchscreen laptops. By now, you can fully understand the specs and features you want and need in your touch screen laptop that is also budget-friendly.
6 Best Touchscreen Laptops Under $500
We have also made a list of the top 6 best touchscreen laptops under $500 and tried to ease your search. All the below-mentioned laptops fulfil the basic requirements of a good touchscreen laptop on a budget. So make a choice that will ease your life – for good!
1. Lenovo C470-14 – Overall Best Touchscreen Laptop Under $500
Specifications:
· RAM: 8GB
· SSD Storage: 256GB
· Display: 14 Inches | IPS | 1920 x 1080
· Processor: Core i5 | 10th Generation
· Ports: USB 3.1 Type C x2 | USB 3.1 Type A x 1 | Audio Jack | Bluetooth 5.0 | Webcam | Wi-Fi
· Weight: 3.09 Lbs.
Lenovo C470-14 comes with the extravagant Core i5 quad-core processor which is more than enough for a person to do simple as well as complicated tasks on a 2-in-1 computer and laptop. C470-14 operates in windows and thus supports all the latest software, programs, and applications.
Now, after the processor, the RAM in Lenovo C470-14 is 8GB – which is more than enough – and the SSD storage is 256GB. In short, it has the capacity to meet your crucial hardware requirements.
If we talk specifically about its weight, it is around 3.09 Lbs. Which is the same as any reasonably portable laptop available on the market. We can say that it is neither too heavy nor too light.
Lenovo C470-14 comes with a 1920 x1080 screen resolution giving you a full HD display and it is equipped with IPS technology, Dolby Vision, and an anti-glare display – an ideal screen for a touchscreen laptop. The ports that come along with Lenovo C470-14 include Type A and C 3.1 USBs, audio jacks, and the latest models of Bluetooth, Wi-Fi, and a webcam for Zoom meetings or video calls.
Lenovo C470-14 is suited for students to attend online as well as on-campus classes, take notes, and complete assignments and for the entertainment purpose they can binge-watch their favourite shows on the go and all of that is possible with its 360 degrees of flip-and-flop design – it means it can be converted into a laptop, stand, tent, and tablet – effortlessly!
2. ASUS VivoBook – Best Value Sub $500 Touchscreen Laptop
Specifications:
· RAM: 8GB
· SSD Storage: 512GB
· Display: 14" Inches | 1920 x1200
· Processor: Ryzen 7 | 8 Cores
· Ports: Wi-Fi | Bluetooth 4.0 | Windows 10 | USB Type C | Backlit Keyboard
· Weight: 3.31 Lbs.
ASUS VivoBook is a unique and magnificent option you have got here. It is equipped with the AMD Ryzen 7 which is considered to be a very powerful processor with 8 cores.
Its 8GB of RAM and 512GB of SSD give you the power to run complex software and tasks without having any lag or buffering phase in between. If we compare it with Lenovo C470-14, it will beat it in terms of a more powerful processor and extra SSD that will eventually result in an even smoother performance of the laptop.
It weighs a tiny bit more than Lenovo C470-14 and if we talk about its screen size it's the same in both laptops – that is 14 Inches. But that's it, the screen size might be the same but VivoBook beats Lenovo here as well with the pixels and resolution of 1920 x 1200.
The glossy display is not the only charm of its screen, it gives you a wide view angle of 178 degrees to enjoy crisp images of anything and everything of your liking.
ASUS VivoBook comes installed with Windows 10 which can be upgraded to the latest version of Windows 11 upon need – it also means that there is nothing holding you back from installing the latest software and working with all the latest technologies on your laptop.
What we loved the most about this laptop is the 360 degrees EngroLift Hinge and mesmerizing backlit keyboard.
Overall, I think it can easily cater for the needs of people who want to do simple tasks like taking notes, watching TV shows, working with simple software, opening emails or simply browsing alongside those who want to run a bit more complex tasks like editing, working with different work-related software and so on.
3. Microsoft Surface Pro 4 – Best Budget Touchscreen Laptop
Specifications:
· RAM: 8GB
· SSD Storage: 256GB
· Display: 12.3 Inches | 2736 x 1824
· Processor: Core i5
· Ports: Wi-Fi | Bluetooth | Webcam | USB 2.0 x 1 | USB 3.0 x1
· Weight: 1.70 Lbs.
Microsoft Surface Pro 4 is one of the most unbelievably small, compact, and wonderful touchscreen laptops you will ever see.
Its screen size is relatively smaller than Lenovo C470-14 and Asus VivoBook but when it comes to resolution it beats them all with astonishing pixels of 2736 x 1824 resolution. You would never see something this crisp and clear at such reasonable pricing.
Surface Pro 4 also comes with 8GB of Ram and 256GB SSD which is fairly enough to run errands of your liking and the Core i5 processor combination here makes tasks smoother than ever.
Microsoft Surface Pro is beyond any doubt one of the most latest small touchscreen laptops that are designed to cater for the needs of users who are always on the go and needs something that is extremely reliable and light as a feather. Yes, you read it right, it weighs around 1.70 Lbs. Which is half the weight in comparison to Lenovo and ASUS.
It is equipped with type A and C ports for immediate connectivity and its front-view camera is as good as its screen resolution which will help you in taking online classes and meeting with utmost high-definition quality the latest Bluetooth and Wi-Fi connectivity makes it the best experience you can have with any small touchscreen laptops.
In short, the Surface Pro 4 is the deal you don't want to miss out on if you are specifically looking for a very reliable and top-notch touchscreen laptop.
4. HP 14" – Best Price to Performance Ratio Touchscreen Laptop
Specifications:
· RAM: 16GB
· SSD Storage: 512GB
· Display: 14 Inches | 1366 x 768
· Processor: Ryzen 3 | 2 Cores
· Ports: USB Type A x 2 | USB Type C x 1 | HDMI | Audio Jacks |
· Weight: 3.24 Lbs.
HP's laptops are known for being sleek and stylish and consumers love the touchscreen laptops. HP 14 is the latest model of touchscreen laptop launched by HP this year and people are loving it because they are getting the benefits of having a touchscreen laptop that is not only stylish but works well and is easily portable as well.
HP 14 comes with a RAM of 16GB which is the highest RAM we have on any touchscreen laptop listed here.
The more RAM means the more efficient the laptop's performance is and this feature is supported by 512GB of SSD storage and a powerful processor Ryzen 3 – making HP 14 the best laptop to play games, work on software and do assignments altogether and let people wonder what is buffering.
HP 14 has a 14 inches display screen – the standard size of touchscreen so far – but the resolution is comparatively lacking in comparison to all the above-mentioned touchscreen laptops we had so far. So, if you can compromise on this little part here, I think this laptop is the most efficient and pocket-friendly laptop on the list.
HP 14 supports the latest window 11 S and the best part after its processor and storage is its front camera which is known to give you a full HD display so you can have online meetings without being worried about a pixelated screen.
5. Lenovo Chromebook – A Budget-Friendly Touchscreen Laptop
Specifications:
· RAM: 4GB
· SSD Storage: 32GB
· Display: 15.6 Inches | IPS | 1920 x 1080
· Processor: Core i3
· Ports: : USB Type A x 1 | USB Type C x 2 | HDMI | Audio Jacks | SD Card Reader
· Weight: 4.37 Lbs.
Lenovo Chromebook was designed and made simply for making things easier for people in this digitalized and online world. This Chromebook is the cheapest laptop we have on this list and you can get it for $290 only. The main task of this Chromebook is to fulfil the needs of people in the most inexpensive way.
This Chromebook is operated on the Chrome Operating System – which is the new, simple and most secure platform offered by chrome. You do not have to worry about updating it because that is done by chrome every 6 weeks automatically.
Chromebook is known for being suitable for all types of online meeting solutions and you can do most of the things here which are typically done on laptops.
The SSD storage, Ram, and processor might not be what you were expecting but it does the job for what it was made for – to make your online experience easier and not be a burden on your pocket. However, the weight of this Chromebook is quite heavier than all other laptops on the list so far!
So, if you are a student looking for a laptop that is cheap and reliable I think this Chromebook is what you were looking forward to. Its features are way more justified than at what cost you are getting it.
6. Lenovo – IdeaPad Flex 5i – A Cheap Touchscreen Laptop
Specifications:
· RAM: 8GB
· Display: 13.3 Inches | 1920 x 1080
· Processor: Core i3
· Ports: USB x 1 | Wi-Fi | Bluetooth | Audio Jack
· Weight: 4.53 Lbs.
Our last pick on the list is Lenovo's IdeaPad Flex 5i, this laptop is also a Chromebook and is extremely pocket friendly. It shares similarities with Lenovo's Chromebook as well but it has more RAM than the Chromebook. It comes with a core i3 processor and it also operates on the Chrome operating system.
The weight of the Flex 5i is more than any other laptop on the list but if we look at its pricing and features I think we can get past this fact and look at how bright, crisp and amazing the screen provides us with. The 13.3 inches display is full HD and UHD graphics.
This Chromebook is not meant to use and operate high-end platforms but if you are someone who needs to attend classes and meetings or you want to have a laptop that is more like a tablet but not very pricey I think this is your best shot.
Conclusion
Touchscreen laptops are usually more expensive and give you less battery timing but we have tried to jot down a list of touchscreen laptops under $500 so you can choose the one that suits your needs, gives good battery timing and is inexpensive as well.
If you are very tight on budget and can't spend $500 I think Lenovo Chromebook is the best available option for you. However, if you can spend a bit more than the amount mentioned, you should go for ASUS VivoBook or Lenovo C470-14. But, if you need a touchscreen with extraordinary screen resolution, all you need is a Microsoft Surface Pro 4.
So, choose the one that best suits your needs and is pocket friendly as well, because managing finances is never easy and missing out on something important is also not a suitable situation. But, if there is a will there is always a way and a good laptop under $500 as well!