The world has gone digital and so do our needs. The notebooks have been replaced by notepads and a reliable and all-rounder solution; a laptop. Now, choosing the right laptop for the right profession is the key because after all, it is a long-term investment!
History students require a laptop with specific needs and to do history major assignments without worrying about the compatibility issue of your laptop and your assignment. However, choosing the right one is not a piece of cake now, is it?
Students with history majors need some specific software that helps them in studying, making notes, chapters drafting, doing citations, organization of sources and lastly, readings and a lot of it! All of the mentioned tasks are done on different computers and on different software.
Well, being a history student we understand that you might be struggling to choose the right laptop that can fulfil your needs.
It is completely your choice, but before making the final decision, there are some major technical factors that you need to keep in mind – of course alongside the budget – because you will be investing in a gadget that will be used for the next 4 to 5 years or even more and it will be with your through thick and thin.
In terms of software used by historians and students with history majors, we have created a list of top three software that are popular in the field and majorly used by historians that will give you a brief idea of what you need and what type of laptop will facilitate the needs of a historian – or future historian.
Leading Top 3 Software Used by Historians
1. Zotero
References are the key elements in research as well as writing. People who are affiliated with the field know how difficult it is to keep track of them. Well, historians surely know how to keep things under control and for that purpose the best-known software in the history field is Zotero. It is a reference management software that helps in the management of citations as well annotations and more.
You can use it on the internet as well as on your desktop. Another amazing feature is that it lets you keep a record of each note, book and article that you read throughout the whole research. You can save each and everything that comes your way, from the author's name to all Metadata and notes. Everything will be arranged and organized in the best manner possible.
Apart from all the good parts, there are two main and best features that are a lifesaver for all history majors. Number one is the Zotero extension that comes to the rescue when you do not want to leave iDiscover and save any book and notes of your liking. The second one is its Quick Add feature that helps in the management of citations with just a few clicks and everything will be sorted!
With all good features and top-of-the-line management of Metadata and organization skills. This software is available to use for free and it is available for all systems including Mac, Windows and Linux. So, all you need to do is download and search like a pro historian!
2. Trophy
When it comes to archival research, there is nothing better than Trophy in the field. It lets you save all archival data, photos, books, and diaries under one roof.
You can view more than thousands of images from your references or of your own here as a whole. If you want to add citations or other Metadata references it is very simple to do so here.
The customization is top notch and features are mostly similar to what we had already in Zotero; that's mainly because they are sister applications.
Not only can you create Meta data of the archival research, but with the help of its customization feature, but you can also create templates of your own liking, split screens and so on this platform with all the data on your hard drive.
Just like Zotero, Trophy is also up for free usage and installation. It also can be used in all types of systems available in the world be it Mac, Windows, or Linux. It will work for all.
3. Scrivener
Scrivener is a big name in the history field. With Scrivener, authors and writers can keep their notes, study material, citations, Metadata and almost everything in one place; safe and sound.
In writing, the focus is important and scrivener – keeping in mind this aspect – lets you work on a split screen where you can take reference through the material of your liking while also working on the project in the same window.
Not only that, it goes a little ahead in this game and you can use its cork boards – where you can keep the data, definitions, and notes – to work, edit and take references at the same time.
There are features that were added and formulated while keeping the need of a writer in mind and when you are writing thesis and important assignments you need something like this which is more of a blessing.
Scrivener is not a free application and it costs you a bit of money to enjoy all these features either on your MAC, Windows or Linux. Whatever works for you is the best!
These are a few software that is widely used by historians. Students with history majors usually use software like this. Apart from software requirements for historians, there are a few hardware features that you need to look out for while purchasing your laptop.
Review of the 6 Best Laptops for History Students
Here are the top options to consider:
1. Lenovo Yoga C940 – Overall Best Laptop to Study History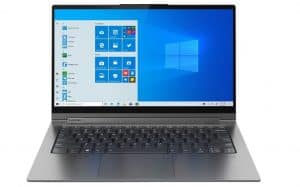 Specifications
· Display Size: 14 Inches
· RAM: 12 GB
· Storage: 512 GB
· Battery Life: 15 Hours
· Weight: 3.08 Pounds
Lenovo Yoga C940 is one of the slimmest and ultra-modern design laptops nowadays that comes with a 14 Inch touch-screen display. This gives students the leverage of not typing for almost everything and these features play an integral part while researching on several opened tabs.
It gives you RAM of 12 GB and SSD storage of up to 512 GB which is more than enough to run history-compatible software and complete all related assignments without any error. With this much RAM and SSD on a laptop, you can run simple too complex software with ease.
Yoga C940 weighs around 3.08 pounds which are considered to be an average weight for lightweight software. On top of all these amazing features, you get a 15 Hours of long life battery and if used carefully it can be extended to even more hours and every hour matters here, right?
Lenovo Yoga C940 is considered to be the latest model and so it is compatible with almost all devices, USBs and so on that are in use today.
Its operating system is Windows and it can support all the latest models of Windows alongside Wi-Fi 6, Bluetooth, 5.0, a touch screen laptop with a backlit keyboard, fingerprint reader, 3 display ports, Audio and headphone jacks, and a great 720 p visual Webcam to attend online classes and sessions without worries.
All these great aspects of Lenovo cost you around 1200 USD on Amazon and other websites. But, it's all worth it for a long-term investment, right?
2. Acer Swift 3 – Best Value Laptop for History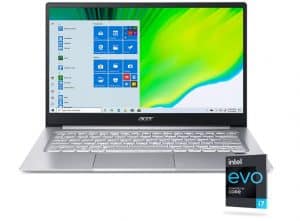 Specifications
· Display Size: 14 Inches
· RAM: 8 GB
· Storage: 512 GB
· Battery Life: 16 Hours
· Weight: 2.65 Pounds
Acer Swift 3 is one of those laptops that are equipped with all great features inside a very tiny build. You can carry your Acer alongside anywhere without feeling burdened. It gives you a 14 Inches ultra-thin display with LED backlit feature.
Acer Swift 3 is one of the very latest laptops and it is a Windows model. It has the compatibility with latest Windows 11 and Intel Core i7 and it gives you 8 GB RAM and 512 GB SSD which is more than enough to run heavy-end programs, best for data searching searching, data transfer and storage as well.
With Acer Swift 3 you can have a long-lasting battery timing for up to 16 Hours which is more than enough for a day, and to work either at home or at university without getting disturbed or getting into the hassle of worrying about the battery timing.
Acer Swift comes along with the latest Wi-Fi 6. Bluetooth, USB ports, HDMI, audio and headphone jack and it's very unique Fingerprint protection solution from theft and protection. If we talk about its weight specifically, it is around 2.65 Pounds which is even lesser than Lenovo's Yoga C940.
Acer Swift 3 and Lenovo Yoga are unique in their own ways. They share similarities and differences in their build and specifications however if we talk more comprehensively Acer gives you less RAM in comparison to Lenovo Yoga but what Acer offers here is also more than enough for a history student's usage and needs in a laptop.
Another important thing is that Acer weighs lesser than Lenovo and comes with fewer features, however, there is a whooping difference between their amounts which justifies all these differences and fewer features Acer. You can get your Acer Swift 3 for 700 USD from an authentic store or Amazon.
3. LG Gram 16 – A High-End Laptop for Historians with Long Battery Life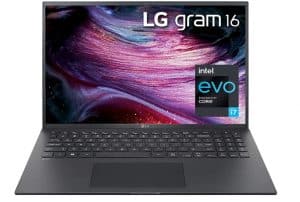 Specifications
· Display Size: 16 Inches
· RAM: 16 GB
· Storage: 1 TB
· Battery Life: 20 Hours
· Weight: 2.64 Pounds
LG's Gram is the latest model launched by LG and it is also one of the most recommended and highly used laptops due to its some really unique features and specs that makes it stand out from the rest.
The LG Gram comes with a wide and high-quality display screen of 16 Inches that comes useful in researching, reading or even working on several tabs and software or other platforms in one place.
LG provides an immense amount of 16 GB RAM and 1 TB SSD storage that can be extended to 2 TB. It provides history students with plenty of storage and space that they can store and use all these years' data and even more come without even thinking about more space and storage.
The speed and space give leverage to use any software, any platform and almost any high-end software to use in projects, assignments or even games for fun.
Because with space, storage and performance, you can have plenty of long-lasting battery timing as well. LG Gram can run up to 20 hours without being charged and all of this is thanks to its 2 lithium Ion batteries.
Now, if you want to carry it around, there will be no worries because it weighs around 2.64 pounds, fairly light enough and its weight is as much as its competitor Acer Swift 3 weighs. Simply put, it is light enough to carry around!
By now, you must have guessed it already, LG Gram is the latest 12th gen Intel core i7 laptop that supports the latest Windows 11 and pro as well alongside the latest Wi-Fi, Bluetooth, audio and headphone jacks, USB ports, display ports, card readers and whatnot.
There are two unique features that will make you want to get it right now, the first one is an HD IR webcam to attend Zoom meetings or online classes in the best webcam quality possible and the second one is its noise cancelling feature which will help you be on the screen seamlessly carefree.
The other two laptops; Lenovo Yoga C940 and Acer Swift 3 are also compatible and come with all features that a history student can benefit from but LG Gram here gives you all those features in plentiful size alongside some really advanced and futuristic features as well with being ultra slim and thin to carry around.
LG Gram is highly recommended to students who have a little extra budget of around 1600 USD. It seems a bit high but all these features are worth the money!
4. Acer Swift 5 – Best Price to Performance Ratio Laptop for Students
Specifications
· Display Size: 15.6 Inches
· RAM: 16 GB
· Storage: 256 GB
· Battery Life: 10 Hours
· Weight: 2.2 Pounds
Acer Swift 5 is the lighter and better version of Acer Swift 3. It weighs around 2.2 pounds – the lightest laptop so far – which can be easily carried around in university, cafés and anywhere, just like your phone.
Now not only that it weighs less than the Acer Swift 3, but it also comes with a bigger display screen of 15.6 Inches. Carry it around, do your research, make presentations and open several tabs all at once.
The RAM of 16 GB gives you leverage to use even more heavy and high-end software or programs to run on your laptop without worrying and the SSD storage of 256 GB makes sure you can save all the data in one place for years.
If we talk about Swift 3, it gives you around 16 hours of battery life; however, this feature is compromised here and you will get 10 hours of battery life, which in general is quite good and will be more than enough to last a day at the university.
It also gives you a backlit multi-touch display and a backlit keyboard to ease your research and writing assignments while working on multiple platforms at once, easy and reliable.
It also gives you the top-notch and latest Wi-Fi, Bluetooth, connectivity ports, display ports, and audio jacks alongside a power-off charging option at a price of 650 USD which seems rather less in comparison to what you are getting.
5. Asus ZenBook 13 – High-Performance Laptop for History Learners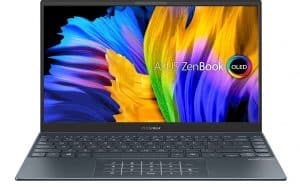 Specifications
· Display Size: 13.3 Inches
· RAM: 16 GB
· Storage: 512 GB
· Battery Life: 12 Hours
· Weight: 2.51 Pounds
Asus ZenBook 13 was specially designed to meet the needs and criteria of students and people who need a portable laptop to carry around.
ZenBook weighs around 2.51 pounds making it extremely lightweight to carry around to your workplace and college. Students of history majors or archival historians need to carry laptops around and they have lots of data to work with and store, ZenBook fulfils all portable needs in a perfect manner.
ZenBook 13 comes with a whopping 16 GB of RAM and 512 GB storage capacity making it an ideal laptop where you can run all applications and programs with ultra-fine smoothness and store the data without worrying about little or compact space.
Asus ZenBook 13 – once again – is the latest model launched by ASUS. It is Intel's 11th gen Core i7 with supporting Windows 11 Pro. No, it doesn't only stop here, you also get the latest Wi-Fi and Bluetooth technology, USB ports and HD IR camera alongside a Noise cancellation feature just like in LG Gram 16.
You can purchase this ultra-slim, high definition and seamless ZenBook 13 for around 1100 USD from any reliable store and make the most out of it by completing assignments, making notes, doing research and installation of your favourite software under one roof.
6. HP 15 DW – Cheap Windows 11 Laptop for History Students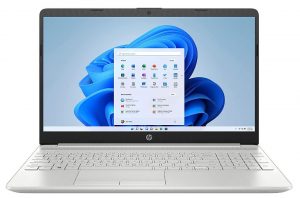 Specifications
· Display Size: 15.6 Inches
· RAM: 8GB
· Storage: 128GB
· Battery Life: 10 Hours
· Weight: 5.09 pounds
The last one on the list is HP's 15 DW. It is mostly rated for being a reliable and easy-to-use laptop. The 15.6 Inches display screen makes everything crystal clear for you. The screen is quite slim and visually appealing, making your research even easier.
HP 15 DW provides a RAM of 8 GB so that you can run all basic and most advanced programs applications without any difficulty. It also provides you with a storage capacity of 128 GB so save, download and reuse all documents later with ease.
It is Celeron quad-core styled making it appealing and worth the shot. And because this is HP's one of the latest models, it supports Windows 11 alongside all the latest models of Bluetooth, Wi-Fi, USB ports, Audio ports and so on.
Another great feature is a high-quality webcam that becomes highly efficient when used for online classes, the cherry on top is its noise cancellation feature that makes your virtual class as peaceful as it would have been in the classroom and even more.
HP 15 is quite a compatible laptop that is enriched with all basic features that a student of history might need in the future and it is highly recommended for those students who are on a tight budget because you can get this highly compatible laptop at a quite reasonable price of 380 USD.
Hardware Features to Look for in a Laptop for History Students:
1. Weight of Laptop
The first and foremost feature you need to look out for is the weight of your gadget. Students of history majors – and all other majors as well – need a laptop that is quite portable, lightweight, and easy to carry around.
Just like your phones, you will be needed to carry this important gadget with you almost all of the time. An ideal weight for a portable laptop is between 2-3 pounds.
2. Processor
Another great feature is the speed of your laptop which is usually determined by its processor of it. The better the processor is the more speed you will get, it usually means you will be able to complete projects and documents without worrying if your laptop will be able to pull up with the software while giving you high speed and performance.
3. Battery Life
Students of all majors usually and history majors especially need to have a laptop that gives them the longest battery timing. Carrying the charger is not an ideal situation and sometimes the situations are not favourable, so a laptop that will get you through and is good with its battery timing is a must-have!
4. Compatibility and more!
When purchasing a laptop, try to understand all features that it offers you. Is it compatible with the latest and oldest software? Is it compatible with the latest Wi-Fi, Bluetooth, and USB types and their port numbers, alongside whether is it wireless or not? All these features come in handy and are a necessity for history students in a laptop.
Compatibility, both in terms of hardware and software is important for students of history. Now we will share a list of laptops that are a perfect match for history students and will not let them down while downloading and working on any software that a history student might ever need.
Conclusion
Laptops are the gadgets and basic needs that a history student needs in its long-term learning journey and if the investment was right, it can go on for even longer. All the above-mentioned recommendations are highly compatible laptops for history students. If you can stretch your budget a little bit we highly recommend going for LG Gram 16.
However, if you are a little tight on the budget, we would recommend you go with Acer Swift 5 or Acer Swift 3, and if you are really tight on budget you can go with HP 15 DW. Whichever laptop you choose, just keep in mind that this will be the gear and gadget that will get you through everything in the journey of becoming a historian.