The HP Omen 15 delivers a number of appealing features at a cost that won't break the bank. If you are searching for a powerful gaming laptop that can also serve as your primary work or study machine.
This machine is far more streamlined than earlier models, even if it still weighs a few pounds.
While a few minor, nagging design decisions can be annoying on occasion, overall, this is a very positive experience.
I used the HP Omen 15 for a few weeks before comparing it to my rusty, older 2018 Omen and putting it to the test with the newest games and daily tasks.
After using the new version, it's clear that the situation has changed, as its superior CPU handling put it on par with the very finest gaming laptops now available.
For those looking to maximize features like graphics, display, and processing power, there are a few different configurations available.
However, no matter which model you choose, a few things never change.
The quantity of ports available also makes this a perfect option for content producers or streamers.
The HP Omen 15's 165Hz display is ideal for giving you an advantage in competitive games; the Omen Gaming Hub software gives you plenty of performance optimization.
In addition, the Nvidia GeForce RTX 3060 and RTX 3070 graphics card options available for configuration ensure that this will run just about any game you throw at it.
Of course, there are certain restrictions. You might find yourself bending the lid or the base if you apply too much pressure because the chassis has some very apparent flex to it.
Naturally, most laptops have some flex to them,
So unless you are determined to purchase a really durable device that can truly take a battering, this shouldn't present too many problems.
The HP Omen 15 also maintains impressively cool, but as a consequence, you have to put up with some pretty loud fans.
Again, this is by no means typical, especially when using gaming laptops to run resource-intensive applications, but some were noticeably annoying.
The HP Omen 15 stands its footing as one of the top "middle ground" machines at present,
The new HP Omen 15 shouldn't be considered a rival to powerful models like the Razer Blade 15 or Alienware m17 R4.
Instead, think of it as a robust stepping-stone for PC gamers, who want portability.
Alternatively, even as the ideal hybrid device for students or content creators who might benefit from its ports.
Although it may not be the largest fish in the pond, it definitely outperforms its price.
HP Omen 15 Gaming Laptop Review
HP OMEN 15 SPECS
| | |
| --- | --- |
| Laptop Class | Gaming |
| Processor       | AMD Ryzen 7 5800H |
| Processor Speed | 3GHz |
| RAM | 8 GB |
| Boot Drive Type    | SSD |
| Boot Drive Capacity | 512 GB |
| Screen Size    | 15.6 inches |
| Native Display Resolution   | 1920 by 1080 |
| Screen Refresh Rate | 144 Hz |
| Graphics Processor      | GeForce RTX 3060 |
| Graphics Memory         | 6 GB |
| Wireless Networking | Bluetooth |
| Dimensions (HWD) | 14 x 9 x 1 inches |
| Weight | 5.4 lbs |
| Operating System | Windows 11 Home |
| Battery Life | 9:00 hours |
Design
The HP Omen 15 will definitely make a positive impression on you if you dislike the customary RGB lighting and edgy aesthetics found in gaming laptops.
A blue/purple shifting foiled logo is visible when the lid is closed, but aside from that, this laptop looks like it would be appropriate for usage in the office or at a college.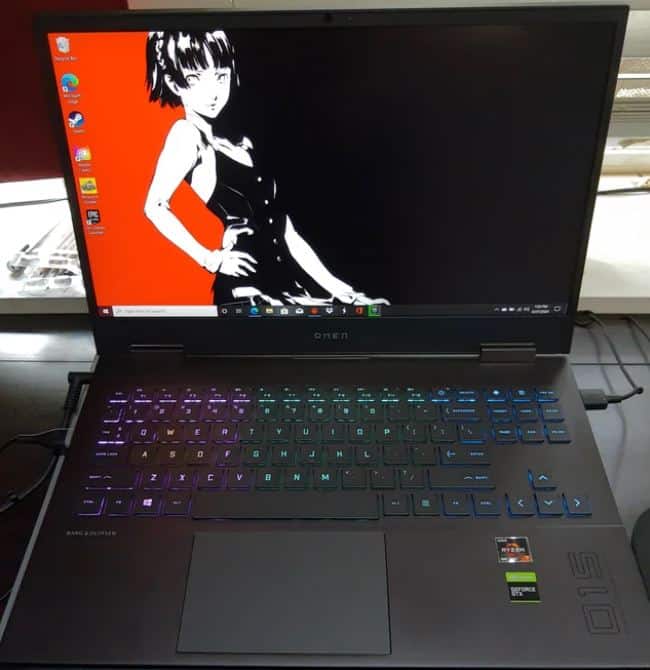 Even with the lid closed, the chassis has observable flexibility.
This is unlikely to be a problem as long as you don't routinely try to squeeze your device into the shape of a big sandwich.
However, we are hardwired to assume that anything that bends must be low quality.
Take what you will from the fact that the Omen 15 is a gaming laptop that is considered affordable in this case.
Although fingerprints are a problem on the matte black casing, they can be removed with ease.
We can easily observe where additional cost-cutting measures have been taken when we open the laptop.
When the lid is closed, the screen feels somewhat exposed because it is covered by a plastic panel that is far from "luxury" and the hinge is a bit floppy.
Despite small issues regarding the build quality and cost-cutting measures, the HP Omen 15 has lots of features, particularly when it comes to ports.
Connectivity
There is an HDMI port, a USB-A port, an Ethernet connector, a 3.5mm headphone jack, and an SD card reader built-in, and the port to charge the device is all positioned on the left.
You may connect the laptop to an extra display and a VR headset using the USB-C port, Mini-DisplayPort, and two more USB-A connections that are located on the right side of the device.
A USB microphone with an audio jack for headphones built-in may be preferred by streamers or broadcasters.
However, you have enough connectors to connect your preferred gaming mouse and headset as well.
Display & Keyboard
The HP Omen 15 weighs 5.4 pounds and has dimensions of 14.1 x 9.4 x 0.9 inches, making it slightly larger than average.
Although the laptop is heavier than the Razer Blade 15 (4.73lbs) and the Asus ROG Strix Scar 15 (5lbs).
We still found it to be fairly portable, especially considering that it is only a 15-inch device rather than a much larger 16 or 17-inch monster.
The HP Omen 15 display provides 99% sRGB coverage, which is another perk for creatives looking for an all-in-one solution, though we found it to be a tad dim in bright situations.
The RGB illumination on the keyboard isn't overly bright, and Omen Light Studio may be used to change or turn off the key colours.
If you choose the RGB option, you can also define a solid colour in this manner for usage in settings that are more formal.
It's enjoyable and responsive to type. Although there isn't a Numpad.
The keys you do have are clicky without being loud, and we found that they worked well for typing, gaming, and taking notes.
The power button's proximity to the backspace key raises some questions in our opinion, as it may accidentally power the device off or put it into sleep mode.
Performance
The HP Omen was incredibly silent while performing routine duties and even when playing light games.
Thanks to the new AMD Ryzen 5000 H-Series Mobile Processors, you can now enjoy professional gaming performance on a thin and light laptop with outstanding battery life.
HP Omen gaming Laptop comes with AMD Ryzen 7 5800H 3.0GHZ processor and NVIDIA GeForce RTX 3060 graphics.
The GeForce RTX 3060 lets you take on the latest games leveraging the power of Ampere, NVIDIA's 2nd generation RTX architecture.
Get exceptional performance with upgraded Ray Tracing Cores and Tensor Cores, new streaming multiprocessors, and high-speed G6 memory.
This Omen device also contains 8GB of dual-channel DDR4-3200 memory, a 512GB solid-state drive with Windows 11 Home.
Those fans did turn on during the most stressful times, but they never whirred for too long, and I didn't notice any especially alarming temperature increases.
The best gaming headsets, however, can simply block out that extra noise if you are worried.
That was a little surprising given that these less expensive slimline laptops frequently lack the inbuilt cooling systems needed to maintain a comfortable temperature.
However, the CPU is highly effective here, operating at a breakneck speed for both work and enjoyment.
Every game seemed to have a little more life thanks to the display panel, which provided an extremely brilliant image but occasionally sacrificed clarity.
Fans had to deal with games like Apex Legends and Doom Eternal.
Which occasionally dropped a significant amount of frames when the system wasn't configured to emphasize performance above all else.
I tried playing these games on a battery, but it's clear that this was not their intended use. Although playable, it's strongly advised to keep a power source close by.
When I focused on graphical elements that weren't as important as a smooth picture, the frame rates coming out of this computer still achieved 60 frames per second.
It was disheartening that games like Red Dead Redemption 2 and Metro Exodus required compromises in order to maintain 60 frames per second.
While you are getting a 1440p display here, it is important to note that more demanding games perform far better at 1080p.
So reserve your super-resolution for specialized games, work, and binge-watching.
Webcam
The webcam isn't very excellent, which is about what you'd expect from one included in a gaming laptop.
Even when utilized in a room with moderate lighting, the 720p 30fps camera struggles in conditions other than a bright one and produces a lot of grainy background noise.
This laptop will work for conference calls or online college classes. However, if you want to start broadcasting or streaming, we ask that you think about investing in a special webcam for streaming.
Although the built-in microphone is equally disappointing, it is extremely uncommon for laptops to be equipped with high-quality cameras and microphones.
If you simply require basic capabilities, even though the audio itself is a little lacklustre and the microphone picks up typing on the keyboard.
Battery Life
Our video test came back with an average of 5 hours and 30 minutes of video playback, which is acceptable for watching a few movies while travelling.
While this lowers to 3 hours 25 minutes for intensive games.
It takes roughly 2 hours to fully charge the laptop, but if you are concerned, stick close to a power outlet.
Pricing
The HP Omen 15 is available in numerous variants. Our evaluation configuration with an AMD Ryzen 7 5800H processor, 8GB of RAM and an Nvidia RTX 3060 graphics card comes in at $1099.
You will discover numerous configurations available depending on your region, including a few Intel versions.
If you need something a little more powerful then you can configure the Omen 15 up to a Ryzen 9 5900HX, an RTX 3070 graphics card and 1TB M.2 SSD storage then you need to pay a little extra.
Pros:
Fantastic 165Hz QHD display
Strong gaming performance
Great cooling, doesn't run hot
Muted 'gamer' aesthetics
Cons:
Flimsy-feeling chassis
The power button is precariously placed
No USB-C charging
Conclusion
The HP Omen 15 is a laptop that could create waves in the gaming laptop market. Combining a strong display with a good set of specs under the hood.
This system allows the Ryzen processor to sing, even if the RTX 3060 variant may need a few sacrifices on fancy graphical features.
Premium craftsmanship, long battery life, and an astute pairing of AMD and Nvidia components make HP's Omen 15 a formidable 1080p gaming machine with lots of CPU grunts.