How to Tell What Graphics Card I Have?.One of the worst things to happen life is when you are going to install a software or game in your computer and you don?t know which graphics card it has inside. Information regarding graphic card is really important before you install anything in your desktop or laptop. There are two types of graphic cards on-board graphics card and external graphic card like NVidia and ATI. If you are worried about how to tell what graphics card I have in PC or laptop then follow these instructions
Built-in or on-board graphics card
If you are using Windows 7 or Windows XP then follow these steps
Click the start button at the bottom left corner of the screen
Type DXDIAG in the search bar and press enter
After that box will open just like the one in the figure and click on ?DISPLAY? tab
Now you can see all the information related to your graphics car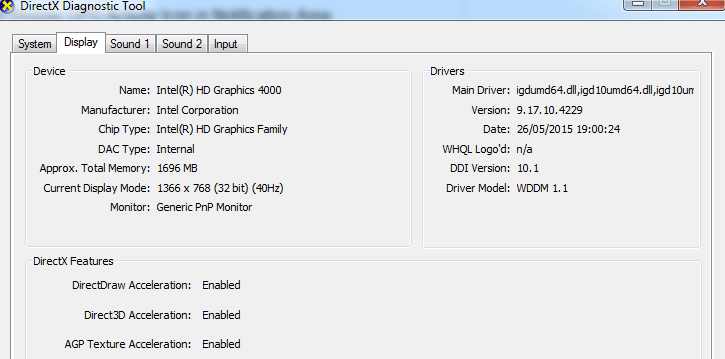 External Graphics Card
If you have installed an external graphics card like NVidia or ATI in your computer then follow these steps
If you have no drivers installed for your graphics cards then go to ?Control Panel?.
Look for ?System? icon and open it. Now click on ?Device Manager? at the top left corner.
Now a box will open here. All you have to do is to click on ?Display? tab and it will tell you which graphics card you have
IF drivers are installed
If drivers are installed then right click anywhere on desktop and select ?NVidia Control Panel?. After that click on the ?System? option at the bottom left corner of the screen. It will display the model of your graphics card and also the memory.
FAQS ? Frequently Asked Questions
How to Tell What Graphics Card I have in my laptop?
For a laptop as long it has Windows (XP, 7, 8 or 10) you can perform the same procedure as discussed above
Are there other ways to know about the graphics card installed in my system?
Yes you can install the software called GPU-Z to get all the information regarding your graphics card