Careem has taken a step forward in future by introducing new Careem Space program. Yes, I am not talking about anything moving on the road but a spacecraft. ?Wink 1? spacecraft from Careem has the capacity to transfer 3 customers and 1 captain at a time into space. Careem development team says they have taken a small step to develop this app and now they are ready to leap into unknown.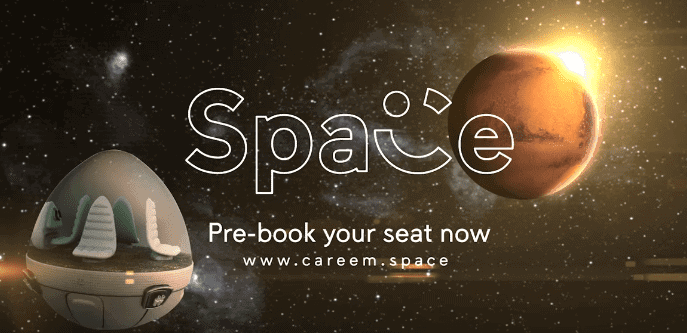 Careem Space Beta App
With Careem Beta app, you will able to book the shuttle to pick you up from the launch sites across the region to the outer space. The booking is so simple, all you have to do is to select the booking and you are good to go. Just select Moon or Mars and select the spaceship. You can also select the time and date of your travel.
How Careem Spacecraft works
Oh, you might be thinking that it will take tons of fuel to get you out there in space? No, Careem has adopted the latest technology called slingshot. This technology allows the spacecraft to achieve exponential speed at minimal cost. Along with SpaCe you get the same Careem features you always loved like intergalactic insurance, a speedy ETA of 0.0002 light years, trained Astro-captains, and rivalled value with prices starting from 180$.
Careem team said that it was always their core missions to fly to the Moon. And this time the dream will come true when the shuttle will carry the first flight to the moon. The app will be launched soon and it?s the best time to Pre-book your seats. Careem Space program is truly a game changer. The future of space travel is looking far better than it was a few years back. Seriously guys, for a price as low as 180$ to travel in space is blowing up my mind.