Have you ever thought about a notebook that is a combination of power, connectivity, performance, and long battery life all embedded within a thin metal body? HP Spectre 13 notebook is one of those laptops that is what we say is a killer machine.
HP Spectre 13 is one of those laptops with an Intel 8th Generation Processor. Besides just power jumps it is something more than what you might be thinking at the moment.
HP has redesigned Spectre 13 notebook keeping in view the latest technological trends in the market.
HP Spectre 13 Notebook Reviewed

Design
HP Spectre 13 is not that much different than its previous model however this time it has some additional changes like 13.3 inches display over the metallic hinges which in turn are attached to the carbon chassis and aluminium.
At first impression, it shows that the device is more angular and leaves a smaller footprint. Edges on the notebook are somehow sharp or we might say that not too sharp.
HP Spectre 13 comes in copper and dark colour at the moment and we might see ceramic white and gold colours in some countries as well. HP crafted a beautiful matte white finished look at the lid and chassis.
Touching it feels so good and gives a smooth feeling to you while leaving nearly no finger marks on the body.
Touchscreen
Good news for the people who were thinking about the touchscreen of the previous model of Spectre might taste the sensing feature this time in Spectre 13.
The touchscreen on the laptop is fast and allows you to switch between different tabs fast but somehow touch feels a bit unnatural on some occasions.
The response of the touch screen is great and you don't need to touch it again and again over the same place to do your tasks. Well, this is not enough. Okay, this screen features 4K configurations to make things crisp up.
Ports and Other Stuff
The Bezels around the touchscreen has been shrunk while the larger bezel at the bottom remains larger than the other areas.
The HD webcam stays at the top area to give you access to video chatting and recording your videos.
Just below the hinge comes the redesigned speaker that gives a lot of space to the keypad and trackpad. To prevent the device from heating way too much, HP designed the IR thermal sensor to keep the device running safely at decent temperatures.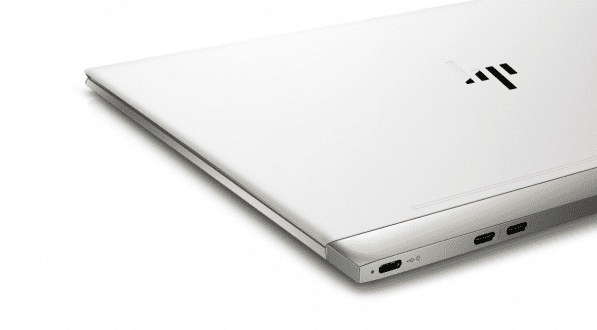 The position of the ports hasn't been changed and the thunderbolt port along with the USB 3.1 ports and audio combo jack are present at the back edge.
Power Button is placed below the speaker grill and at the top left corner over the keyboard area and looks pretty decent with the overall design of Spectre 13.
The one thing we missed really at this point is the fingerprint sensor. If there was one for sure then things might be more spiced up. HP Spectre comes with IR Webcam to recognize your face to login into windows
Keyboard
Thanks to the replacement of the speakers we will see a spacious keyboard spread over the edges of the laptop. It really feels comfortable while typing on the keyboard.
The keys light up only when you are engaged in typing your work. HP really has innovated this time by using this additional feature in the Spectre 13.
Performance
Performance is something that can only be understood by having HP Spectre 13. As the latest 8th generation of Intel's Quad Core i7, 8850U CPU combined with 8GB of DDR4 Ram and 256GB SSD to deliver what we call outstanding and unbeatable performance.
With Intel UDH 620 GPU you will get high-performance gaming and multimedia experience like never before. However, on maximum loads, we suffer from loud fan noise. As IR thermal technology only promises your laptop to be cool not quite.
Battery Life
While HP is claiming the battery to be all day long but we know that it only depends upon usage or what kind of tasks you are going with.
Well if you are playing games then you are consuming more power and using lots of battery. While on idle mode you might get out all day long.
However, on some tests HP Spectre 13 lasted for 600 minutes on Wi-Fi turned on. While on the graphics test, it showed nearly 300 minutes or 5 hours of battery life which is something not bad.
Concluding we might say that HP Spectre 13 2017 notebook is really a good deal to go for.
Verdict for HP Spectre 13
HP Spectre 13 Notebook is one of the best we have seen so far. No matter if it is one of the most favourite laptops still in 2023.
With awesome Quad-core performance, rich and unique design, excellent keyboard layout, redefined speaker quality, and long battery life. However, if there were a Fingerprint sensor and quiet fan things might have been way better.