A 17-inch laptop is best for those who want a bigger screen for watching movies, doing photo or video editing, etc. Now there are different brands on the market to choose from. And this is a tough decision for beginners who have no prior knowledge of buying a laptop. Moreover, it becomes more difficult to get a bigger screen laptop when your budget is just limited to $600.
So in this guide, we'll be focusing only on the top-rated 17-inch laptops that fall under 600 dollars price tag. Obviously, you cannot expect these laptops to perform better in gaming, However, if you are more into general computing, then you can surely get the most value out of them.
List of Best 17-Inch Laptops Under 600 Dollars
Here are the top considerations from our side:
1. Lenovo Ideapad 3 – The Overall Best 17-Inch Laptop on Market
Reasons to Buy:
It's an ideal laptop to deal with office-based applications and entry-level gaming. Furthermore, the battery life on this laptop is amazing and lasts for more than 5 hours. Also, the keyboard layout on this laptop has well-spaced keys for fast typing.
Main Specs:
CPU: Intel Core i5-1035G1 1.0 GHz
Storage: 1TB HDD / 5400 rpm
I/O Connectivity: 1 x USB 2.0 Type A | 2 x USB 3.0 Type A | HDMI | Headphone Jack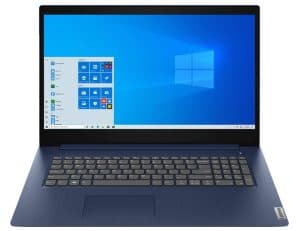 ---
The Lenovo Ideapad 3 is one of the most reliable laptops out there with a 10th generation Intel processor and 8GB of DDR4 ram.
Now, this computer is good enough for office-based applications and light video or photo editing tasks.
Also, if you are more into multitasking, then you get the advantage here as well. And if you are heavy on multitasking, then we suggest you go with the AMD variant of Lenovo Ideapad 3.
Well, this laptop comes with 1TB of hard drive, which you can easily replace with an SSD if you want.
The battery life is also great, and on lighter use, you can easily pass 7 hours browsing the internet and typing your work. On top of all, the 17.3″ HD+ screen offers vibrant colours when watching videos.
All in all, the Lenovo Ideapad 3 packs great value under $600 for someone who needs a laptop with bigger battery life.
2. HP 17-3″ Laptop – The Best Value Laptop for Under $600
Reasons to Buy:
This laptop is good for content writers, and students. or people who work in an office environment. Moreover, the higher core count on this laptop makes multi-tasking much easier. The keys on this laptop are well-spaced and give you a much tactile feel as you type through it.
Storage: 2TB HDD / 5400 rpm
I/O Connectivity: 2 USB 3.1 Gen 1 (Data Transfer Only), 1 USB 2.0, 1 HDMI, 1 RJ-45, 1 Headphone-out/microphone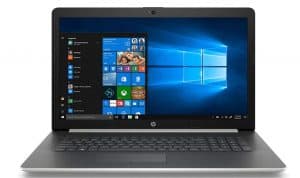 ---
HP laptops are more reliable when it comes to writing content, browsing the internet, watching movies, etc.
And this 17-inch laptop from HP is a great option for content writers, photo editors, music producers, and students who don't want to spend over 600 dollars.
With the 8th generation Kaby Lake CPU and 4GB of DDR4 ram, you can expect decent performance out of this laptop.
Although this laptop has a very low ram, there's an additional ram slot to upgrade your memory up to 64GB. Also, you get 2TB of vast storage with this laptop to save your music, videos, and other important files.
The laptop comes with a 1600×900 HD display screen like other laptops in the budget category. The colours on the screen are vibrant and it doesn't feel as if you are using a low-budget laptop.
Also, it has a durable battery life as well, it can last for more than 5 hours if you don't play HD videos on it.
However, there is still a huge difference between the screen of this laptop as compared to the ones with IPS panels.
But for just under 600 Dollars, you get a large screen laptop that is good for any personal or business need.
We've found this laptop to be highly compatible with vehicle diagnosing applications like Hp Tuners. Also, you can use this laptop for your research work at school, university,

3. Dell Inspiron 17 – Best Performance Laptop with 17-Inche Screen
Reasons to Buy:
Dell Inspiron 17 is the most high-performing laptop with 16GB of ram, a higher core count, and up to 1TB of space for storing tons of music and picture files. The anti-glare screen on this laptop makes it an appealing choice for people who love watching movies on a bigger screen. Also, this laptop has the most advanced I/Os to connect high-speed devices.
CPU: Intel Core i5-1035G1 1. 0 GHz
I/O Connectivity: 1x USB 2. 0, 2x USB 3. 1 Gen 1, 1x USB 3. 1 Type-C, 1x RJ-45, 1x HDMI, 1x Headphone output/Microphone input combo
---
If you need more performance out of a budget-friendly laptop, then Dell Inspiron 17 is the right deal for you. With 16GB of DDR4 ram and a 10th generation Core i5 processor, you can do complex multitasking without slowing down your computer.
The Dell Inspiron 17 features 17. 3-inch FHD (1920 x 1080) Anti-Glare LED screen that gives maximum protection to your eyes. Moreover, there's a perfect ratio between brightness and contrast for superior image quality.
In the storage section, the Dell Inspiron 17 holds 1TB of SSD for faster data access and storage. Now, this is something that the previous two laptops lack. Moreover, there are plenty of I/O options like USB 3.1 Type 1, USB-3.1 Type-C, USB 2.0, HDMI, etc.
It could have been better if this laptop came with a backlit display. However, for students or daily office workers, this is an affordable and fast laptop to go with.
4. HP – 17.3″ HD+ Touchscreen Laptop (Reliable Choice)
Reasons to Buy:
This laptop from HP is highly recommended for students or office workers. It has a longer battery life and comes at a very affordable price tag.
CPU: 10th Generation Intel Core i5-1035G1
I/O Connectivity: 2 USB 3.1 Gen 1 (Data Transfer Only), 1 USB 2.0, 1 HDMI 1.4b, 1 RJ-45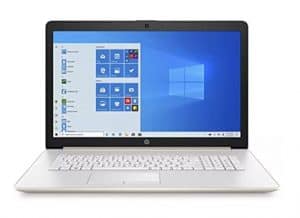 ---
Although non-touchscreen laptops are more reliable as compared to touch screen laptops, this model from HP has a different story to tell.
The touch screen on this laptop is more responsive and durable as compared to other cheap laptops. The 17.3″ HD+ screen features a 1600 x 900 display resolution with 220 nits brightness for optimal image quality. Watching movies and editing images on this laptop is more fun.
There's a 10th generation Core i5 CPU paired with 8GB of DDR4 to tackle complex computing tasks. Also, the UHD Integrated chip on this laptop allows you to play entry-level games on low settings.
Playing games on a 17-inch laptop is a joyful experience. However, you cannot expect to scale the resolution over 720p in most games.
Although, touch screen laptops come with less battery time. However, this masterpiece from HP delivers decent battery life despite having a highly responsive touch screen.
This is the right laptop for podcasting or live streaming if you own a YouTube channel.
How to Pick a 17-Inch Laptop Under 600 Dollars on a Tight Budget
When it comes to picking a laptop with a bigger display screen, there are some important things to keep in mind:
Processor
No matter whatever reason you buy a 17-inch laptop, make sure it comes with a decent processor. Core i3 or AMD's Ryzen 3 processors are meant for light or basic computing.
If you need a decent-performing laptop, it's worth going after the one that comes with at least an Intel Core i5 or AMD Ryzen 5 CPU.
A quad-core CPU is the bare minimum in today's world, so make sure you don't sacrifice the performance by saving a few bucks.
Touch vs Non-Touch Display
It depends upon you to pick the one that falls to your needs. If you deal with tasks that involve the use of a mouse or trackpad, then go with a non-touch display laptop.
A laptop without a touch screen is more reliable and durable for long-term use. If you want a touchscreen laptop, then choose the one that has a responsive and fast touch display.
Storage
If you are an office user or student, then a 256GB of HDD or SSD in a laptop is enough for you to store your important files. But if you download large-size video files, applications, and games, then it's better to go with 500GB of disk space.
Battery Life
This is the most important factor to consider whenever you buy a laptop. Even low-budget laptops under $600 support longer battery life.
If the laptop uses a low TDP processor and graphics chip, then it consumes less battery as compared to laptops with powerful specs.
The Verdict
Finally, these were some of the best 17-inch laptops to get under the $600 budget. We hope you now have enough knowledge about which one of these machines falls your needs and expectations. Buying a laptop in a hurry isn't the right decision. Take your time and write down on paper what features you need in a laptop to accomplish your daily tasks. Once you get that, it's time to make your purchase. Happy Computing!