The Acer Nitro XZ342CK is one of the most innovative and affordable curved gaming monitors out there in the market. And it is no exception that this curved game screen is equipped with the most crucial features that hardcore gamers need in a monitor. On top of all features in Acer Nitro XZ342CK, you'll find low input lag and great color accuracy. But is this gaming monitor worth buying? Let's discuss it a bit before you make any decision.
Acer Nitro XZ342CK Pbmiiphx Review
The Acer Nitro XZ342CK Pbmiiphx is a curved gaming monitor with a higher 144 Hz refresh rate for immersive gameplay. If you are stepping up from a 60Hz monitor to this 144Hz monitor, you'll see a lot of difference in gaming visuals. The refresh rate of this screen is similar to that of the Dell D2719HGF monitor. But make sure you have a good graphics card to get the most out of this display. In general, this monitor is best for gamers and professional content editors due to its thin bezels, good color accuracy, and lower input lag.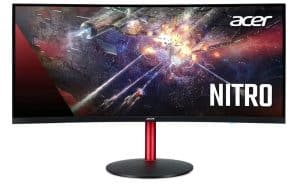 However, with so many features, there's no heigh or swivel adjustment on this monitor. Also, like other high-end gaming monitors, the Nitro XZ342CK only has a few I/O ports.
Pros
Excellent Pixel Density
Ideal Pixel Response Time
Improved Color Quality
Easy to Use Interface
Affordable Price
Cons
A bit heavier than standard gaming monitors
Screen brightness struggles in low light scenes
Not too many height and swivel adjustment options
Design
Upon the first look, the Nitro XZ342C gives you the look for an ultra-high-end display with sleek bezels, a curved panel, and a round base. The curved panel is not as much blended as you'd expect on higher-priced gaming monitors, but it still looks natural and doesn't catch the attention of your eyes. Also, there are x2 3 Watts speakers integrated into this game screen.
Just like most gaming monitors, you'll have access to x2 HDMI ports and a single DisplayPort 1.4 on Acer Nitro XZ342. Moreover, there are two USB 3.0 at the sides to play media directly.
Underneath the panel, you'll find a joystick-like thing to control the adjustment menu. Also, there are 100 x 100 VESA holes at the back to mount this monitor to the wall.
Display
The Acer Nitro XZ342CK Pbmiiphx features a 34″ WQHD UltraWide (3440 x 1440) VA display panel for optimal performance. It's a 1500R curved gaming screen providing you with sharp and undistorted image edge to edge.
This display panel on the Nitro XZ342CK Pbmiiphs has a refresh rate of 144Hz and an average response time of 1ms. Combining both of these factors, you can expect this gaming monitor to perform best in AAA games.
Also, this game screen is HDR400 certified, which means you can switch to HDR from normal mode to enhance the graphics quality while gaming. On top of all, this monitor supports AMD FreeSync to prevent any screen tearing and deliver smooth gaming performance even at higher frame rates.
The most enhancing feature of the XZ342CK Pbmiiphx is its color vibrancy. The VESA Certified HDR400 promotes well-balanced contrast and colors when playing AAA titles in full glory.
Also, the Acer Nitro XZ342CK gives you access to different game modes each having separate pre-defined colors and contrast settings for sports, action, and adventure games. You can also customize your own settings and implement them later on as well.
Lastly, the 1500R curved screen, cinematic 16:9 aspect ratio, ZeroFrame, and narrow-bezel design truly make your gaming experience more immersive and joyful.
Performance
So in order to test the performance of this Acer Nitro XZ342CK, we opted for an RTX 2080 graphics card that is highly compatible with 144Hz refresh rate screens.
We managed to play titles like Red Dead Redemption 2, Assassins Creed: Odyssey, and Resident Evil: Village on Nitro XZ342CK. To be honest, it didn't look as if we were gaming on a cheaper monitor. The color accuracy, contrasts, and response time were superb throughout the gameplay.
We also tried some other games like Mortal Combat, Far Cry 5 on this VA panel screen as well. The colors and brightness looked well balanced in both of these games. It's worth mentioning here that if you turn on the HDR, you'll expect stunning visuals and colors quality in AAA games. However, would only be possible with games that support HDR.
Overall, it's the best 34″ 1440p 144Hz gaming monitor for budget gamers right now. The Gigabyte G34WQC packs the same sort of value that the Acer Nitro XZ342CK does.
Bottom Line
Overall, the Acer Nitro XZ342CK Pbmiiphx is the most reliable curved gaming monitor to have right now. It's a worthy upgrade if you are stepping up from a lower refresh rate gaming monitor. With Nitro XZ342CK you can get your hands on a 144Hz display screen with excellent colors and contrast ratio without breaking your bank.