The Dell D2719HGF is one of the most affordable gaming monitors with a 144Hz refresh rate and FreeSync support. Moreover, it is one of those low-budget displays that have caught the attention of most PC gamers that don't want to spend a lot of cash on the table.
There's been a lot of hot talk going about this monitor on different forums regarding the performance of the Dell D2719HGF monitor. To find out if it's really worth buying Dell D2719HGF or not, let's go through each of its features one by one in this guide.
Dell D2719HGF Review
So, we will first start with the most important thing, the main specs:
Main Specifications
Maximum Resolution 1920 x 1080 Full HD
DisplayPort 1. 2 and HDMI 2.0 Video Output
144Hz Refresh Rate
27-Inch LED Display
Aspect Ratio 16:9
Contrast Ratio 1000:1
Brightness 400 nits
Response time 2ms
AMD FreeSync
Integrated Speakers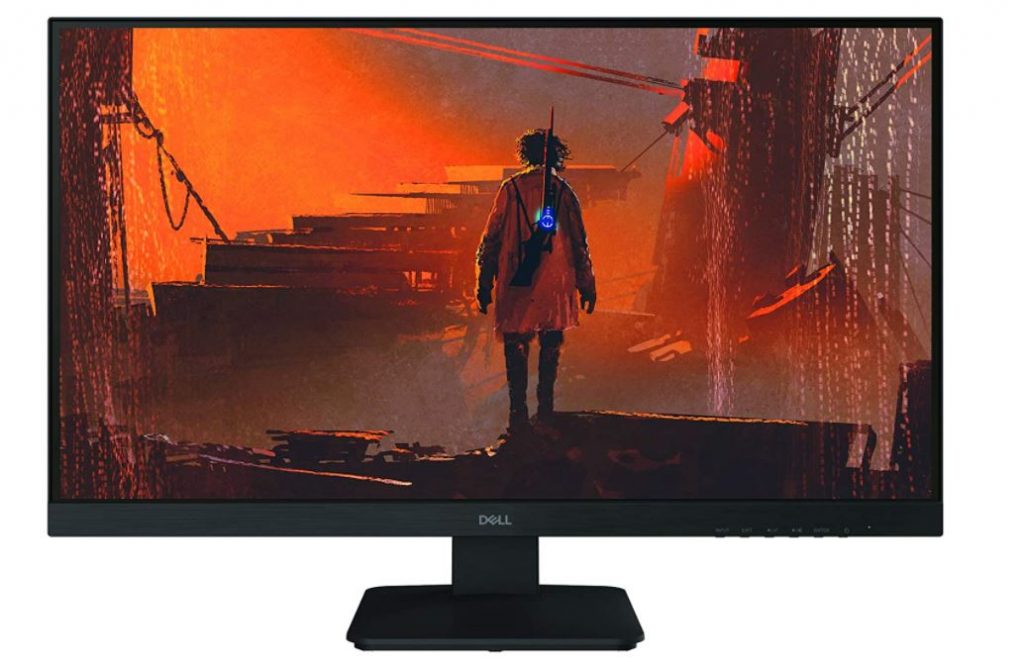 Design & Build Quality of Dell D2719HGF
At first look, the D2719HGF perfectly fits the equation of simplicity and tidiness. It really doesn't look like a gaming screen either as there are no fancy RGB lights and logos anywhere around it. Most gaming monitors have RGB lights, which differentiates them from non-gaming monitors.
The thin bezels of this gaming monitor make it a great deal for multiple gaming monitor setups. However, the bottom bezel is thicker when compared to the top and side ones. And this is where you'll find the configuration buttons to tweak the settings.
At the bottom bezel, there are six OSD buttons for manually adjusting the colours, contrast, volume, colour temperature, vibrance, etc. Also, the stands that hold this monitor do not allow it to rotate at all. However, you can vertically tilt your monitor, nothing more than this.
It has a sturdy and durable build quality. The entire body of this gaming monitor is wrapped inside a high-quality black matte finish plastic.
Overall, the D2719HGF comes with an ergonomic design and high build quality to last longer than other cheaper gaming monitors on the market.
Dell D2719HGF – Size & Display Quality
So this wallet-friendly gaming monitor from Dell is backed by a 27-inches 1080p HD display screen with 2ms response time and an AMD FreeSync panel for just under $200.
Seriously, these are some of the premium features that you really don't get in a low-budget gaming display from other brands like Samsung, Asus, or Acer.
If we compare the size of this monitor with some other brands on Amazon, then it's impossible to get a 27-inches monitor on such a tight budget.
Yes, there are good-quality monitors in this price range, but most of them are limited to 24-inches.
Let's now talk about the image quality of this monitor while gaming. To be honest, the display screen is made on a TN panel, which is a bit outdated technology when compared with an IPS panel.
So there's a huge difference between the viewing angles and colour accuracy if you are downgrading from an IPS monitor to one with a TN panel.
Although you get faster response times with this monitor, you have to get used to washed-out colours. However, you can tweak the brightness, contrast, and digital vibrance to adjust the quality of the colours.
Manually setting the colour accuracy can result in better image quality and you might see vibrant colours while gaming.
Moreover, this wallet-friendly monitor from Dell has a contrast ratio of 1000:1 which refines the colour quality as well.
With 400 nits brightness, the D2719HGF is one of the brightest gaming screens in the market for a low budget. However, higher nit levels can put stress on your eyes, so we advise you to put it down if you are not using any type of screen guard.
Overall, while reviewing the Dell D2719HGF we haven't come across any dead pixels or screen bleeding at all. Even in gaming, you don't feel as if you are gaming on a cheaper screen.
Viewing Angles
As it is a TN panel screen, the viewing angles are not great but neither bad as well. However, there's a little greenish tint that happens when you look at it from the sides.
But if you are gaming alone, then this doesn't make any difference at all. But if you are more concerned about great viewing angles, go for an IPS display.
Response Time
This is where the Dell D2719HGF shines the most when compared to similar range monitors from other brands. It comes with a faster response time of 2ms which is incredible for a smooth gaming experience.
Unless you are a super-competitive esports gamer, you won't notice any difference between this monitor and the one with a 1ms response time.
It's almost negligible to talk about that at this point. You can easily play online shooting gamers without noticing any difference at all.
AMD FreeSync
This is one of the most highlighting features of the Dell D2719HGF. And the good this is that AMD FreeSync supports all the way from 40Hz to 144Hz without any hassle.
Even some of the high-end gaming monitors do not support the FreeSync range at this level.
Even though this is a monitor that is highly compatible with AMD FreeSync, you can do some tweaks to let it work with Nvidia G-Sync as well.
Just head over to the Nvidia Control Panel to turn on G-Sync, nothing technical is needed to do that.
Connectivity Option on D2719HGF
As this is a budget-friendly gaming monitor, you will be limited to just x1 DisplayPort and x1 HDMI 2.0 video port. Likewise, there's only one USB 2.0 connection and a 3.5mm jack as well.
Moreover, there are two 2W built-in speakers at the back but with terrible sound quality. It's better to connect third-party speakers if you want better sound quality.
Gaming Performance: Dell D2719HGF Review
Let's now talk about the gaming performance of this monitor. We managed to play some AAA titles on D2719HGF and it didn't let us down at all. The 144Hz display screen and AMD FreeSync keep you engaged inside the gaming world.
There's a huge difference in performance if you are upgrading from a 60Hz monitor. However, if you have jumped down from high-end gaming like the Samsung Odyssey G5, then you will find flaws in it.
You might witness bleeding at the corners while some play a few games that use darker environments.
However, this doesn't catch the attention of your eyes while gaming unless you want to. The Dell D2719HGF supports FreeSync so you can expect no stuttering or lags in your gameplay.
Pros
AMD FreeSync
Affordable Price
Faster Response Time
Sturdy Build Quality
144Hz Refresh Rate
Cons
Bad Colors Accuracy
No Rotation
Poor built-in speakers
Final Recommendation
No doubt, Dell has packed so many premium features inside D2719HGF at a lower price tag. You get a higher refresh rate, FreeSync, great response time, and a thin bezel screen for a high-end gaming experience.
It's a great choice for those who are low on budget and needs a 144Hz gaming monitor on their gaming desk.
The only downside is the colour accuracy which isn't a deal-breaking feature in a cheap gaming monitor. This is something you can adjust manually later on through Nvidia Control Panel.
Overall, it's a great monitor for a budget geek who wants to enjoy the premium features of a gaming screen. With Dell D2719HGF you can get the most bang for your buck.