The LG NANO85 is one of the best-LED TV produced by LG so far. Especially, if we talk about brightness ratio, color accuracy, and lower price tag, there is no parallel to it. Now LG claims that LG NANO85 gives you the best viewing experience in all types of conditions. So, in this review of NANO85, we'll find out if LG really keeps up to its promise.
There are a lot of things that we need to test besides just the amazing viewing angles of this smart TV. Features like local dimming, contrast ratio, and viewing experience in a dark room are ignored by most users when buying a giant screen TV.
LG NANO 85 features a 4K display screen with 8.3 million active pixels for stunning picture quality. And right out of the box, you can expect an amazing color accuracy for sure. Also, it has an IPS display, which means the viewing angles are good as well.
Review of LG NANO85 Smart LED Screen TV
So we will start from the specs first and then move on to the performance, and then our verdict:
Key Specifications of LG NANO85 TV
| | |
| --- | --- |
| Display Type: | 4K NANO Display |
| Display Resolution: | 4K Ultra HD (3,840 x 2,160) |
| Technology: | IPS |
| Refresh Rate: | True Motion 240 (120 Hz Native) |
| Backlight Dimming: | Local Dimming |
| Backlight Type: | Edge |
| Picture Processor: | α7 Gen 3 Processor 4K |
| HDR: | HDR: Cinema HDR (Dolby Vision®, HDR10, HLG), Dolby Vision IQ, HDR Dynamic Tone Mapping |
| Picture Upscale: | 4K upscalar |
| Audio: | 2.0 Channel |
Table Showing Specs of LG NANO85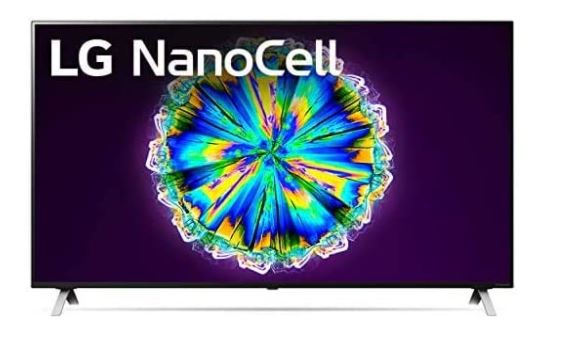 Design
Now there isn't anything different if you look at this TV for the first time. Comparing it with LG OLED CX, there isn't much difference in the design as well. The overall body is made up of plastic, and this might be one of the reasons behind the lower price of this smart TV.
At the bottom, there are two legs to place this TV on any desk or stand. The dimensions of LG NANO85 withstand are 57.1″ x 35.4″ x 10.7″ and without stand it measures 57.1″ x 33.1″ x 2.5″.
Picture Quality & Performance
This smart TV uses 4K Nano Display technology to produce high definition content of the screen. With Nano accuracy, you can expect accurate color and wide angles. On top of all, the powerful α7 Gen 3 Processor 4K allows superior video quality when watching movies or playing games.
However, viewing content on this TV in a dark room is totally different with the lights turned on. Although LG claims that the NANO85 is good at local dimming, however, it's totally the opposite.
When watching movies in a dark room, the dark areas are that great. So the dark scenes might look darker on this TV as compared to other LG NANO Cell TVs. But you can adjust the local dimming to override this issue.
We cannot blame the local dimming for ruining the video playback in darker conditions. Also, the contrast levels are not as great as we expected.
Apart from the local dimming and poor contrast ratio, there are other features that are worth praising in LG NANO85.
The brightness level is great, especially if you scale it all the way up. Also, there are 4K upscaling to improve the low-quality content.
For gaming, this might be the most affordable smart TV with the lowest response time. But again gaming on this TV in a dark room isn't a great option due to its poor contrast ratio.
To increase the frame rate in gaming, the LG NANO85 comes equipped with FreeSync. And if you have an AMD graphics card, you can scale up your gaming experience on this smart TV making full use of FreeSync.
Connectivity
Just like all other smart TVs, the NANO85 comes with advanced connectivity options. It makes use of Wi-Fi Certified 802.11ac and Bluetooth 5.0 to connect with multiple devices at the same time.
I/O Ports
There are x4 HDMI Input (HDCP 2.2) ports, x3 USB 2.0 ports, x1 digital output port, x1 ethernet input port, and x1 AV input port on LG NANO85 LED TV. It could have been better if there were USB 3.0s instead of 2.0s, however, this doesn't make it a deal-breaking feature at all.
Smart Features
The LG NANO85 makes use of the same WebOS system to give you access to different smart features. Also, this is one of the most appealing system we've found in smart TVs so far. The user-interface is super friendly on WebOS, and you can navigate through it without any issue.
Pros
Great color accurcay
Affordable
Wide viewing angle
Ideal for gaming
FreeSync
Multiple I/O ports
Cons
Bad local dimming and poor contrast
Conclusion
The LG NANO85 is a reliable TV with good levels of brightness and wide viewing angles at an affordable price. It's a great pick for PC or console gaming due to its faster response time and reduced input lag. With excellent viewing angles, the NANO85 is an ideal choice to watch movies with your family and friends. The only thing it lacks is a poor contrast ratio and local dimming in dark conditions.