The Acer Aspire 5 A515-45-R74Z is one of the best low-cost laptops available and a solid workhorse. Although it won't run the most recent games, it can easily handle older games like Roblox, League of Legends, and Minecraft.
It sports a modern, "MacBook"-inspired design with an aluminium top cover and a full-size, eye-catching backlit keyboard.
In its Aspire 5 Series of notebooks, Acer has incorporated AMD Ryzen CPUs, which provide exceptional performance and power efficiency.
Built-in multi-core Radeon graphics that share a memory with the system are available on Ryzen series processors.
The FHD 15.6-inch display is attractive to look at because it is bright, has a high contrast ratio, a wide colour gamut, and has a 1920 x 1080 resolution.
Also included is a 720p webcam that works well for video calls and selfies.
Powerful 6-Core CPU
Affordable
Good upgrade options
Full-size keyboard        
FHD display
Average storage
No optical drive
Average touchpad
Acer Aspire 5 A515-45-R74Z Review
| | |
| --- | --- |
| CPU | AMD Ryzen 5 5500U Hexa-core (6 Core) 2.10 GHz |
| Graphics | AMD Radeon™ Graphics |
| Memory | 8GB DDR4 |
| Storage  | 256GB NVMe M.2 SSD (PCIe) |
| Display   | 15.6-inch FHD 1920×1080 LCD/LED BL |
| Network | Gigabit Ethernet, Wi-Fi 6 |
| Built-In Devices     | Microphone2 Stereo SpeakersHD WebcamFull Size Backlit Keyboard |
| HDMI      | Yes v2.0 |
| Number of HDMI Outputs   | 1 |
| Number of USB 2.0 Ports    | 1 |
| Number of USB 3.2 Gen 1 Type-A Ports | 2 |
| Number of USB 3.2 Gen 1 Type-C Ports  | 1 |
| Total Number of USB Ports | 4 |
| USB Type-C    | Yes |
| USB Type-C Detail         | USB Type-C port: USB 3.2 Gen 1 (up to 5 Gbps) |
| Network (RJ-45)   | Yes |
| OS | Windows 11 Home 64-bit |
| Battery   | 3-cell Li-Ion, 11 hours |
| PSU | 45 Watt |
| Dimensions (WxHxD)   | 14.3 × 0.71 × 9.9 inches |
| Weight   | 3.88 lb. |
The Acer Aspire 5 is offered in a number of variants, all of which use both the newest AMD Ryzen architecture and 11th-generation Intel processors.
However, only a small percentage of laptops have 17-inch screens, and the majority have 15-inch screens.
The 15-inch AMD-based machine that our review unit uses has an AMD Ryzen 5 CPU, 8GB of RAM, 256GB of SSD storage, and AMD Radeon graphics.
This model is available on Amazon for the ridiculously low price of $449.99.
Other models include the Acer Aspire 5 A515-56-50RS, which includes a 15-inch (1080p) display, a Core i5 processor, up to 16GB of RAM, Intel Iris Xe graphics, and up to 512GB of storage.
A 48Wh battery and 1920 x 1080 pixel displays are standard across all Aspire 5 versions.
1. Design
The Acer Aspire 5 (and other Aspire 5 versions) have a stylish metal top in the "MacBook Pro" style that gives the device a clean, modern appearance.
It is quite thin, with a maximum thickness of about 0.7 inches, and tapers off toward the front of the laptop.
The minimalist style is furthered by the backlit keyboard, trackpad, and bezel, which are all plain black with white text.
The Aspire 5 line as a whole has an emphasis on quality and robustness and a sleek, smooth form.
2. Display & Graphics
The 15.6-inch, Full High Definition (1080p) displays with AMD Radeon graphics are standard across the whole Aspire 5 AMD line.
The display's IPS (In-Plane Switching) technology and LED illumination provide images that are brighter and more detailed.
It also means that the image quality won't be affected by the viewing angle.
A 7-core GPU with shared memory and an operating speed of 1800MHz is used for the visuals.
While not capable of playing the most recent games, this laptop can readily handle simpler titles like Roblox, League of Legends, Minecraft, and image/video editing.
Overall, especially considering the price, I am satisfied with the Radeon graphics and display on this notebook.
It performs better than other laptops in its class.
3. Keyboard & Touchpad
This laptop has a full-size keyboard that is convenient and comfortable to use.
It comes equipped with a number pad, function keys for changing the screen's brightness (and other settings), and a backlight for dimly lit spaces.
The fingerprint reader and multi-touch gesture on the touchpad are smooth, and there is a function key to completely switch off the touchpad.
A technique called multi-touch gesture recognizes many points of contact to add extra functionality.
4. Connectivity
The Acer Aspire 5 has excellent connectivity with two USB 3.2 Gen 1 Type-A ports, one Type-C port, and one USB 2.0 port.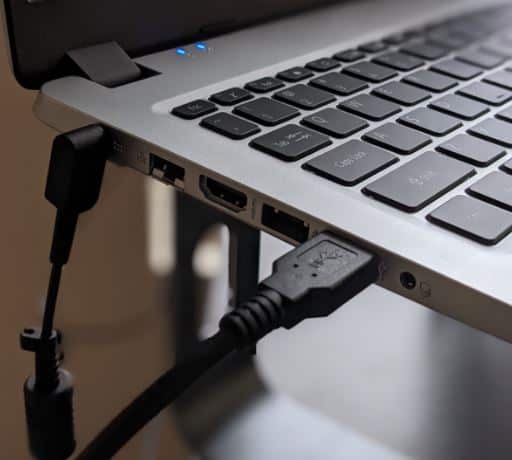 The HDMI port can also be used to connect an external monitor. The Type-C port's 5 Gbps transfer rate is more than sufficient for the majority of tasks.
A single RJ45 Gigabit Ethernet port and a Wi-Fi 6 (802.11ax) wireless chip with transfer rates of up to 2.4Gbps are used for networking.
Wi-Fi 6 is a new wireless standard with better efficiency, faster transfer speeds, and less congestion.
5. Performance
The Ryzen 5 5500U processor in the Acer Aspire 5 A515-45-R74Z compares favourably to most 11th-generation Intel Core i7 processors available on the market.
When under pressure from intense work, it can operate at a maximum clock speed of 4 GHz.
However, even without increasing the CPU speed, you already have an excellent performance thanks to its solid 2.1 GHz base speed.
This laptop also includes 8GB of DDR4 RAM.
This is a fairly typical amount of memory for a mid-range laptop because the majority of them come with 8 GB of RAM and the option to upgrade it if needed.
Having said that, 8 GB is more than sufficient for daily tasks, and you can run Chrome, Spotify, and Discord in the background in multiple tabs without experiencing any lag.
The Aspire 5 A515-45-R74Z has an integrated GPU for graphics, which is fairly typical for mid-range notebooks.
Even though it can't play 4K video files smoothly or at high settings for PC gaming, it works perfectly for basic laptop requirements.
It can run more moderately GPU-intensive games and more CPU-intensive games with 6 cores.
The A515-45-R74Z, which also includes 256GB of NVMe SSD storage, is equipped with write speeds that are more than 2000mb/s and is intended for speedy load times.
You could always upgrade the storage on this laptop if you need more space.
Overall, this laptop's configuration falls between the potent Ryzen 7 and the budget-friendly Ryzen 3 models, offering adequate performance for the majority of daily tasks.
Due to its integrated GPU, it is primarily appropriate for students and professionals.
However, games these days are quite graphically demanding, so it is far from being an entry-level gaming system.
The Acer Aspire 5 A515-45-R74Z will perform more than adequately, with the exception of the most taxing processor-based workloads.
It is a good choice in terms of speed unless you are editing 4K video or playing graphics-intensive games.
Daily activities including web browsing, streaming media, and FHD video editing will go without a hitch.
6. Battery Life
As it turns out, the battery in the Acer Aspire 5 performs better than the one on the model from a year ago.
In actual use, you get just about 7 hours from the battery, which isn't bad at all considering that Acer claims it would last for 8 hours on a single charge.
Verdict: Is It Worth Buying?
For many years, Acer has been a leader in the production of mid-range laptops.
They target a wide range of consumers with their Aspire line of laptops, including those seeking a cost-effective, portable device with higher processing capability than a Chromebook.
It has an AMD Ryzen 5 5500U processor, lightning-fast NVMe SSD storage, 8 GB of expandable RAM, and a gorgeous high-resolution screen at a very reasonable price.
Along with a reasonable price, a reliable design, and a positive customer rating, you can nearly assure that the laptop you buy will meet your expectations.
No matter if, you are writing documents, video chatting with family, or binge-watching Netflix, it won't let you down.
However, the Acer Aspire 5 A515-45-R74Z is a wonderful option if all you need is a laptop that can manage both in-person and remote learning and work.