So, is it possible to get the best laptops under $250? Yes, it is possible. $250 laptops are generally considered budget laptops and are typically best suited for people who have basic computing needs.
These low-budget laptops are generally suited for:
Students who need a laptop for schoolwork and basic internet browsing
Seniors or first-time computer users who want an affordable option for basic tasks such as email, social media, and document editing
People on a tight budget who need a reliable laptop for everyday use
Small business owners or entrepreneurs who need a basic laptop for tasks such as invoicing, scheduling, and basic accounting
People who need a secondary laptop for travel or occasional use
---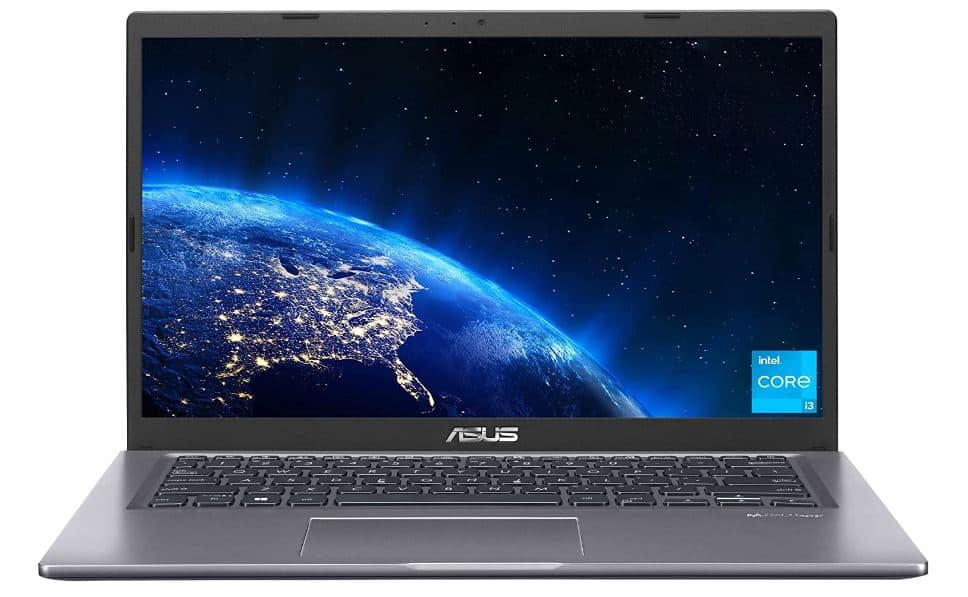 Editor's Choice – ASUS VIVOBOOK for $250
11th Generation Core i3 (4 Core) Processor
Decent Display
Affordable price
Compact and lightweight design
Good battery life
Backlit keyboard
Fingerprint reader
---
What to Expect from $250 Laptops?
As already noted, a particular demographic is taken into consideration when making and shipping these laptops. You can infer what features and functionality can be expected from these devices given that the target audience is students and light users.
In essence, what we are seeking nowadays is a device with good battery life, average performance, and a good screen. Anything more will incur excessive costs.
Average Design
We shouldn't criticize the poor build quality of the laptops when discussing the best laptops under $250.
Whether you like it or not, the build will be less expensive. These units often have plastic bodies, but occasionally they could come with full or partially metal bodies.
However, even cheap plastic may have its texture and surface changed to make it appear more expensive. The design of these low-cost laptops receives little attention, so you won't find anything that even comes close to the MacBook Air in the best laptops under the $250 category.
Performance
Their primary use for a laptop is internet browsing, which is common among students and casual users.
Because of this, the laptops we brought today are effective at accessing the internet while minimizing the strain on the machine.
However, keep in mind that inexpensive laptops are not designed for more demanding tasks like video editing or high-end gaming.
Such uses will result in a dramatic decline in performance.
Display
Surprisingly, a $250 laptop can have some vibrant and bright displays that work well for watching movies. Additionally, there are some reasonably good touchscreen displays on the market.
They are powerful enough to enable simple communication between users using a finger or a pen. They won't be as accurate, though, as the more expensive hybrid computers.
Audio
For most people, laptop audio is not a huge concern. However, good audio systems are not all that uncommon in budget laptops.
Therefore, there is a good probability that you will take home a good sound system if you choose a laptop from the list of the best laptops under $250.
Other features
Because these laptops will likely be used frequently as travel notebooks, battery life is the most crucial factor you should take into account after the aforementioned specifications.
The keyboard and touchpad, aside from the batteries, should be adequate for your daily email checking, movie streaming, chatting, and other chores.
The Best Laptops for $250 USD on the Market
Here are the top picks:
1. Laptop ASUS VivoBook 14 – Overall Best Pick
This ASUS VivoBook 14 might be the best laptop under $250 for you if you are looking for style or design. Although the VivoBook 14's chassis is made of plastic, it feels incredibly durable and of good quality.
There are two colour options for the Asus VivoBook 14: Slate Grey and Transparent Silver. The display appears enormous, mostly because of the thin bezels on three of its sides.
The top one is somewhat thicker so it can accommodate the webcam while the ones on the left and right are only 5.7mm thick.
The bottom bezel is significantly broader, but you can't see most of it because the lid's bottom half is concealed beneath the laptop's body by a smart hinge mechanism.
Additionally, this raises the bottom of the laptop by two degrees, providing a more ergonomic typing position.
The Asus VivoBook 14's 14-inch display offers a full-HD resolution and a 16:9 aspect ratio. The screen doesn't offer the best viewing angles, and the limited 45 per cent coverage of the NTSC colour spectrum makes colours appear a touch muted.
For a 14-inch laptop, the Asus VivoBook 14 has a respectable range of connectors. A microSD card slot, an HDMI output, two full-sized USB ports, a USB Type-C port, and two full-sized USB ports with USB 2.0 and USB 3.1 Gen1 support are all included.
With an Intel Core i3 processor from the 11th generation and Intel UHD graphics, this ASUS laptop makes it easy to complete tasks quickly.
The Asus Vivobook 14 in this instance is equipped with an Intel Core i3-1115G4 processor, 4GB of RAM, and a 128GB PCIe SSD.
It is the ultra-portable ASUS Vivobook 14 is a lightweight laptop that can keep up with your fast-paced lifestyle and weighs only 3.3 lbs.
Its IPS-level wide-view FHD screen has an anti-glare coating to lessen distracting reflections and glare, allowing you to fully concentrate on what is in front of you.
This laptop's full-size backlit keyboard makes it the ideal choice for dim settings.
A comfortable typing experience is provided by its strong, one-piece structure, 1.4 mm key travel, and ergonomic design.
There is a built-in fingerprint sensor; you don't need to enter your password each time to access your ASUS laptop; all you need to do is touch the sensor once.
Additionally, you will get lightning-fast dual-band Wi-Fi 5, which enables you to maintain connectivity in the face of any interference or traffic.
Pros:
Great performance
Excellent keyboard
Good port selection
Cons:
Average screen
Iffy trackpad
2. HP Stream 14 – Best Value Laptop for Budget
As long as you look for a cheap laptop with realistic expectations, it's acceptable to do so. The HP Stream 14 is a low-cost laptop designed for students who prioritize the economy over all other factors.
This 14-inch laptop can handle most of your email, word processing, and web browsing needs with moderate ease. However, its slow CPU, meagre storage, and washed-out display don't give it high chance in the low-cost laptop categories.
The HP Stream 14 model that we examined has a Celeron N4020 processor, 4GB of RAM, 64GB of eMMC flash storage, and integrated Intel UHD 600 graphics.
The HP Stream 14 measures 0.7 by 12.7 by 8.8 inches (HWD) and weighs 3.24 pounds, which is similar to most 14-inch laptops in its price range.
Despite being lightweight, it has a surprisingly strong construction. It's an ergonomically pleasing, moderately slim laptop with thin bezels that give the device a great look.
Even though prolonged typing makes a small amount of noise, the keyboard is just as durable as the rest of the laptop.
Accidentally pressing the wrong key shouldn't be a problem because the keys are spaced evenly, at least not in terms of the arrangement.
Although there is no way to turn off the touchpad without accessing the system settings, it is wide and responsive.
The speakers, which are housed underneath the laptop and at the top of the keyboard, hold up well under investigation.
Although the bass is missing, as it frequently is in cheap machines, they are loud and clear.
Budget laptops typically don't have the most advanced display technology, but even by these high standards, the HP Stream 14's 1,366 by 768 LED screen is fairly poor.
The majority of the HP Stream 14's ports are located on its right side. Including an HDMI port, a headphone/microphone combination jack, two USB ports, a USB-Type C port, and the power connector port.
Only an SD card reader and two indicator light one for power and one for the SD slot can be found on the left side, which is notably less crowded.
The HP Stream 14 also has a 720p webcam, Bluetooth 4.2, and Wi-Fi 5. These three connectivity options complete the list. There are no real surprises here.
When an Intel Celeron chip is included in a laptop's specification sheet, you might expect subpar performance.
When you add that to the HP Stream 14's 4GB of RAM and 64GB of storage, you will see that it struggles to manage even tasks that are just somewhat complex.
Pros:
Inexpensive for Windows in a larger-screen form factor
Decent build quality for the price
Sound quality is reasonable for a low-cost laptop
Includes one year of Microsoft 365
Cons:
Poky overall performance
Subpar display
Minimal storage capacity
Keyboard is noisy
3. Acer Aspire 5 – A Reliable Laptop Under $250
For most people, especially students, the Acer Aspire 5 A515-56-32DK is an excellent low-cost solution. It still offers good performance, sturdy construction, and amazing value for the money for its low price.
With an 82.58% screen-to-body ratio, a 16:9 aspect ratio, and small bezels, the 15.6″ Full HD IPS display will give you clear details and vibrant colours.
With its 11th Generation Intel Core i3-1115G4 Dual Core processor, gaming, productivity, and creative experiences are all greatly enhanced.
The Aspire 5 is surprisingly lightweight for a low-cost 15-inch laptop, weighing slightly over 4 pounds. The majority of 15-inch laptops sold at low prices are frequently distinguished by their shoddy construction and bulky materials made of plastic.
Although simple, the Aspire 5's silver and the black colour combination looks good. It has USB 3.2 Type-C, two USB 3.2 Gen 1 devices; USB 2.0, HDMI 2.0 with HDCP support, a headphone jack, a speaker jack, a line-out connector and Ethernet (RJ-45).
To save your data and media, the Acer Aspire 5 has a 128GB NVMe solid-state drive and 4GB DDR4 onboard RAM. The keyboard is elevated by an ergonomic hinge to improve typing comfort, cooling, and sound quality.
Read our full Acer Aspire 5 review.
Pros:
11th-Gen quad-core CPU
Decent IPS screen
Excellent all-day battery life
Superior expandability
Cons:
The chassis is too flexible
Subpar webcam
4. HP 14 Laptop – Affordable $250 Laptop for Students and Internet Surfing
Enter a fantastic entry-level laptop experience for web browsing, email writing, document creation, and spreadsheet creation.
Because of the laptop's tiny and light design, you can watch more content and carry less wherever you are.
On a 14-inch, 6.5 mm micro-edge bezel display with 1 million pixels of high-definition detail and AMD Radeon Graphics, enjoy more of your content.
Utilize the AMD 3020e processor to get through even your busiest days. Having 64 GB of eMMC storage and 4 GB of DDR4-2400 SDRAM memory allows you to save more of your images, movies, and documents.
It has a long battery life, and HP Fast Charge technology enables you to continue using it for streaming well into the evening.
Moreover, enjoy the fastest boot speeds, better responsiveness, and added security against malware and phishing in the most secure Windows ever.
With a one-year subscription to Microsoft Office 365, which comes pre-downloaded with Word, Excel, PowerPoint, and the newest smart help features, you can give your ideas life.
Maintain your creative momentum with 25 GB of Dropbox storage; with a free one-year subscription, you can manage and share your files, music, and images from any location with an Internet connection.
Pros:
Lightweight and portable design
Enviable battery life
14-inch HD Display
Ample connectivity options
Cons:
No dedicated graphics
Limited RAM and internal storage
5. Asus Laptop L410 – Very Low Budget Pick
Even by the standards of other low-cost laptops, the Asus Laptop L410 is one of the truly extremely affordable Windows 10 computers.
Considering the price, it shouldn't come as a surprise that the build is constructed of plastic, but the overall quality is quite decent.
Being made of plastic, it weighs only 2.87 pounds and has a small chassis with dimensions of 0.72 by 12.8 by 8.5 inches (HWD) and a 14-inch display (measured diagonally).
This results in a highly lightweight and portable laptop that is simple to toss into a bag or backpack without giving it any thought.
The lid and keyboard deck are surprisingly strong, which surprised me because I had anticipated the chassis to flex more when I applied pressure to it.
If you press down in the middle of the keyboard, there is a slight bend, but it's not overly noticeable and it rarely happens in everyday use.
The components may not feel particularly high quality, but the system as a whole is sturdy and doesn't feel like it will disintegrate.
The press is a little mushy and the keys don't move very far when touched before hitting the bottom.
Now let's talk about the touchpad. It's made similarly to several inexpensive touchpads. The entire pad tilts down low at the bottom when you press down, moving as a single piece.
Although I have dealt with touchpads that are much looser than this one, it still functions perfectly.
The number pad that is permanently etched onto the touchpad is the other prominent feature.
On more expensive systems, Asus utilizes an LED number pad on the touchpad, whose visibility you can toggle on and off with a button.
It has a typical full HD resolution of 1,920 by 1,080 pixels, so the on-paper specifications aren't what let it down.
The port options come last but not least. One USB 2.0 port, one USB-C port, and an HDMI connector are located on the left side.
One USB 3.0 port and an SD card slot are located on the right edge. If even a system at this price fulfils more than the necessities, the days of extremely limited ports on budget laptops may be behind us.
This isn't a big array of connections, but it goes beyond the minimum. Bluetooth and 802.11ac Wi-Fi are supported by the system.
Don't anticipate much speed or performance above the bare minimum. This device has an Intel Celeron N4020 processor, 4GB of memory, and 64GB of eMMC flash storage, as was already mentioned.
Pros:
Solid construction for the price
Good battery life
Backlit keyboard and number pad
USB Type-C, microSD, and Bluetooth
Cons:
Poor display
Sluggish performance
Quick Shopping Tips for Buying A $250 Laptop
When considering a laptop in the $250 price range, some important factors to consider include:
Processor: The processor is the brain of the computer and determines its overall performance. Look for a laptop with at least an Intel Celeron or AMD A4 or A6 processor.
RAM: Random Access Memory (RAM) allows your computer to multitask and run multiple programs at once. Look for a laptop with at least 4GB of RAM.
Storage: Laptops in this price range typically come with either a traditional hard drive or a solid-state drive (SSD). SSDs are faster and more reliable, but they tend to be more expensive.
Display: The display is an important factor to consider, especially if you plan to use your laptop for watching videos or working on graphics-intensive projects. Look for a laptop with at least a 1366×768 resolution display.
Battery life: Battery life is an important consideration, especially if you plan to use your laptop on the go. Look for a laptop with at least 6 hours of battery life.
Brand and Warranty: It's always a good idea to purchase a laptop from a reputable brand, and to check the warranty terms before making a purchase.
Build Quality: This is the durability of the build and construction of the Laptop.
Connectivity: Make sure the laptop has all the ports you need for peripherals and internet connectivity.
FAQs
What is the most reliable laptop for home use?
When it comes to laptops for home use, there are many different options available, and the best one for you will depend on your specific needs and budget. However, some brands that are known for their reliability and build quality include Dell, Lenovo, and HP.
Dell laptops, in particular, are known for their durability and long lifetimes. They offer a wide range of models to choose from, including budget-friendly options and high-performance models.
Lenovo laptops are also known for their build quality and reliability. The company offers a wide range of models, including business-class laptops and gaming laptops.
ASUS laptops are also a great choice for home use, as they have a reputation for being reliable, and have a wide range of options available, including budget-friendly models and high-performance models.
What is the most popular budget laptop?
When it comes to budget laptops, there are many options available, but some of the most popular models include:
ASUS VIVOBOOK 14: This is a popular budget laptop that offers a good balance of performance and price. It comes with a fast processor, sufficient storage, and a good amount of RAM, making it a great choice for everyday use such as web browsing, email, document editing and streaming.
Lenovo IdeaPad 3: The Lenovo IdeaPad 3 is a budget-friendly laptop that offers solid performance and a sleek design. It comes with a fast processor, sufficient storage, and a good amount of RAM, making it a great choice for everyday use.
HP Stream: HP Stream is a lightweight and compact laptop that is perfect for people on a budget. It's primarily designed for web browsing, email and document editing, and it also comes with a free one-year subscription to Microsoft Office 365.
Conclusion
Even if the prices of these top laptops are low, the quality and design are still excellent. These are the top laptops available for $250.
These laptops are reasonably priced, stylish, and cutting-edge. Which you may carry around with you everywhere you go.
Your choice of laptop now depends on your needs and preferences; you can choose any laptop based on these factors.