Choosing the right projector is challenging, whether you are an event planner overseeing wedding venues and other locations for events or a mobile DJ searching for one to add some visuals to your performance.
Most people find that the variety of available work surroundings is critical. The trick is to find a projector that can handle them all.
If you are looking for the best GOGO projector for your wedding, you have come to the right place. To help you choose the best projector for your special occasion, we will provide you with a buyer's guide and a list of the best GOGO projectors in this post.
With our assistance, you will be able to choose the right projector to add something special to your wedding ceremony and reception.
Reviews of the Best GOBO Projectors for Wedding
Following are the five best Projectors we picked for you:
1. Chauvet EZ Gobo Projector – Overall Best Pick
The Chauvet EZ Gobo is a portable, battery-operated gobo projector with various mounting options. The projector comes with ten personalized wedding-ready themed designs. It is perfect for weddings, stores, restaurants, clubs, or elsewhere.
A 10W cool-white LED with a 50,000-hour lifespan is used in the fixture. For quick setup and cable management, the scissor clip with an eye loop is easy to attach to drop-ceiling supports.
Meanwhile, the magnetic base easily attaches to most metal surfaces, negating the need for clamps. It supports wireless remote control with the included IRC-6 remote.
The Chauvet EZ Gobo can be used with the included adaptor or the internal rechargeable battery for up to 5 hours of operation.
This flexible projector features a manual zoom with a 16° to 31° range for both short- and long-throw applications. The EZ Gobos come with a power adapter, ten wedding-style gobos, an IRC-6 remote control, and a hanging bracket with mounting hardware.
The majority of the equipment a DJ needs to deliver an outstanding performance is made by Chauvet DJ, including lighting equipment like this LED gobo projector.
It is unquestionably the best gobo projector for weddings due to its portability and versatility, and it comes with several valuable attachments that increase its worth.
You can construct your gobos with this projector; even though it is not the cheapest on the list, it decreases your long-term costs.
Additionally, it will survive a lot longer than most less expensive projectors. Its portability and adaptability make it the best choice for wedding planners who need to work with various venues. The straightforward setup makes it equally useful for amateurs and enthusiasts.
2. YKGOBO LED Logo Projector – Best Value
This LED Custom Image GOBO Light Projector is ideal for anyone who wishes to make their gatherings unique. This projector is perfect for use inside and outside, thanks to its waterproof certification and all-aluminium alloy body.
Because of its inbuilt cooling system and heat pipe, your visuals will be clear and bright, and it will withstand even the warmest days.
This fantastic projector comes with a complimentary monochromatic custom Gobo that is perfect for projecting your photographs and patterns.
It is easy to use and set up, and the image quality is superb. This projector can produce bright and crisp images, making it ideal for any event or presentation.
Furthermore, it can withstand extreme temperatures, making it ideal for usage both inside and outside. It is the perfect fit for your needs because of its lightweight and compact design, which enables simple mounting with a beam angle of 15 to 25 degrees.
This projector can be mounted on a wall, floor, or ceiling. For a projection range of up to 23 feet in dark or dim spaces and up to 10 feet in bright environments, making it the ideal way to add some light and excitement to any room.
This versatile light is ideal for banquets, Christmas, Halloween, weddings, discos, clubs, and hotels. It creates a distinctive and striking exhibition by projecting a personalized image of your choice onto any surface.
3. HILITING LED Logo 40W – Best Budget Wedding Projector
This LED logo projector should be used by any business that wants to advertise its brand. Everyone will be able to see your brand thanks to the powerful beam and rotating feature.
This projector is waterproof, so you may use it outside without worrying about the weather. Because this projector rotates a logo or picture, it is sure to attract attention.
It is also helpful for weddings because it may provide a touch of elegance to any celebration or ceremony. You can quickly customize your display using remote control by choosing whether the pattern should spin or remain motionless.
Your company logo can be highlighted with a simple on/off button, regardless of where the projector is placed. This projector is composed of a sturdy aluminium alloy that is strong, non-corrosive, and excellent at dissipating heat.
This gobo light can be used outdoors in any weather because it is waterproof and has an IP65 weatherproof rating.
It rotates to produce various effects and projects a bright, clear picture onto any surface. It is perfect for gatherings, including weddings, concerts, and celebrations.
This projector allows for creating complex and sophisticated designs using a glass gobo template. Due to its excellent heat resistance and clarity, it is perfect for any occasion, and its rotating feature ensures that everyone in attendance will see your brand or message.
The projector also rotates to ensure your logo is visible from all angles. The rotating, one-colour glass gobo this powerful projector might make would be beneficial for any event.
This projector, which also comes with a free gobo, is helpful for any outdoor event. With its rotating feature, this projector will increase the excitement at your event.
4. Gobo Projector 35W – High-Quality Pick
This is another great projector on the list, it is a rotating Gobo Projector 35W is built of a sturdy, non-corrosive aluminium alloy that offers ideal heat dissipation.
The projector is suitable for outdoor use thanks to its Waterproof IP67 high-power LED that works well for outdoor advertising, business gatherings, and weddings.
Projections can be fixed or rotated using a remote control. This product includes a remote control that you can use to turn on and off and fix or rotate attractive projections.
It is simple to turn on and off lights that are put outside, on the wall, or in the ceiling. The projector is built of a sturdy, non-corrosive aluminium alloy that offers ideal heat dissipation.
The Gobo lamp can be used outdoors all year round because it is waterproof and has an IP67 weather-resistance rating.
Glass gobo templates make it simple to project intricate and complicated designs, unlike plastic and metal gobo. It is suitable for frequent use at various events due to its excellent heat resistance and clarity.
5. YKGOBO 40W LED – The Last GOBO Wedding Projector on the List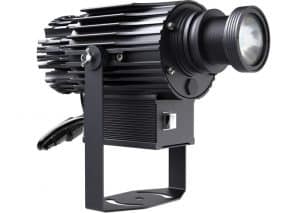 This projector comes with HD Glass with a wear-resistant lens LED made with Aluminum Technology. The components of LED Gobo Lights are reliable and effective, and they have a powerful light source and a long projection time. Both indoor and outdoor use are suitable.
The projector is created from a sturdy alloy that is corrosion-resistant, strong, and well-suited for heat dissipation.
This gobo light can use outside all year round because it has an IP65 weatherproof rating and is waterproof.
It has a remote control to configure the pattern revolving or stationary for excellent projection. Whether the projector is mounted on the ceiling, a wall, or outside, it is simple to turn on and off.
It has a projection range of bright 40ft, Dim 65ft and dark 100ft. In addition, it is equipped with a 40W OSRAM LED, 3200 lumens.
This projector will likely get people's attention because it rotates a brand or image. It works well for weddings, too, because it may give any ceremony or celebration a sense of elegance.
Using a remote control, you may easily personalize your display by setting the pattern to be stationary or spinning.
This GOBO light can use outdoors in any weather because it is waterproof and has an IP65 weatherproof rating. It rotates to produce various effects and projects a bright, clear picture onto any surface.
This GOBO light is perfect for gatherings, including weddings, concerts, and celebrations. When planning a wedding, there are many factors to consider before choosing the best GOBO projector.
Factors to Look for Before Buying A GOBO Wedding Projector
Choosing the type of projector you want is the first step in selecting the best GOBO projector for a wedding.
There are numerous varieties of projectors on the market, and each one has advantages and features. You may start to narrow down your selections by considering factors like price, performance, and durability.
A GOBO projector that can equally disperse the images across the entire screen without being too big or little is excellent for a wedding.
If the projector is too tiny, the images will be fuzzy and difficult to see. If the projector is giant, it will take up too much space and be difficult to transport.
1. Size of the Venue
A more extensive or more powerful projector will not be necessary for a smaller space. A strong projector is required if your stage is significant to display images on a large screen.
2. Projector size
The number of attendees at the event will also affect the size and power of the projector needed. A more robust projector will be required to fit everyone if more people are listening.
3. Budget
Ensuring the projector is within the pricing range is crucial because the best GOGO projector for weddings might be pricey.
Otherwise, the customer can find up spending more money than they anticipated. The brand features, and quality of the projector, among other things, will all have an impact on its cost.
A successful wedding depends on choosing a projector that meets your needs and spending limit.
4. Resolution
What sets this projector apart from others is its resolution or the number of pixels that make up the image.
The sharper the picture, the greater the resolution.
The projector's brightness is another crucial factor to consider because it will influence how effectively the image can be seen in different lighting conditions.
When choosing a projector for a wedding, it is essential to balance these two factors to get the best results.
5. Portability
You must first choose between a fixed and a portable projector when deciding the type of projector to purchase.
A portable projector is excellent if you need to move the projector from one place to another or store it away while not in use.
A fixed projector is optimal if you do not need to move the projector and have a designated area for it. Portable projectors are ideal for events hosted at multiple places because of their portability.
Final Verdict
It would be best if you use the GOBO projector during your weddings based on your needs and budget. Because there are various projectors available in the market.
We have reviewed the best quality projectors for you to choose from the list. You can pick any projector from the list it will help you for sure to organize a gorgeous and unique wedding that everyone will enjoy.