Just like the drones, remote control helicopters are also trending in India and other parts of the world. RC Helicopters are not much different from RC airplanes. The only things that vary are the design, performance, and nature of use.
Today, we will discuss the top-performing RC helicopter in India with good reception and high performance.
Best RC Helicopters in India Reviewed
Below are some of remote controlled-helicopter from the reputed brands in the industry.
HAKTOYS HAK 303 | Best RC Helicopter for Beginners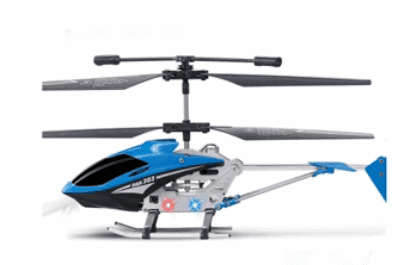 HAK 303 is built with a flexible material that prevents it from cracking upon impact. It comes with spare blades and connecting buckles. HAK 303 is quite an amazing RC helicopter for the beginners. We really loved the paint job done on this RC helicopter.
[su_highlight background="#fee4ed"]Despite its good quality build, there are some downsides to HAK 303. The remote control that comes with HAK 303 becomes unresponsive sometimes. Moreover, the side to side motion of HAK 303 struggles as well.[/su_highlight]
Toy Joy M310| Best RC Helicopter to learn to Fly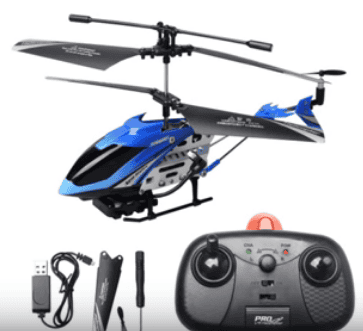 M310 comes with blue and red lines that make it look like a Police Helicopter. It has a classic controller that controls the height of the unit and elegant design. It is the best remote control helicopter in India meant for kids. M310 is great to use indoor and outdoor as well.
[su_highlight background="#fee4ed"]In terms of cons, this helicopter has a tendency to lean at one side during flight. The remote control that comes with this device is bulky.[/su_highlight]
Lutema MIT5CAVHR | Most Recommended Indoor RC Helicopter
Lutema RC helicopter allows you to fly it in all directions, including side to side using its fully functional hover motors. It handles the high winds pretty well due to its compact size. It?s small enough to toss in your bag for the last minutes flying expeditions. Moreover, it?s the only RC helicopter whose parts are available in the market.
[su_highlight background="#fee4ed"]If we talk about the downside, then the user manual that comes with this device is poorly written. Besides, it?s a really good RC device in India.[/su_highlight]
Safeplus S107G | Best RC helicopter electric motors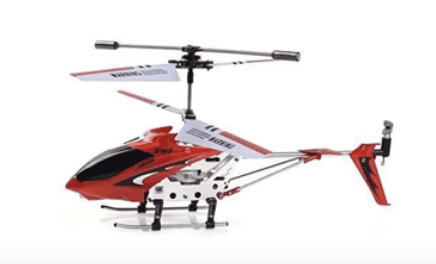 Safeplus S107G comes with a 3-way precision controller. It allows you the adjustable propeller controls for stable flight experience. This thing has a great connectivity range when compared to other Rc helicopters on this list. Its features are super wide infrared control and ready to fly mode.
[su_highlight background="#fee4ed"]The only bad thing about this device is the backward movement. Its backward movement during the flight is not good[/su_highlight].
Syma S102G | Best RC helicopter with long battery life
Military lovers will get attracted to fancy looking Syma S102G. It has 2 red lights on top that allows you to navigate it at night. The controller that comes with this device is great. It offers 10 minutes of flying time on a full charge. The smooth takeoff and landing features are worth to consider here as well.
[su_highlight background="#fee4ed"]Every good thing has a downside as well, Syma S102G cannot withstand the wind.[/su_highlight]
GPTOYS G610 | Best RC helicopter to start with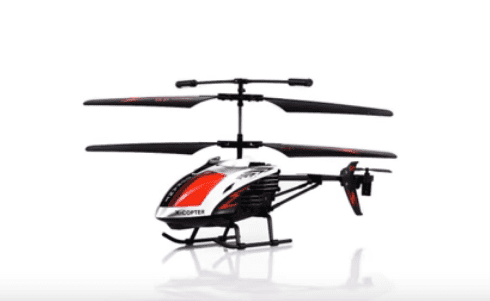 G610 is super crash-resistant and nearly indestructible. Due to its small dimensions, it is easy to fly in tight spots. The controller with this device allows you to shift between low and high speeds. The battery charges to full in 30 minutes.
[su_highlight background="#fee4ed"]Again, this thing also suffers in the wind so it?s better to use it indoor.[/su_highlight]
UDI U13A | best RC helicopter for Adults
A great RC helicopter with a steady metal alloy frame that makes it perfect for a flight. It's excellent for hovering so you can get the best shots with its built-in camera. It has a 500-foot range to stay connected with the controller. In addition, it has an integrated a micro-SD card reader to expand memory.
[su_highlight background="#fee4ed"]The only drawback we found was the controller. The controller becomes unresponsive sometimes are the distance of the helicopter increases.[/su_highlight]
Conclusion
Finally, these were some of the best remote control helicopters in India to try on. The one we recommend from this list is Syma S102G. As you know, Syma is known for producing quality drones and quadcopters. S102G delivers a great battery life and features at an affordable price. Just like RC helicopters, remote control airplanes are also trending in the market. Learn more about them here https://infantstuffreviews.com/best-remote-controlled-airplanes-for-kids/
Frequently Asked Questions
Which is the best RC helicopter under 3000 Rupees?
Some of the best remote control helicopters to buy in India under Rs. 3000 are below
E-flite Blade mCX2 RTF.
Blade 200 SR X BNF with SAFE.
FX067C 2.4G 4CH 6 Axis Gyro Flybarless.
SafePlus 107
Which is the best RC helicopter?
Syma 107 is the best RC helicopter for those who are on a tight budget. It has a great stability mechanism and is easy to fly for beginners.
Which is the best RC helicopter?
The cost of an RC helicopter starts from Rs. 500 and so on. The higher the price, the better is the quality of the copter.
What is the best indoor RC helicopter?
Syma 107 and Lutema MIT5CAVHR are the best indoor helicopter with remote control. You can learn flying the RC helicopter on these two models.
What is the easiest RC helicopter to fly?
Blade mCX2 RTF, Syma 107, Toys Joy are some of the easiest RC helicopters, to begin with.
Are RC Helicopters hard to fly?
Well, it depends upon the type of helicopter you have bought. 310 – 330 mm long rotor blades helicopters are best to learn flying an RC helicopter.