Wireless earbuds are trending on the Internet nowadays. Earbuds are comfortable listening to music when you are doing exercise, running, or doing any other activity. Moreover, it provides you freedom from those cords hanging around your body. If you are looking to buy the top wireless earbuds then you should check out these
Top Wireless Earbuds For Running Under $100
Buying wireless earbuds is a completely different experience from buying wired headphones. Because wired headphones get their power from your mobile device or computer.
However, wireless earbuds are connected by means of Bluetooth. In addition to this, wireless earbuds have a specified connection range.
Here is the list of best budget wireless that is meant for running.
SENSO Bluetooth Wireless Headphones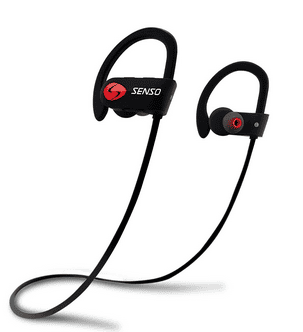 If you are on a budget and looking for a good quality wireless earbuds, then SENSO is the best you can get under $40. The design of these buds is awesome. It fits easily and feels pretty comfortable in ears.
Moreover, SENSO provides you three different sized ear tips with elastic ear clips. In addition to this, you get an IPX7 rating, noise cancellation feature, and battery life up to 8 hours.
The sound quality of this headphone is crystal clear. The only downside is the ear clips are a bit bigger than normal wireless earbuds.
Bose SoundSport Earbuds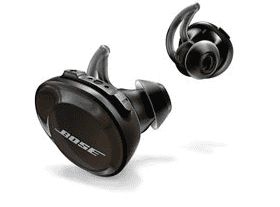 Bose is one of the most trusted brands when it comes to sound accessories. Bose produces premium quality earphones with rich sound quality.
Bose SoundSport is one of the top wireless earbuds I will recommend to everyone out there. However, Bose SoundSport is an expensive wireless earphone to buy but it promises extra rich sound quality and design at the same time.
Bose SoundSport earbuds are best for people having workout and love towards music.
The earbuds rest super comfortable in-ears even for longer durations. It has a great design with a decent battery life of up to 6 hours.
SoundPeats Q29 Wireless Earbuds for Runners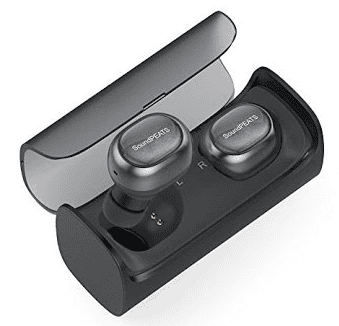 Well, this is something meant for the budget geeks who want good quality at a cheap price. Like the fully wireless earphones that are around nowadays, the Q29 comes in a carrying case.
The case comes with charging contacts to help to charge the batteries inside the earbuds. The battery life on these phones is really great delivering back for 3 hours.
Q29 Bluetooth Wireless Earbuds are quite comfortable to wear. In the box, you get 4 different sized ear tips to make things easier.
Q29 pair is super light despite having a large size. Both earphones have got the buttons on them and you can use them to control playbacks. The only problem I found with these is the buttons are quite hard to press.
LG Tone Active + Wireless Earphone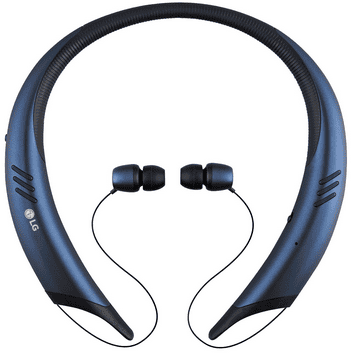 The LG Tone Active + is a high fidelity Bluetooth headset with high-quality sound and water-resistant features. The Tone Active + continues the LG?s neckband design that might seem bulky at first look.
However, it is comfortable to wear once you get used to it. Tone + is flexible enough to wear on or off easily. It also has 2 speakers on the sides to listen to music without earphones.
The retractable earbuds are designed conveniently, they are comfortable to wear with additional tips and stabilizers in the box. You can also pair the Tone Active + with a companion app on your smartphone.
The sound quality is detailed that allows you to easily distinguish between high and low tones. The earbuds also offer a good seal and there is no sound leakage at high volumes.
The battery life is good offering a playback for up to 7 hours. The only downside is that the speakers are not good enough for practical use.
Sony MDRXB50BS Wireless Earbuds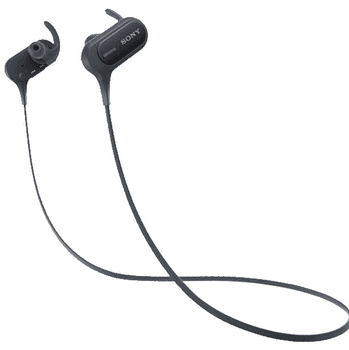 I cannot complete the list of top wireless earbuds without mentioning the Sony. The MDR wireless series by Sony is the best line of earphones in the market. MDR earbuds are truly the bass boosters from Sony.
With NFC capabilities and good battery life, these earbuds provide unbeatable performance.
Sony MDRXB50BS is a great deal for the bass lovers. It stays comfortable for longer durations and provides excellent battery backup. However, things would have been better if Sony had included a carrying case with this pair.
Conclusion
Finally, there were some of the top wireless earbuds for running under 100 Dollars. Wireless earbuds are easy to carry anywhere with you. You don't need to worry about the cords or hanging wires anymore.
Whenever you are buying wireless earbuds, just keep in mind that they fit comfortably in your ears. From this list, I will recommend you to go for the Sony MDR series. MRR offers rich sound experience with highly boosted bass.