Taking amazing photos; be it on your Phone or Camera, is one thing, and storing those photos is another. But, when there is so much stored on one device, the chances of losing all data are also anticipated. This is why you'll need a decent laptop to store your photos if you don't want to lose them.
No matter how expensive or good a laptop you are purchasing for the purpose of storing photos on it – the main feature that you need to look out for is the SSD storage capacity of your laptop alongside its highly advanced features to add additional storage options in it.
Good to Know

A 1TB SSD drive allows you to store 250,000 photos taken taken with a 12MP camera.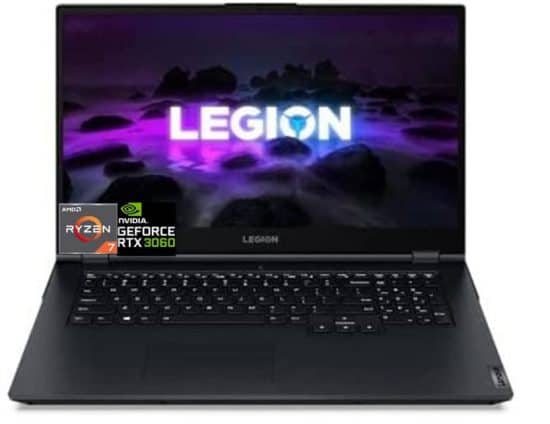 The Lenovo Legion 5 comes with a 4TB SSD storage capacity to store plenty of photos and videos. It's a great choice for people who deal with large or higher-resolution media files.
Whether you are a professional photographer who always has thousands of photos on your camera and phone or simply you need to keep all those 'years old' memories in one good safe device with lots of storage, we are here to help!
We have jotted down a list of top-notch 6 best laptops for storing photos with ease. The list is highly recommended by photographers and enthusiasts who like to keep all years down to photos under one roof.
Top 6 Best Laptops for Storing Photos
You can make the choice of buying the right laptop for storing photos with the help of this detail-oriented list of laptops for storing photos.
1. HP Pavilion – Overall Best Budget Laptop for Storing Pictures and Videos
Specifications:
CPU: Intel Core i5
RAM: 16GB
SSD Storage: 1TB
GPU: Intel Iris Xe
Operating System: Windows 11
The sleek and stylish HP Pavilion is known for providing enough space for storage and RAM that makes your whole process of 'saving pictures' more amazing.
The key element to look for in any best laptop for storing photos is its SSD storage and this laptop gives you an immense 1 TB of storage. Which is huge and plenty to store your photos either from your phone or camera.
After SSD storage, if we talk about its RAM it also is equally good. You get 16GB of RAM which is plenty to edit those images if need be. A good laptop with plenty of RAM and SSD promises a great user experience while letting you open apps and platforms of your liking.
Now, here good RAM and SSD are also complemented by the 11th generation of Intel Core i5 processor.
This powerful processor provides you with 2.4 GHz frequency which can be extended up to 4.2 GHz, making it a super powerful laptop that fulfils your needs of storing photos as well editing them side by side.
You can visualize and edit these stored photos on its 17.3 Inches diagonal screen. The fully HD screen promises crisp results and the top visualizing experience when viewing your stored images.
After the great size and result of the screen, you will be able to see the final results in the best manner – all thanks to its powerfully integrated Intel Iris Xe graphics card.
This laptop is also famous for providing you with some ultra-advanced technology features. For example; switching from Windows 11 to S mode – when required.
Turbo Boost Technology is best known for keeping the temperature of your laptop down while using heavy-duty apps.
However, the best part of this laptop is its pricing. You can get top-notch features and immense storing space for your photos in the cheapest price laptop ever possible.
The laptop price ranges from around 750 USD. Yes! All of the above-mentioned qualities in one laptop store photos at the lowest price possible.
Also Read About: Best Laptops with 1TB Storage
2. Lenovo Ideapad – Best Value Laptop for Saving Images
Specifications:
CPU: Intel Core i5
RAM: 20GB
SSD Storage: 2TB
GPU: Intel UHD Graphics
Operating System: Windows 11 Home
Lenovo Ideapad laptop is considered one of the 'low budget – high efficiency' laptops. Lenovo Ideapad promises quality and quantity at the same time.
The powerful processor, Intel Core i5 with the quad-core processor will help you in processing plenty of data images in lesser time alongside 2 TB of SSD storage.
Amazing, isn't it? The laptop with 2 TB SSD storage to store photos, videos and more is plenty, even for professionals.
But, when a good processor and even better SSD storage features in a laptop are complimented with even better RAM, you know that you are buying the best thing.
Lenovo Ideapad will provide you with 20GB of DDR4 RAM, making it the first and foremost choice for professionals who need to transfer their large files of photos from DSLR to their laptops.
When the RAM is good, the processing of large images on your laptop is easy, however, this factor might not matter for people who will be transferring images from their phones. Phones usually do not have extra huge or large image files.
HP Pavilion is a bit lesser in price if we compare it with the Lenovo Ideapad but it's because the Lenovo Ideapad offers more RAM and double SSD storage space to save your precious photos from any other device.
There is one more thing to note down here, the Lenovo Ideapad is more of a professional laptop. It means, if you are a person who just likes to take photos and wants to save them on your laptop for extra space on your phone, HP Pavilion is a good option.
However, if you also like to edit them, Lenovo Ideapad is not way too expensive in comparison to HP Pavilion as it will do an even better job.
Now, if you are wondering about Ideapad's price, it can be bought from any authentic store for around 860 USD. Yes, 100 USD more but with even better space storage and RAM processor.
In terms of Processor, Graphics, as well as and operating system; both laptops are closely good enough but I think for the purpose of storing photos and processing them on your laptops. Both devices are equally good in their own way. It depends on the user needs and wants of the customer.
3. HP Notebook – Best Laptop Media Content Creators
Specifications:
CPU: Intel Core i7
RAM: 64GB
SSD Storage: 2TB
GPU: Intel Iris Xe Graphics
Operating System: Windows 11 Home
The HP Notebook is one of the most powerful laptops not only just to store photos but also to use high-end software to edit them. For example; Adobe Photoshop and more alike platforms can be easily accessed and used without trouble.
Its powerful and latest processor, Intel Core i7 with quad-core processor is ideal for people who want more from a laptop than just storing photos as well as professionals alike.
Also, the latest Windows 11 Home operating system supports all types of latest and upcoming applications and platforms for usage. HP Notebook so far comes with the most powerful processor on our list of best laptops for storing photos.
The SSD Storage of 2TB, ensures quick storage of your photos and other software alike. You can import plenty of photo files from your phones or huge-sized files from your camera. Effortlessly. Just like Ideapad, you get plenty of storage space here but in terms of RAM, this is huge!
You get 64GB of RAM, 2 TB of SSD storage, and the powerfully latest Core i7 processor in one laptop.
Making it a good choice for people to store photos and heaven for professionals who need to work on them afterwards. The import, export and sharing of these images are also timeless and quick.
A good screen size of 15.6 Inches and an Intel Iris Xe graphics processor helps you to visualize, work on details, and see the good raw quality of images even better. This laptop has a high-quality touchscreen display which will make it easier to navigate through your store photos and other tasks.
Now, the screen size is lesser than the HP Pavilion and Lenovo Ideapad, but the features in terms of hardware are way better and amazing than the rest of the laptops mentioned here.
Other features include; Intel Boost technology to keep the calm, IPS and micro-edge touchscreen, high-speed Type A and C USB ports, AC smart pin and more. Unfortunately, there's no Thunderbolt Port on this laptop
You can get this features-enriched laptop in around 1160 USD from any authentic store of your liking.
4. Lenovo Legion 5 – Best Laptop for Storing HD Photos and Videos
Specifications:
CPU: Ryzen 7
RAM: 64GB
SSD Storage: 4TB
GPU: NVIDIA GeForce RTX 3060
Operating System: Windows 11 Home
An epitome of powerful processor, speed, and clarity is Lenovo Legion 5. This laptop delivers the most crystal clear, cutting-edge sharp images, and real-time ray tracing technology. All the credit goes to its powerful Graphics card processor; NVIDIA RTX 3060.
This laptop is not your average storing photos laptop only, you can edit, animate, and do more than you expect on this heavy-duty laptop because originally, it is meant for gaming purposes.
However, you can use heavy-end software like Luminous, Adobe, and more to do graphics and editing on it as well.
The Ryzen 7 processor with an octa-core processor is meant for utmost speed and efficiency and is best known for playing with heavy and large media files.
4 TB of SSD storage and 64GB of RAM will make sure that you will download, transfer, and edit all these photos you will never lack behind or face lag.
The SSD storage that you should look out for is immense and plenty. With this much storage, you will never have to use an HDD or any other means of storage.
The highly advanced and technological features help you with all kinds of tasks and it will not be wrong to say that this laptop is more suitable for professionals rather than a normal photo storage device.
Other notable features include; 3.2 Gen USB type C and A ports, Dolby Atmos Bluetooth, a backlit keyboard, 17.3 Inches huge FHD display screen, and more.
All these features combined make an irresistibly good laptop that helps with photos storage and more without falling back on almost anything.
If we specifically now talk about its pricing; you can purchase this laptop from any store of your liking for under 2800 USD.
Yes, it is a huge price, but when it comes to professional usage, this laptop is heaven and a lag-free device for professionals.
This is the most expensive laptop on our list of laptops for storing photos so far, but that's fair enough for professional usage.
5. ASUS ProArt StudioBook Pro X – A High Storage Capacity Laptop for Media
Specifications:
CPU: Intel Xeon E-2276M
RAM: 64GB
SSD Storage: 4TB
GPU: NVIDIA RTX 5000
Operating System: Windows 10 Pro
Another professional Photo storing laptop and more on our list is the ASUS ProArt StudioBook Pro X laptop. Keep in mind that this is the most expensive laptop on our list and if you are not looking for a professional laptop you can skip this one.
For professionals, this one is the most characteristic-rich and a hallmark of efficiency. This is your photo storage and a workstation.
The significant processor of Intel Xeon E-2276M is considered one of the highly anticipated and mighty Hexa-core processors with up to 4.7 GHz.
With this processor on your side, you do not need to look for bulky devices. This sleek laptop will be enough to work with the most powerful application right on your table.
Now, if we talk about SSD storage, 4 TB of huge storage space is enough for all kinds of heavy files and data in bulk.
Complemented with 64GB of RAM, this is one of the most powerful laptops for professionals. On top of all these amazing features, the RTX 5000 graphics card will be a cherry on top for you to view crisp and 4K HD images on your laptop.
Other out-of-the-box features include; a 4-way Nano-edge Matte display, Pantone validated colour accuracy, Intel vPro, interactive touchscreen trackpad, and plenty of more alike features.
The pricing of this laptop is a lot, you can get this amazing laptop for $5000 USD. That's an investment of one time and an experience of a lifetime.
However, if you are not seeking a high-end top-notch laptop for just storing photos, that's not the right choice for you. But if you are a content editors who deal with large photo files and videos, then it's the right option to go with.
6. LG GRAM 16Z90P – The Slimmest Pick
Specifications:
CPU: Intel Core i7
RAM: 16GB
SSD Storage: 1TB
GPU: Intel Iris Xe Graphics
Operating System: Windows 11 Home
Lastly, the LG GRAM 16Z90P here is a reliable choice if you are looking for a laptop that is good enough to store photos without wrinkles on your face and additionally work on them effortlessly.
LG GRAM laptops are known to be efficient if you need huge files to save on your laptop in terms of bulk.
The influential processor here is the Intel Core i7 with a quad-core processor and 2.8 GHz.
This is a pretty good and enough processor to not only store photos but edit them on the most known and powerful software platforms. The 16GB of RAM and 1 TB of SSD storage space is more than enough to simply save photos and more.
The Intel Iris Graphics card is pretty good in terms of getting better-quality images and sharp-edge results.
The latest Windows 11 supports all types of data transfer and applications to ease up your whole process.
You can get this durable and reliable laptop for under 1400 USD and enjoy the safely stored photos in your laptop whenever you want with plenty of space in your laptop as well as other devices.
Verdict
Getting the right laptop for the right purpose is the key to investment here. All of the above-mentioned laptops serve different purposes according to the needs of the customer. The pricing ranges from low to high and so are their features.
Now, if you need only a laptop you need to store your precious memories on it and save space on your phone in a budget-friendly manner.
HP Pavilion is highly recommended for you. However, if you need a laptop to store data in bulk and you need to use high-end applications to edit and work on them in terms of professional work; ASUS ProArt will be a matchless choice!