Enscape is a renowned third-party integration – or you can also say Plug-in – that works directly within your CAD or BIM software to design virtual-reality architectural 3D designs within seconds, leaving no room for delays and lags.
Enscape has been favoured by architects for being extremely smooth while rendering images as well as videos. It integrates well with platforms like Revit, SketchUp, Vectorworks, Archicad or Rhino to generate circumvolved panoramas, quick-fixed renders, and virtually marvellous projects without switching between tabs or leaving your project file.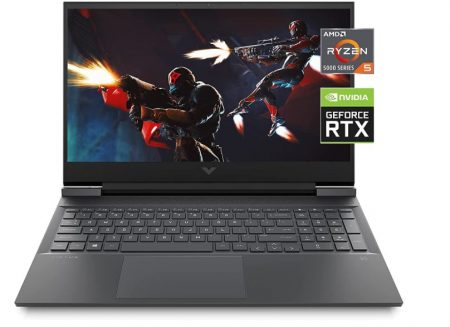 The HP Victus 16 comes is fueled by a six-core Ryzen 5 5600 CPU and RTX 3050 graphics card to deliver decent performance in Enscape 3D. Featuring a 16.1" Full HD IPS Display, the HP Victus allows you to interact with your 3D projects in true colours and accuracy.
What Makes Enscape 3D the Ultimate Choice for Architectural Design
Plenty of factors make it the ultimate choice of architecture while working on different projects; it is super easy to use and a robust platform. When making changes in your main software, all changes will be automatically done in Enscape leaving no room for mistakes or doubling the workload of edit.
This is your real-time rendering tool that helps in test-driving the whole design before making it the final one for good. So, in short, it is the only 3D virtual reality architectural designing tool that helps in generating a successful output by limiting the rendering time to seconds and providing you with quality designs – every single time!
Enscape is beyond any doubt one of the most useful yet powerful plugins to generate quality work but, it also requires certain features in the device you are planning to use it on – there are certain hardware requirements that will support this software to run smoothly without giving you lags or struggle.
Factors to Look for When Choosing the Laptop for Enscape
These factors are a necessity to run Enscape 3D smoothly on your device, so if you are planning to choose a laptop that can run Enscape 3D smoothly, you need to watch out for these minimum requirements for better results.
1. Central Processing (CPU)
This is the main ingredient to running any high-end application or software system. The same goes for Enscape as well, because this is your 3D designing and architectural software, you need a bit better than an average laptop to run these applications smoothly and without any trouble. The better the CPU is, the cut above its performance will be.
Because CPU ensures efficiency of smoothness and performance of your laptop, it is highly recommended to go for an Intel Core i5 or for even better results Core i7 will be an amazing choice. But, of course, the latest is always the better option!
2. RAM
Because the work is more focused on images and video quality in the field of architecture, Enscape brings out the best of it all. You never want to compromise on the quality of RAM. The main purpose of RAM in any computer or laptop is to help users juggle many applications and tabs at once without any inaccuracy, freeze, or lag!
For smooth results it is endorsed to choose a laptop with at least 16GB of RAM, this is the minimum requirement to run Enscape without any buffers. However, if you want to experience amazing smooth performance you should always go for 32GB RAM or even more.
3. SSD Storage
Another key feature requirement is the SSD storage of your laptop to run Enscape as flat as a pancake. The SSD will ensure that while working on the platform, projects, and different files you never get stuck or short on storage space.
SSD storage becomes useful while working on the platform and helps in achieving a 'no-lag' work experience at Enscape. It is suggested that with great CPU and RAM features, you should opt for a better SSD storage capacity of 512GB or even more to enjoy the experience of Enscape.
Important note: It is highly recommended to go for a laptop that offers more expansion slots for SSD storage.
4. Graphics
This feature is last on the list here, but it should be the first one you need to look out for because, in Enscape and architectural designing, good graphics are the key ingredient to look for all minor details and faults with crystal clear results.
The Enscape supports and works well with NVIDIA GTX 1600 (series), and NVIDIA RTX 3000 (series), alongside AMD Radeon RX 400 (series) to get sharp, point and edge-cutting graphics. The better the image quality is, the better your working experience and end product result will be at Enscape.
5. Display Screen
Many people do not consider this feature as something important to look for, but here is the thing, even if you have all of the above-mentioned key features, without this one, you will not be able to see the final results, until or unless you go and see it on a suitable device.
However, usually, in a laptop that is equipped with the above-mentioned powerful features, a good display screen is given, but it is always better to be safe than sorry, right?
So, a display screen with pixels of 1920 x 1080 will do the work. This is the standard display screen size with good results and high-end resolution.
6. Battery Life
Although this is something which can be worked out, a laptop with high-end features usually drains batteries faster. Just like gaming laptops, so always consider a laptop with at least an average battery time of 10 hours – more will always be a good choice.
Even if your battery is compromised, you can work it out with a good cooling system inside your laptop.
The CPU, RAM, and SSD storage alongside a good graphics card will make sure that you never get stuck and at the end of the day, the result will be according to your desire and wants. All of the above-mentioned features together can make your work experience on Enscape 3D even better!
Top 5 Best Laptops for Enscape 3D
We have made a list of the top 5 best laptops – equipped with all minimum requirements – for you to choose from and make the right decision for you and your career. Because a laptop is your best friend and an asset you do not want to be compromised, right?
So make the right decision today, for better outcomes tomorrow!
1. HP OMEN 15T – The Overall Best Laptop for Enscape
Specifications:
· CPU: Core i7
· RAM: 16GB
· SSD Storage: 512GB
· GPU: RTX 3060
· Display Screen: 15.6 Inches | (1920 x 1080)
· Battery Life: 7-8 Hours
HP OMEN 15T is the cut-above choice for all gamers, professionals, and people who need to run a few high-end applications to work on projects and of course for architects, who need to run bit complex software and heavy plugins like Enscape 3D and more.
This laptop has a Core i5 processor from the 10th generation, which means you are above the average line and can easily work on your software and play games. When it comes to Enscape (specifically) it also meets the requirements of a powerful processor.
After the processor comes the RAM and SSD storage and here as well it qualifies what you are looking for with the RAM of 16GB and 512GB of SSD Storage. All these features are powerful enough to run Enscape and other alike software with ease and efficiency.
The graphics provided by this laptop are exceptionally good because it is equipped with the NVIDIA RTX 3060 graphics processor which is known for being the best in the field. The amazing graphics are complemented by its huge display of 15.6 Inches and an above-average screen resolution of 1920 x 1080.
This laptop can give you a battery timing of up to 7 or 8 hours and additional features that help in making it a great choice for you are Bluetooth connectivity, Wi-Fi, USB Type A and C slots, audio jacks and speakers, card reader, and not to forget its backlit keyboard.
To summarize, this laptop is your above-average laptop which is exceptionally good when it comes to working on different and complicated software, and games, and not to forget the Enscape 3D software at quite a reasonable price.
Read our detailed HP Omen 15 review
2. HP Victus 16 – Best Value Enscape 3D Laptop
Specifications:
· CPU: AMD RYZEN 5 5600
· RAM: 8GB
· SSD Storage: 512GB
· GPU: RTX 3050
· Display Screen: 16.1 Inches | 1920 x 1080
· Battery Life: 10 Hours
HP Victus 16 is one of the powerful laptops that are compatible with heavy software for rendering, gaming, and all other alike programs and software. The powerful process of AMD Ryzen 5 5600 is known for being the best one when it comes to speed and accuracy.
It comes with SSD storage of 512GB and 8GB of RAM which is a little less than what you might have been looking forward to but this incompetency has been covered by its powerful processor so there's nothing to worry about.
Not only processor but it is also equipped with a powerful graphics processor of the NVIDIA RTX 3050 series for powerful and crisp visuals. This is one of the greatest and most powerful series when it comes to 3D designs and architectural designs.
The great resolution of 1920 x 1080 with a relatively bigger screen of 16.1 inches also plays an important role in making the visual designs and their presentation even greater.
All these features make it an exceptional choice for your Enscape experience because not only is it great in what it offers you, but it is also very cheap in your pocket. You can get this laptop from any authentic store or website for under 1000 USD, which is a pretty fair and great deal!
Also, read our comparison of HP Pavilion vs HP Victus
3. Lenovo Ideapad – Best Price to Performance Laptop for Enscape 3D Application
Specifications:
· CPU: Core i5
· RAM: 20GB
· SSD Storage: 512GB
· GPU: Intel Iris Xe Graphics
· Display Screen: 15.6 Inches | 1920 x 1080
· Battery Life: 12 hours
Lenovo's IdeaPad receives immense love and appreciation because not only is it equipped with ultra-fast and competent hard drive features, it is one of the sleekest, most beautiful, and most lightweight laptops you can have.
The latest generation (11th) of Core i5 makes it the fastest processor on count with quad-core processors to run Enscape 3D and other relevant features side-by-side.
20GB of RAM which is even more than the RAM of 2 x HP 16-e0010nr – it also means that it is faster than HP 16-e0010nr as well as HP OMEN 15 – and the SSD storage of 512GB gives you enough room to work effortlessly.
This laptop runs on the latest Windows 11 operating system and therefore it is suitable for the latest updates on Enscape 3D as well as all other latest or old software.
Followed with a wide screen of 15.6 Inches and a high-end HD resolution of 1920 x 1080, it is known for being the best in visualization and related software.
The Intel Iris Xe Graphics is the latest and most powerful graphics processor that is known for providing you with ultimate crisp and clear images for even better results.
IdeaPad comes with a touchpad screen, making visual work, creation of images and videos, rendering and almost everything on Enscape even better.
This is one of the most powerful and great laptops that comes at quite a reasonable pricing plan – you can get this laptop from your desired location for under USD 800, which is more than a fair deal for such a great laptop.
4. GIGABYTE 5G GD – Best Laptop for Architect Software
Specifications:
· CPU: Intel Mobile CPU
· RAM: 16GB
· SSD Storage: 512GB
· GPU: RTX 3050
· Display Screen: 15.6 Inches | 1920 x 1080
· Battery Life: 7-8 Hours
GIGABYTE 5G GD is a bit unique and you can say in simple words – a different type of laptop – that works with the most powerful features to run heavy-end software and platforms with ease and simplicity. It comes with all features accordingly or even above the average features that you require to run Enscape 3D.
If we specifically talk about its CPU – it is an Intel mobile CPU that comes with 6 cores processor count alongside a 4.5 GHz processor which is greater than your usual laptop as well as computers. The speed of the CPU determines the speed of applications running on your system as well as it helps in eliminating lag and errors.
A RAM of 16GB and an SSD of 512GB are also according to the specifications we mentioned for you at the beginning of this article. So, you can run your Enscape 3D with ease and without anything to be worried about throughout the years of usage.
The cherry on top is its GPU which is NVIDIA's most powerful series RTX 3050 and alongside powerful RAM, SSD and CPU it ensures you never see under-average or poor-quality graphics on your laptop ever again. It also means there is less to lose and more to gain – always!
With an average battery life of 8 hours, a good screen size of 15.6″ and a great resolution of HD quality, I think this is so far the most powerful as well as a most extravagant laptop at quite a reasonable price.
If you are looking for something more than the average laptops you see in the market, I think this is a great deal for you.
5. ACER Nitro 5 – Affordable Laptop for Enscape and AutoCad
Specifications:
· CPU: Core i7
· RAM: 16GB
· SSD Storage: 1000GB
· GPU: RTX 3050
· Display Screen: 17.3 Inches |
· Battery Life: 10 Hours
Acer Nitro 5 is the last one topping our list with its powerful features, average pricing, and more precisely a good match for your better experience at Enscape 3D. ACER's Nitro 5 comes with the powerful CPU of Core i7 and 8 cores alongside 4.7 GHz of processor count. This is the ultimate choice for Enscape experience, gaming and everything that is your above-average software.
Complimented with 16GB and SSD storage of 1000GB it makes it the most powerful laptop on our list so far. The great equipped GPU processor is of NVIDIA RTX 3050 which is like a blessing and heaven at the same time for architects, gamers and people of alike fields.
The battery life is on average 10 hours with the most giant screen –we had so far – 17.3 Inches. That is what makes it the number one favourite of all!
Not only that, but it also comes along with 4 USB ports, Bluetooth connectivity, and Wi-Fi among other basic features. But the best of all is its CoolBoost technology which makes it keep cool while running heavy and energy-draining software and applications.
Conclusion
All mentioned laptops are a good match for your Enscape 3D experience and you can choose the one that compliments your needs and requirements. If you are not on a budget and you want the best of all ACER Nitro 5 is the perfect match for you. Another option for not-being-on-a-budget is Lenovo IdeaPad.
For those who are on a budget, HP OMEN 15T and HP 16-e0010nr are pretty good options – while staying on a budget, you can grab yourself a pretty great deal. And for those who want a medium solution with exceptional features GIGABYTE is the way to go!