Do you require a high-quality laptop for daily use? Find out if the Acer Aspire 3 A315-24P has everything, you are looking for in a laptop by reading this review. The Acer Aspire 3 laptop appears to provide a lot for its relatively low asking price, at least on paper.
You receive a decently sized 15.6-inch Windows 11 computer with an AMD Ryzen 3 7320U Quad-Core Processor and Full HD display.
Not too bad for a cheap laptop that costs around $250. Students and families that wish to get online without breaking the bank should definitely give it some thought.
I will examine the Acer Aspire 3's physical attributes and design in-depth in my review.
In addition, I will give a thorough evaluation of the laptop's processor, GPU, storage, RAM, and battery life.
Acer has become well known for its unique aesthetics in design. The Acer Aspire 3 and its predecessors serve as evidence of this.
Despite having a rather trendy appearance, they have maintained the majority of their products at reasonable discount prices.
For instance, the Acer Aspire 3 laptop was $400 at the time this review was being written.
Can the Acer Aspire 3 perform in addition to having a beautiful design?
Acer Aspire 3 (A315-24P) Complete Review
Attractive and solid design
Decent connectivity
Comfortable typing experience
Limited performance
Very basic display
Specifications
| | |
| --- | --- |
| Brand | Acer |
| Series | A315-24P-R75B |
| Screen Size | 15.6 inches |
| Color | Silver |
| Hard Disk Size | 128GB |
| CPU | AMD Ryzen 3 |
| RAM | 8GB DDR4 |
| Graphics | AMD Radeon Graphics |
| Operating System | Windows 11 |
Design, Dimension & Weight
The laptop Acer Aspire 3 has a large screen and is well-built. Furthermore, despite its substantial size, it doesn't appear cumbersome.
Because Acer laptops are primarily composed of plastic, they appear less durable than laptops made of aluminium.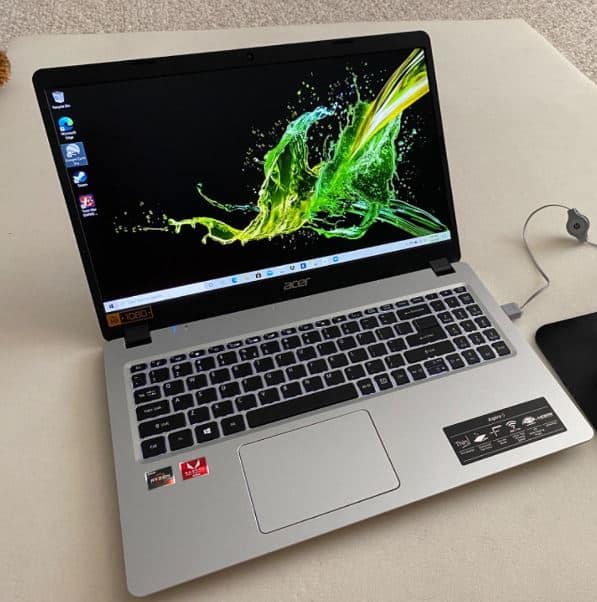 For a 15.6″ laptop, the Aspire 3 is neither particularly thick nor heavy.
On the 15.6″ Full HD IPS display with a 16:9 aspect ratio and thin bezels, enjoy clear details and vibrant colours.
It has an identical aesthetic as when its forerunners were first introduced.
The lid and hinge designs on the Acer Aspire 3 differ slightly from those of its predecessors.
Speaking of the lid, it has a silver Acer logo in the centre that is positioned properly. This lid has a pattern that is gently textured and brushed.
In particular, the interior of the laptop's keyboard deck has these textured patterns.
You get a 15.6-inch display over the keyboard deck. This display's bezels, though, are sadly extremely thick.
Since I am used to using laptops with narrow bezels, I would have enjoyed it if they were thinner.
A thoughtfully positioned integrated HD Webcam is located at the top bezel.
However, this webcam only offers 640 by 480 pixels of resolution, which is rather below average, and hence produces grainy movies.
There is a thin audio output below the screen. The speakers are at best "mediocre," as they hardly produce a loud sound.
The Acer Aspire 3 weighs 3.92 pounds and has dimensions of 14.29 x 0.74 x 9.35 inches. It is sufficiently lightweight and small for a 15-inch laptop.
Display
In terms of the display itself, the Acer Aspire 3 comes in HD or Full HD resolution options.
The Acer Aspire 3 will give you a wonderful viewing experience regardless of which one you select.
The 15.6-inch screen is the first indicator that this laptop is inexpensive. On a stunning HD display, take in everything in rich detail.
Although the Full HD model is the superior choice, it is more expensive as to be expected. The Full HD IPS display option is available on our review unit.
Since the screen is Full HD, the images are at least aesthetically pleasingly crisp.
Although you can still see, individual pixels if you look closely enough, the 1920 x 1080 resolution ensures clear results.
Whether you are looking through your photo collection or relaxing with a movie.
Since this display measures 15 inches, as I already explained, it has a big screen and is ideal for watching videos. The color rendering, however, appears a little light.
Keyboard and Touchpad
You receive a comfortable keyboard for typing. The keyboard on this laptop has silent keys that travel smoothly.
The region around the keyboard deck, however, doesn't seem very solid.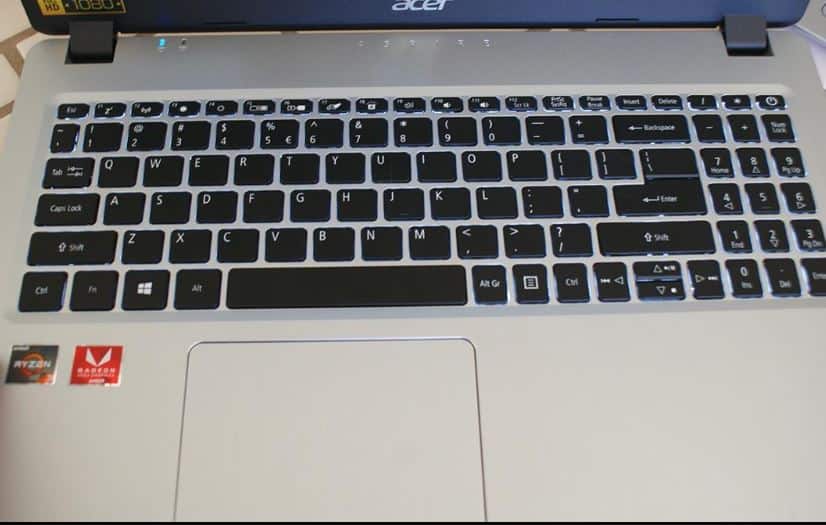 When you apply light downward pressure to the deck, the back panel slightly moves inward.
Whatever the case, typing on the keyboard feels sturdy and comfortable.
Given that there is a separate number pad in the key-deck space, the key arrangement also seems spacious.
The absence of backlighting is the one drawback of this keyboard, but it is a small one given how perfectly the keys function.
On the other hand, the touchpad falls short of the sturdy feel of the keyboard. When touched, its thin surface gives off a loose feeling.
Processor (CPU)
Particularly, AMD Ryzen 3 7320U or Ryzen 5 7520U processor options are offered for the Acer laptop.
They are both 4-core, 8-thread, 15-watt CPUs with AMD Radeon 610M graphics and Zen 2 CPU cores.
The Ryzen 3 7320U CPU has a 2.4 GHz base frequency and a 4.1 GHz boost frequency, but the Ryzen 5 7520U chip has a frequency range of 2.8 GHz to 4.3 GHz.
AMD Ryzen 3 7320U Quad-Core Processor is the processor in our review unit.
The AMD Radeon 610M graphics on both CPUs include two GPU cores running at 1.9 GHz.
The CPU has the power to drive up to four monitors, but the few GPU cores will probably make it unsuitable for gaming or other jobs that demand a powerful GPU.
In general, AMD is marketing Mendocino CPUs as being able to improve performance and battery life for laptops starting at roughly $400, including the new Acer Aspire 3.
When it comes to carrying out necessary daily chores like online browsing, managing office productivity workloads, and streaming YouTube videos, the AMD Ryzen 3 processor excels.
The Aspire 3 is responsive, but if it is overworked, it may slow down.
The laptop was primarily used for browsing and watching videos, however, if you open too many Chrome tabs or use too many apps at once, the Aspire may start to sweat.
It can handle programs like Photoshop and video editors like Premiere Pro, but we are not talking about daily use here.
The base frequency of the quad-core processor is 2.4 GHz.
Additionally, it can still use the 4 cores while operating at a maximum frequency of 4.1 GHz.
Since you are reliant on the integrated Intel UHD Graphics 620, the laptop is not intended for gaming.
If that's what you want, you will be better off with a more potent machine.
The Acer Aspire 3 comes with 8 GB of DDR4 SDRAM. Despite having only one RAM slot, the Aspire 3's memory may be increased.
Moreover, the Acer Aspire 3 comes with 128 SSD storage. Unfortunately, there is no slot for an SD card to provide more storage to the laptop.
The Acer Aspire 3 comes with AMD Radeon graphics. The GPU and the processor both shared memory.
The implication is that you shouldn't anticipate the Acer Aspire 3 to run graphics-intensive software or play graphically demanding video games.
Connectivity
The ports and connections consist of an Ethernet jack, a USB Type-C port, a USB 3.0 port, an HDMI port, and a port on the left side of the port.
On the other hand, the right side of the laptop has two USB 2.0 ports, a headphone jack, and a power connector.
Speakers
The laptop's dual speakers, which are unfortunately located on the bottom, blast forth sound.
That implies that any audio is muddled by your desk or your lap.
It's OK for casually watching YouTube videos, but if you want to watch a movie or listen to music, we suggest connecting speakers or headphones.
Battery Life
The Acer Aspire 3 comes with a 2-cell Lithium-Ion battery with the Acer Aspire 3. The battery's manufacturer claimed that it could last up to 8 hours.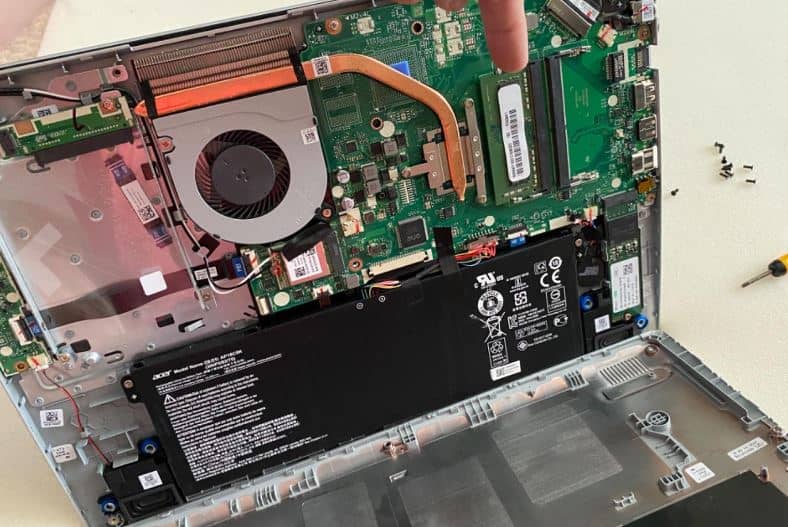 We are unable to immediately determine if the manufacturer is right or wrong. A brief test run will be used to evaluate how far the laptop can go.
Video playback and web streaming testing were part of the battery runtime test. The Wi-Fi was activated during this test, and the laptop's display brightness was set at 50%.
During the test of internet browsing, the Acer Aspire 3 offered a runtime of up to 6 hours and 40 minutes.
A video playback test was provided for 6 hours and 20 minutes.
Final Thoughts
Last but not least, the midrange Acer Aspire 3 laptop is ideal for simple computing chores.
Consequently, if you require a laptop for web browsing, Netflix watching, or reading and sending emails, this laptop will serve your needs.
The Acer Aspire 3 might not be for you, though, if you are searching for a laptop for intensive computing tasks or gaming.
This laptop is best suited for use by students and office workers who only have light requirements.
The Aspire 3 is a respectable everyday laptop with a modest asking price if you can overlook the simple display.
I sincerely hope that our Acer Aspire 3 review was helpful.