Qmobile Z12 Pro. Hello everyone this time we are back with qmobile latest model from Z-series. Qmobile has been producing affordable and cheap mobie phones in Pakistan and other parts of the world from a very long time. However Z12 is not the up to date addition from qmobile but somehow it is still yet loved by people due to its specific features in which flash selfie camera is highlighted the most.
Qmobile Z12 Pro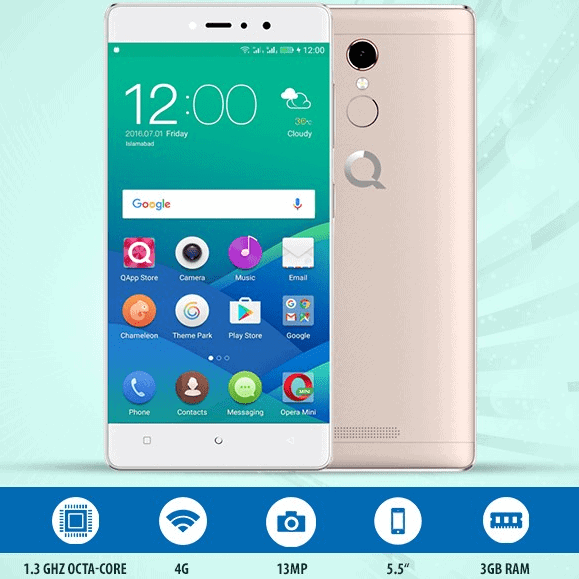 Display
Qmobile Z12 Pro comes with 5.5? of full HD display with the touch capacitive buttons resting at the bottom of the display. On the top there is flash LED, sensors and 8-MP camera for taking nice selfies. We found metallic body on the back whereas plastic body on the areas like volume key button and power button that act as antenna as well. Display on the phone is awesome with well saturated and vibrant colors. We loved the display quality of this phone.
Performance
Qmobile Z12 Pro is powered by 1.3GHz Octa core processor along with 3 GB of ram. In terms of performance we really struggled on playing some high end game which lagged badly on some occasions. The processor from Q-Mobile is something that has been used in Z10 as well. However with 32GB of internal memory and expansion up to 64GB is an interesting option from Qmobile Z12 Pro we have seen so far.
With Marshmallow 6.0 software looks pretty well optimized and amazing and inside apps and multi-tasking is a great experience when you have that on qmobile Z12 Pro. Overall the interface of the software is pretty much good. Switching in the applications is pretty much fast then what we were expecting.
Qmobile Z12 Pro comes with finger print sensor which is not that much responsive when compares to other member Z14 from the same family. For such a low price one cannot expect to work it as good as sensors from Samsung and iPhone.
Camera
Having a look on camera section we get 8MP fixed focus selfie camera on the front and 13MP Auto focus camera at the back with flash on front and back. The camera modes are the same as you found in the previous models like HDR, Panorama and Night. However applying filters on the front and back camera gives a little lag. Besides that you can record HD video and takes snaps from the back of the camera in good lighting conditions. Just keep in mind good lighting conditions t that means you should not expect that much at night or in low lighting conditions. With front camera you can use beauty mode to enhance your selfies or you might use the flash as well. Yes the selfie camera is better to take selfies and nothing else. We might say this is the best selfie phone at cheap price in Pakistan.
Battery and Price
qmobile z12 pro comes with 3150mAh battery that might last for the whole day if you perform gamign and do a lot of internet surfing. Talking about the price of qmobile Z12 Pro in Pakistan you can get it around Rs. 17,500 which is somehow more than what we get in this mobile.
Should you buy?
Well it depends on the person buying the phone. Qmobile Z12 Pro?is for the people who like selfies. And if you want something more then there is Z14 from qmobile. Which is far better than this phone. From our side it?s a No. For a price like this you have more options to go for.