Finding the best tablet for Adobe Illustrator & Photoshop can make a big difference in your work, whether you are a professional or just starting out.
When selecting a tablet, there are several factors to consider, including size, pressure sensitivity, and software compatibility.
Technology has become everything in today's world. Everything from communication to gaming to streaming is based on technology.
Every day, there is a demand for newer technology, and even an upgrade on your current technology becomes necessary as time passes.
If you are a creative person, you will need a high-quality tablet to maximize your potential. To edit photos and videos, you will need a high-definition, feature-rich device.
Because we will be discussing Adobe Illustrator and Photoshop, you must purchase a device with a high-end processor.
A powerful processor is required to run graphic design software such as Adobe Photoshop, Illustrator, Premiere Pro, InDesign, Lightroom, After Effects, and others.
Other important features will be discussed later, but a Stylus is just as important when purchasing a tablet for Adobe-related work.
Best Tablets for Adobe Illustrator & Photoshop
Here are the top options:
1. Apple 2022 12.9-inch iPad Pro: Overall Best Pick for Adobe-Based Applications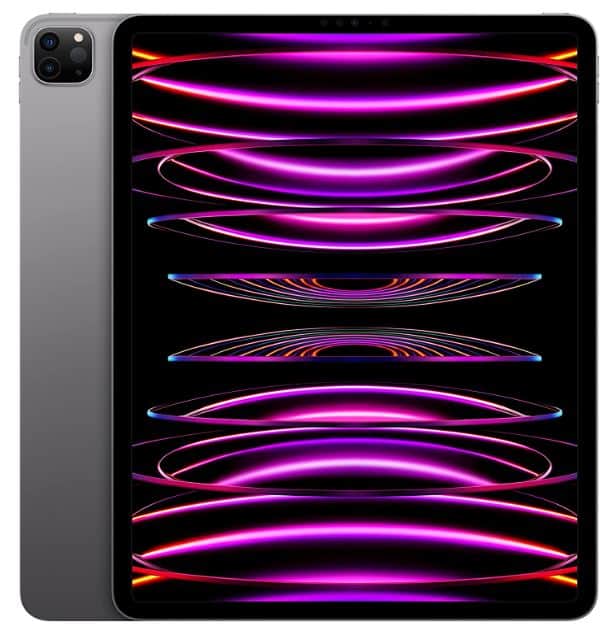 The iPad Pro is an excellent choice for Adobe users. In this edition, Apple has increased its battery life.
Furthermore, the Apple-designed operating system is fast and facilitates multitasking.
The updated Stage Manager and resizable windows in iPadOS 16 take things even further.
External display support is also being added to iPadOS 16 to allow for a smooth transition to a larger monitor for in-depth work.
The high-end Apple iPadOS is fantastic. Any Adobe app, such as Photoshop, After Effects, Illustrator, or Audition, will run smoothly.
The M2 chipset, 8-Core GPU, and 8GB RAM easily handle multitasking.
Because of the chipset, the transition between apps and tabs is seamless. Apple provides 256GB storage with storage options of up to 2TB.
The 12.9-inch Liquid Retina XDR display supports ProMotion, True Tone, and Wide Color.
The fast refresh rate and 4:3 aspect ratio are ideal. The 2732 x 2048 resolution enhances color vibrancy and sharpness.
The new iPad Pro also includes a new feature known as Apple Pencil Hover.
Users can now hover the Apple Pencil up to 12mm over the display with this feature.
The iPad Pro will then display a preview of the mark's size or color mix before it is applied.
This increased versatility is essential for digital artists because it can save a significant amount of time when adjusting settings/color palettes.
The Hover feature also aids in text field recognition, allowing you to convert handwriting to text even more seamlessly.
The Apple iPad Pro 2022 supports the Apple Pencil (2nd gen). The Apple Pencil is scratch-resistant, supports palm rejection, and has pressure and tilt sensitivity.
Moreover, the Apple iPad Pro has a Thunderbolt port (Type-C), a magnetic charging connector, Wi-Fi 6e, Face ID, and Apple Pay.
Smart Keyboard Folio, Magic Keyboard, and Bluetooth Keyboards are all compatible with the latest Apple iPad Pro.
The battery life is also outstanding, with a single charge lasting up to 10 hours.
Reasons to Buy:
M2 chip/fast performance
Great battery life
Hover functionality
Liquid retina XDR display
Many drawing/graphic apps
Thunderbolt 4
Apple Pencil (2) is great
Reasons to Avoid:
No headphone jack
Expensive
Quite heavy
2. SAMSUNG Galaxy Tab S8+: Best Value Tab for Adobe Content Creation Apps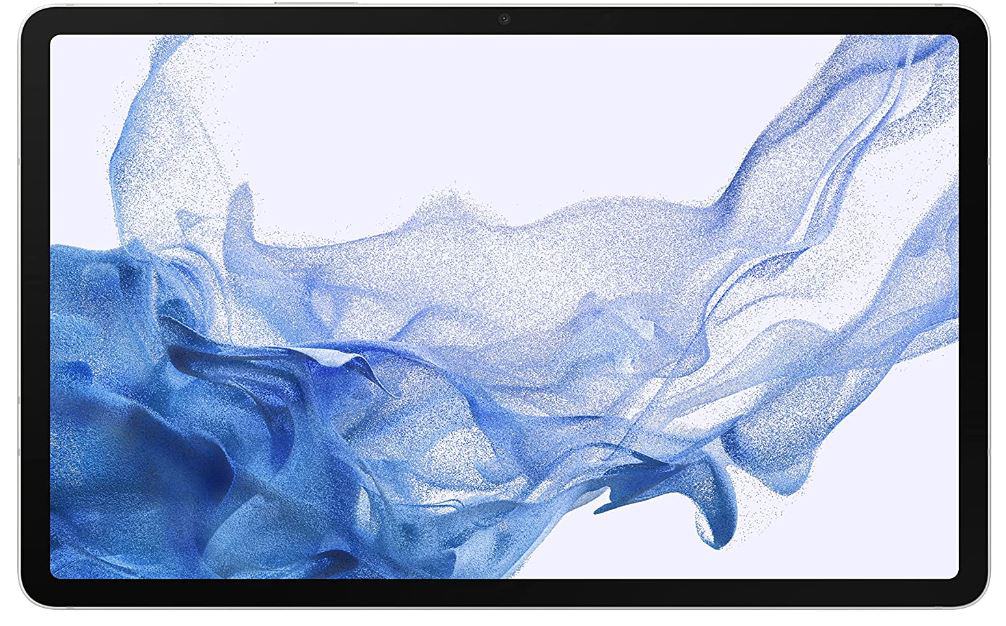 The Samsung Galaxy Tab S8+ hits the sweet spot for "PC performance, Tablet portability," according to Samsung.
Samsung has always been the standard-bearer for Android devices, and the Galaxy Tab S8+ is no exception.
If you are not going to buy an Apple product, it's a no-brainer to go with Samsung.
If you work as a designer or a student and use Adobe software such as Illustrator or Photoshop, you will undoubtedly benefit from this device on the go.
The Samsung Galaxy Tab S8+ has a 12.4-inch AMOLED display with a resolution of 2800 x 1752 WQXGA+.
The Super AMOLED, HDR10+ display has excellent color accuracy and matches the latest iPad Pro, which is quite an accomplishment.
The aspect ratio of 16:10 is excellent, as is the refresh rate of 120 Hz. The massive 84.6% screen-to-body ratio is also a huge plus in terms of display.
The fast refresh rate ensures that the work area scrolls and moves smoothly.
The 8GB RAM provided by Samsung in the Galaxy Tab S8+, along with the Qualcomm SM8450 Snapdragon 8 Gen 1 processor is of high quality and easily runs any Adobe app.
Because of the high-quality chipset, multitasking, and switching between apps or tabs is extremely smooth.
The 128GB storage is adequate on its own, but the dedicated microSD slot allows you to expand the storage up to 1 TB.
Android 12 is the operating system installed in the tablet, with four years of major updates scheduled.
This means that you can use the Tab S8+ for a long time before having to replace it with the latest software.
The S-Pen is compatible with the Samsung Galaxy Tab S8+. You can use any other stylus, but the S-Pen is the ideal companion for the device and is included at no extra cost with the tablet.
The new S-Pen has a lower latency, a magnetic attachment, and an air gesture for faster control.
In addition, the S-Pen has 2.8ms latency and 4096 pressure sensitivity levels.
The reduced latency means virtually no input lag, which is critical when illustrating or drawing.
You no longer have to wait and wonder if your input was correctly registered, allowing you to draw with ease.
Reasons to Buy:
Powerful processor.
Life of the battery.
Excellent presentation.
Multi-purpose.
The price includes an S pen.
Reasons to avoid:
Pricey.
The magnetic attachment on the S pen is not very secure.
3. Microsoft Surface Pro X – 13″: A Great Tablet for Adobe Content Creators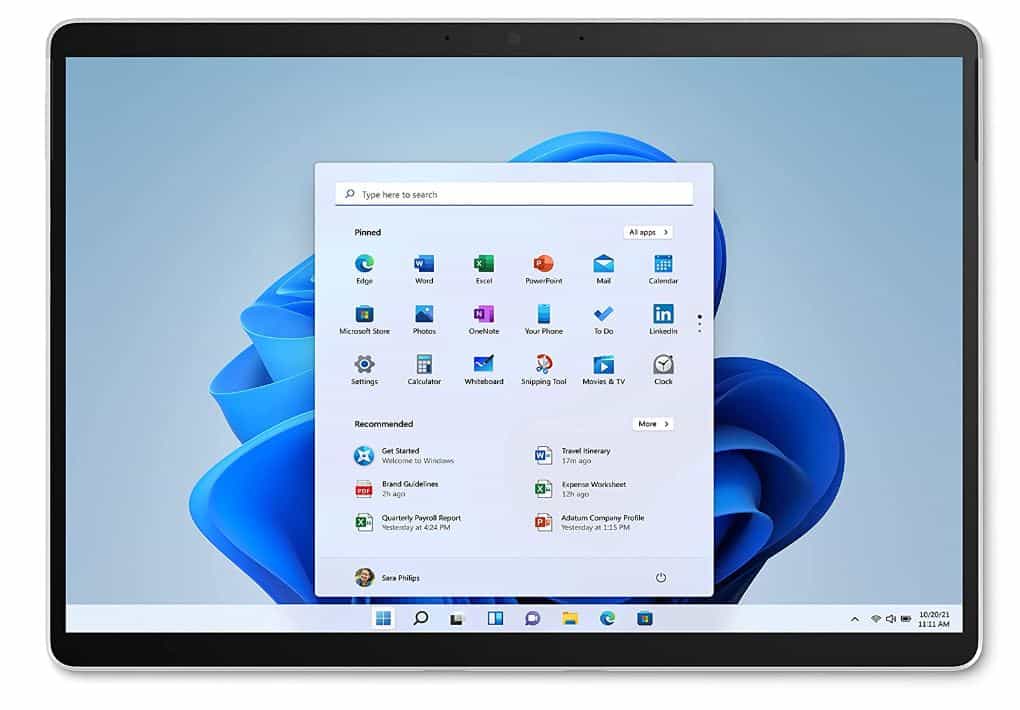 To begin, the screen is an important component of this tablet/laptop hybrid. It has a 13-inch touch display with a resolution of 2800 x 1920 pixels.
It also has a fast refresh rate of 120Hz for buttery smooth scrolling and motion. The screen itself can be configured in numerous ways. Laptop Mode, which is, as the name suggests, similar to a standard laptop.
There's also an option to move the screen ahead of the keyboard but behind the trackpad.
That mode has the feel of an easel and is useful for illustration, drawing, and even watching YouTube videos or streaming.
This is due to Microsoft abandoning Intel in favor of its own ARM-based chip, developed in collaboration with chipmaker Qualcomm,
However, the resulting product falls short of the hype of what an ARM-based Windows device could truly offer.
There are some significant advantages to devices based on ARM rather than the decades-old x86-chip architecture.
Whereas previous Surface Pro devices were Intel-based, allowing them to run any application that the device's specifications could handle.
Well, the creatives may feel constrained by the Surface Pro X and its much shorter list of supported software.
Photoshop and Lightroom, for example, are the only current Adobe Suite applications that can run natively on an ARM-based device.
Therefore, if you use multiple Adobe programs to complete a project, the hardware will be extremely limited.
We recommend the top-spec model, which has 16GB of RAM and 512GB of SSD storage for $864.
Given the limitations of ARM for creative professionals, that's a lot of money to spend on something that will almost certainly be relegated to a secondary device.
Especially when the aforementioned iPad Pro caters so well to creatives in need of a portable solution.
For the price of the Surface Pro X tablet alone, you could buy a low-cost laptop that is much better suited to handling demanding software.
Battery life was cited as a significant advantage of using an ARM-based device, and Microsoft claims on its website that the Surface Pro X can run for up to 15 hours.
This was not the case in our tests, with the tablet running a continuous looped video for 9 hours and 10 minutes and Adobe Photoshop for around 8 hours and 12 minutes.
You can expect an average of 7-8 hours depending on what you use the device for, which is quite adequate.
Reasons to Buy:
Beautiful 13-inch display
Lightweight and ultra-portable
Fantastic cameras for a tablet
Reasons to Avoid:
No Thunderbolt 3 or Thunderbolt 4
Stylus and keyboard come sold separately
4. Wacom Mobile Studio Pro 13″: A Professional Tablet for Adobe Illustrator, Adobe Vector & Photoshop Users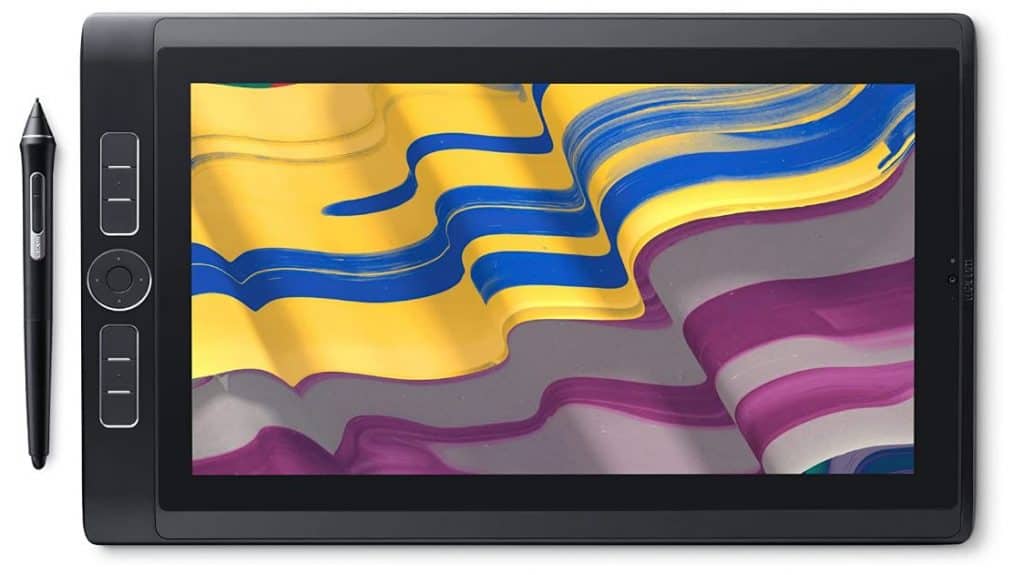 On the surface, the Wacom Mobile Studio Pro 13″ appears unremarkable by graphics tablet standards, so if you come across a listing for it, you might be wondering why it costs so much.
The thing is, this highly specialized device is more than just a drawing tablet; it's an entire portable workstation.
Allowing those in professional creative careers to take full versions of popular applications with them wherever they go.
The Wacom MobileStudio Pro 13 dwarfs every other stylus tablet or phone on the market today.
This device comes with the Wacom Pro Pen 2, the best digital stylus I have used – and possibly the best digital stylus on the market today.
While other machines attempt to meet all of your needs at once, the Wacom MobileStudio Pro 13 is a creative tool that is solely focused on that role.
The Wacom Pro 13 is the most powerful compact device yet, with enhanced computing power, fast data processing, and quick data transfer.
Thanks to an Intel i7-8559U processor, 16GB system memory, a 512GB SSD, and Thunderbolt 3 connectivity.
With a 13.3″ WQHD (2560 x 1440) screen with up to 82% Adobe RGB coverage and a 3-angle adjustable Wacom Stand included.
You can enjoy your graphics and artwork in great detail and clarity.
The Wacom Pro Pen 2 is battery-free. It has some weight to it, but not excessively so. It is large, but it's just right.
This stylus is optimized for this computer, and this computer works with the pen to position pixels at the pixel level.
This is the closest I have ever seen a stylus come to resembling a real pencil on paper, with most of the positives and none of the drawbacks.
The entire tablet is heavier than you might expect, but not nearly as heavy as you might think. The weight of this model is approximately 1420 g / 3.13 lbs.
This device has a short battery life, which is easily the most unfortunate turn of events.
After a full charge, I have gotten up to three hours (or so) of work time from this device. This device is charged using the USB-C charger included in the box.
This is not the type of device you would bring on an international flight. It will not last.
Unless you have power ports onboard. No problem if you have the ability to stay connected!
Reasons to Buy:
Display glass is matte, stops reflections
Display glass/stylus creates perfect surface tension
Wacom Pro Pen 2 stylus is the best
Industrial Design remains strong
Fully functional Windows PC
Reasons to Avoid:
Battery life left us wanting
Battery charge speed is relatively slow
5. HUION KAMVAS 22 Graphics Drawing Tablet: A Budget Tablet for Adobe Creators
The anti-glare finish surface on the Kamvas 22 series is critical to ensuring clear and vivid display effects.
The anti-glare matte film and etched glass may keep your screen clear and transparent in bright light.
The screen has a QD LCD with a Full HD 1920 x 1080 resolution, a 1200:1 contrast ratio, and a 140% sRGB color gamut.
The images on the Kamvas 22 are sharp and clear, with excellent color vibrancy and vividness.
The Huion PenTec3.0 has a Capacitive Pressure Sensor, which allows it to respond to every pen motion with minimal lag.
Shorter pen nibs and firmer nibs cause the pen tip to barely bounce back, improving accuracy and reducing offset.
You don't need to reach behind your computer or beneath your desk to connect all of your gadgets thanks to the USB hub on the Kamvas 22 Plus.
To keep the Kamvas 22 Plus operating at the optimal temperature, it has three vented holes for heat dissipation.
They also have anti-slip rubbers on the bottom of the display to prevent sliding and ensure safe and steady operation.
The Huion PenTech 3.0 that comes with the Kamvas 22 has 8192 levels of pressure sensitivity, a 60° tilt, 5080 LPI, and is battery-free.
This means you can freely use the pen without worrying about input lag or inaccurate strokes.
All in all, it's a good tablet for drawing in Blender or if you are a professional Adobe Illustrator content creator.
Reasons to Buy:
Fantastic display.
Reasonably priced.
Great build quality.
Matte drawing surface, great texture.
The stand can be positioned at different angles.
Reasons to Avoid:
No touch-screen support.
No physical shortcut buttons.
Conclusion
We attempted to provide every option on Adobe-friendly tablets. There are some proper expensive tablets with premium features, as well as mid-range and budget tablets with functional and sufficient features.
Essentially, all of the tablets listed are high-quality devices that are ideal for using Adobe apps.
However, it is entirely dependent on the type of user you are and how much money you have to spend.
Professional content creator requires a versatile tablet to complete their tasks. One day you might be using Illustrator and Photoshop, and the next you might be using InDesign or sketching software.
If money isn't an issue and your entire job revolves around content creation, the Microsoft Surface Pro X, Apple iPad Pro, or Wacom Mobile Studio Pro 13" are all excellent investments.