Since launching in 2016, Dead by Daylight has become one of the most popular multiplayer games across platforms. Dead by Daylight is an asymmetrical multiplayer horror game where one player plays the ruthless killer, and four others play as survivors. It breaks from traditionally linear horror gameplay to put equal pressure on all five players and their split decisions. The game can be played on different platforms, from PC to PlayStation, Xbox, Switch, and mobile.
Why do you need a good gaming headset for Dead by Daylight?
Dead by Daylight is filled with various sounds. The game comprises killer chases, Fire Barrels crackling, survivor footsteps, grass rustling, heavy breathing, and other sounds.
If you are a casual or professional gamer, still there are plenty of reasons to buy a dedicated headset. The best gaming headsets can turn a video game from a fun distraction into a fully immersive experience.
In contrast, cheap headphones may technically play a game's sound. A great gaming headset can highlight important noises, deliver rich music, and let you customize your soundscape for different applications.
With a gaming headset, you'll always be in communication with your team, allowing you to make crucial decisions and coordinate strategies, which can be the difference between winning and losing.
Even if you already own a good pair of speakers, a gaming headset can prove its worth by letting you play late at night without bothering the whole household.
If you want to experience the ultimate sound quality of this game and other high-end games, then you need a premium headset.
Quick Shopping Tips
1. Compatibility:
The first thing to check is whether the headset is compatible with your gaming system. Only some headsets can work with all gaming platforms. So you must choose one that will work for most of them. Most gaming platforms include Windows PC, Xbox One, PlayStation, and Nintendo.
2. Sound Quality:
We mostly buy headsets to enjoy significant sound effects and to connect with the game more deeply. If the sound offered is not so good, that will positively affect our gaming experience. Good sound quality is an essential criterion for choosing the best gaming headset.
3. Comfort:
Gaming sessions can last for long hours, especially for professional gamers. Your comfort plays a vital role while gaming, and you shouldn't suffer for wearing a lousy gaming headset. So choose a comfortable gaming headset that lets you play for long hours.
4. Build Quality and Design:
It would be best if you opted for gaming headphones with a premium and sturdy build. And it should be durable enough to withstand wear over time.
Reviews of the Best Dead by Daylight Headsets for Immersive Gameplay
Following are the five best headsets we picked for you in terms of design, performance, comfort and budget:
1. Audeze Penrose – Overall Best Wireless Gaming Headset
The first on the list for a gaming headset is Audeze Penrose by Audeze for the Dead by Daylight gamers. Audeze Penrose is a $300 headset that will make some folks take a sharp intake of breath.
While sharing the same design and aesthetic as the Penrose X headset, it has a black chick design with blue accents. The ears cups are leatherette and comfy, and all the controls you can find on the left earcup make it easy to control.
Using this gaming headset is pretty straightforward. The left headphone of the Audeze Penrose has all of the onboard controls, which are commonly well-spaced out so that you can easily find what you're looking for.
On the headphone's left side is a mute switch for the mic and the headset's power button. Along the bottom edge are volume dials for mic monitoring and headphone.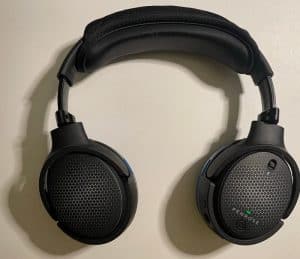 There is a button for toggling between the headset's three connection modes, a USB-C port for charging, and 3.5mm ports for audio and connecting the removable microphone.
The USB-C connection is for charging and data, adding flexibility, while the audio jack connection is excellent. The key to that is the USB dongle. It's your standard USB stick, but it is very long, so it will stick out annoyingly from whatever USB slot you use.
The wireless connectivity on offer is also excellent, as you can connect over Bluetooth to your phone and connect wirelessly to the dongle. The wireless connection's range and strength are pretty strong, with the connection never dropping out.
However, the headset's main feature is those 100mm drivers inside, which amounts to better sound at the expense of heavier ear cups.
The surround sound is marvellous and accurately presents audio from all-around game worlds and environments. The audio performance is incredibly rich, rounded, detailed, and well-balanced in all areas.
There are three main connectivity options supported by The Audeze Penrose. The headset is primarily meant to connect wirelessly using its 2.4GHz wireless USB RF dongle for gaming. This connection method is compatible with PlayStation4, 5, Nintendo Switch, and PC.
The headset can also connect via Bluetooth 5.0. The headset supports 3.5mm connections, including platforms like the Xbox Series and Xbox one.
The battery life on a single charge is about 15 hours, but it takes a while to charge. Gaming with the Audeze Penrose is excellent; it's a very comfortable gaming headset.
Even after hours of wearing it, it requires charging a little more. Without any doubt, the Audeze Penrose is a good gaming headset. It sounds incredible, it's very comfortable, and adding Bluetooth to its connection means you can use this headset with just about anything.
2. The Arctis 3 Headset – The Runner up
The SteelSeries Arctis 3 headset is an affordable option that works well with gaming consoles. Arctis 3 headphones are comfortable, and with 7.1 surround sound and solid mic performance, they are a great option if you're on a budget.
The Arctis 3 is an excellent headset, offering high-quality gaming and music sound and a comfortable fit. Arctic 3 Headset is midsize, over the ear and all black, with large ear cups and a flexible headband. The design is sleek, and you could easily use the Arctis 3 on a plane, train, or automobile without any issues.
The left ear cup has a volume-control wheel, a mic-mute button in the back, and a microphone in the front. Still, the controls are not crowded, so there's no real problem with the layout. SteelSeries produces the most comfortable headsets in the business, and the Arctis line is among them.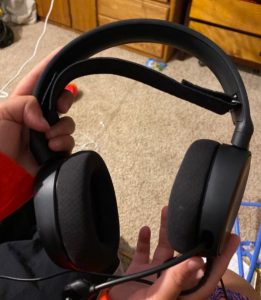 Thanks to its flexible headband and large, comfy ear cups. Unlike its two more expensive variants, the Arctis 3 doesn't offer any USB connection. The microphone of the SteelSeries Arctis 3 is well-designed, delivering rich, clear sound.
The sound on the Arctis 3 headset is rich with a precise range. The 7.1 surround features work well for a more immersive gaming experience.
The SteelSeries are selling separate Arctis 3 and Arctis 3 Console versions of the headset. However, both are entirely the same. The only difference is that the main Arctis 3 includes a dual 3.5mm extension, whereas the Console edition doesn't.
SteelSeries Arctis 3 is a comfortable headset at a very reasonable price. The sound and microphone are excellent, with a nice design; you can use this headset for a tremendous gaming experience.
3. Audio-Technica ATH-M20X – A High-End Headphone for Dead by Daylight
It is the budget consumer entry into Audio Technica headphones. A compelling option for Gamers and producers on a budget. Audio-Technica ATH-M20 is a super affordable pair of headphones. These are not as good as Audio Technica's more expensive options. But still, they are some of the best cheap headphones available.
The M20X offers high-quality sound allowing you to take the music with you anywhere. They offer very long battery life and strong connectivity. They are equipped with 40mm drivers for enhanced sound output.
The headphones have a large adjustment range, while the earcups don't swivel, so you must be careful while keeping them in your backpack.
You can still find some steel elements, especially where the ear cups connect to the headband. M20X comes with an audio cable with no Bluetooth to be found, or if you prefer the wired connection.
Most of the time, an issue with over-the-ear headphones is their fit. If the band is too hard, it can lead to headaches or too much pressure on the ears.
And if the band is too loose, there is a better chance that the headphones will slip off. The M20 headphones have an excellent extender system that allows you to adjust them to any point.
They are also very lightweight, which helps to avoid fatigue from wearing them. M20 has three buttons: power, paring, and volume up/down. The first time you turn them on, they are in pairing mode; if you long press, the power will put them into action.
The M20 headphones have surprisingly killer noise isolation. The sound-blocking property of the ear cups and the foam padding keep every outside sound from bleeding.
If we talk about its sound quality, you will be surprised the quality is astonishingly good. The sound has a lot of delicacies, and the bass is very powerful and vibrant.
The M20 has three buttons on the back of the left earphone; each has a single-press function. You can control playback, mute, stop and change the volume. The controls are pretty easy to remember and easy to engage with.
In the left earcup, you will find a USB-C port for charging. The lithium polymer battery will last for 60 hours before the next charge.
A full charge will take about 4 to 5 hours, and surprisingly ten minutes charge will give you around 2 hours of use. Another fantastic feature of these headphones is the ability to pair them to more than one device.
If you are using the headphones for gaming and want to pick up a call or stream music, you turn the headphones on and start searching for nearby Bluetooth devices they have paired with.
However, these headphones don't tick all the boxes, they can't compete in the active noise cancellation game, but they still make a tremendous entry to over-the-ear wireless headphones. They have superior sound quality; they are worth a look if you are after great sound for a reasonable price.
4. The HyperX Cloud 2 – An Expensive Pick
The HyperX Cloud was designed specifically for gamers in terms of comfort, sound quality, detachable mic, compatibility, and weight. It is a very good gaming headset with balanced sound quality and a casual design that ensures they are not just limited to indoor use.
The design of the HyperX Cloud 2 headphone focused on sound quality, among other things. It is carved so that gamers can hear the smallest details, including a feeling of isolation. However, their lack of noise cancellation ability makes them less ideal for travelling.
Another feature many gamers also love about the HyperX Cloud 2 is its detachable mic. This allows gamers to re-position the mic at an angle they feel best suited.
The Cloud 2 has a light aluminium frame that is very flexible and easily adjusts to any head size. Cloud 2 has a padded leather headband and memory foam ear pad which makes this headset very comfortable and easy to wear for long hours without noticing on your head.
Since these are wired-only headsets you cannot remove the cable from the left ear cup, the audio cable is made with braided nylon material. The Cloud 2 headphone cable comes with a typical 3.5mm jack and also a USB-A cable adapter with the audio control box.
The audio control box has a clip on the back through which you can control the volume up and down for both the headphone and microphone.
While a button in the centre lets you toggle the 7.1 Surround Sound with a click. It also includes a second pair of earpads made of more breathable material. This is a surprising treat since most gaming headsets don't bother with customizable earpads.
You can use the headset with any device with a 3.5mm output, you can connect it through PlayStation 4 controller port or Xbox One's headset adapter.
But for PC you should use the USB sound card adapter. However Hyper Cloud 2 has a great build, they are comfortable enough with excellent sound for gaming and they are compatible with most computers and mobile devices.
5. Hyper X Cloud Alpha – Last Pick

The Hyper X Cloud Alpha is one of the best affordable gaming headsets priced under $100.This headset gives you more than what you pay. People would prefer wireless or USB-equipped headsets, but if you need old-school wired headsets, then there is no better choice than Hyper X Cloud.
The build quality is strong, with an aluminium frame and soft matte plastics on the ear cups. They feel comfortable with a relaxing gripping force, with plenty of foam padding on the cups and headband.
The microphone cable and earcups can be removed and replaced. The Leather material used in Hyper Alpha gets a little warmer than cloth but creates a tight seal around the ears.
But they are still extremely comfortable during long gaming sessions. There is only one set of earpads included with the package, it's a bit disappointing and unusual for Hyper Alpha headsets.
HyperX Alpha's microphone connects quickly and easily to the headset's side and can be adjusted. Connecting it to the computer is super simple, with a short cable housing a single 4-pole headset jack for use with consoles and other devices.
The Alpha starts to display its powers when it comes to audio quality. Without a doubt, these are the most excellent headsets in their budget range. Whether you are streaming YouTube videos or playing tropical music from Soundcloud, the Cloud Alpha never fails to produce crystal-clear, well-balanced audio.
It's fair to say that it has a slight bass-heavy sound profile, but they are excellent for gaming, unlike some of its rivals, it never gets too loud.
The microphone is also top-notch in many regards, as it is crystal clear and concise. Although, it's not something we suggest for those looking to stream professionally.
Still, these are among the best headset microphones we've ever used, and they perform brilliantly. For those looking for a gaming headset with a low price tag, the HyperX Cloud Alpha is the ideal option.
Its versatile design makes it perfect for PCs, mobile devices, and gaming consoles, and the audio quality is massively better than that of the other headsets in its price range.
Though an extra set of earpads would have been great in the package, I can't think of any other downsides that would prevent anyone from buying them. If you want the best gaming headset at a reasonable price, the HyperX Cloud Alpha is undoubtedly the best option.
Final Verdict
We have reviewed the best five headsets for gaming purposes, especially for the Dead by Daylight game. Dead by Daylights audio is one of the aspects of its competitive nature. To get the ultimate experience, you need premium headsets with all the best features. The headsets on this list are all relatively affordable, well-made, and comfortable. You can choose any headset depending on your gaming requirements.