Samsung today announced the launch of its new mid-range mobile processor, the Samsung Exynos 7 9610. This 10nm processor will bring premium multimedia features to mid-range devices. Basically, Samsung?s Exynos 7 processor is used in mid-range line-up for Galaxy S-Series.
Samsung Exynos 7 Main Features
Aside from delivering enhanced multimedia features, the Samsung Exynos 7 will also deliver power and speed. Samsung?s decision to include Exynos 7 in coming up mid-range is a nice step. Exynos 7 features 4 Cortex A73 processing cores at 2.3GHz along with other Cortex A53 cores clocked at 1.8GHz. In terms of GPU performance, Mali-G72 will definitely not let you down.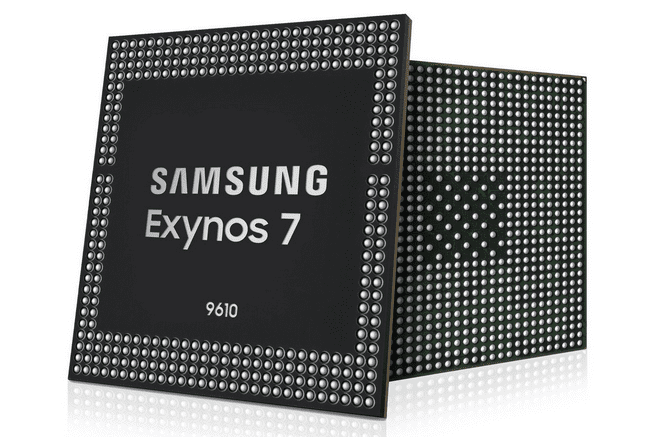 Furthermore, Samsung has also introduced low-power Cortex M4F chip along to enhance other features like gestures. It manages the sensors in the device to work efficiently without disturbing the main processor. ?Samsung Exynos 7 provides significant performance in the connectivity section as well. With a 13 LTE Modem that can attain download speed up to 600Mbps to Bluetooth 5.0, 802.11ac 2×2 MIMO Wi-Fi, and FM receiver it covers everything in it.
Samsung Exynos 7 9610 Enhanced Features
Summing up all, Exynos 7 chip comes up with some extra added multimedia features. Like high end image processing and super slow motion video recording. It couples image processing with Artificial intelligence to improve face detection, single camera out focusing, and improved low light performance. Samsung has really embraced the slow motion video with Samsung Galaxy S9. The S9 comes with super slow motion features which lets the users capture video at 960fps.
Finally, the Samsung Exynos 7 9610 supports the slow motion features in premium mid-range phones. It has support for slow motion video recording at 480fps in HD resolution. Moreover, the Exynos 7 can be utilize as premium codec to encode and decode up to 4K 120fps video. Finally, Samsung announced that the Samsung Exynos 7 will be produced on large scale in second half of 2018. This definitely means that we will see the Samsung Galaxy A8 2018 with Exynos 7 inside.