Deep learning has completely changed modern AI. This important algorithm that can automatically detect the important features out of data and can construct knowledge representation is amazing.
Deep learning has sculpted modern AI and the thing that deep learning needs though is tons of data and more importantly tons of computing. NVidia has advanced so far in deep learning that it's possible to do everything at the speed of light.
And it's only possible only when you are having NVidia DGX-2 which is the most powerful and gigantic GPU in the world.
Nvidia DGX-2 Specification and Features
This is the world's largest GPU which is equivalent to 16 Tesla V100 GB GPUs connected by 12 latest switch layouts called NVSwitch. These 16 Tesla V100's each with 32GM of memory creates a virtually 512GB memory. Now, this 512 GB of memory in total allows 14TB/sec of aggregate bandwidth which is totally awesome.
For example, If you are having 14000 movies on your computer with each movie having 10GB of space, it will take just 1 second for all those 14000 to get transferred across by NVidia DGX-2. Yes this GPU has 81,920 CUDA Cores and 2 PetaFLOPS to get things done in the blink of an eye.
How NVidia DGX-2 works?
The title of the World's largest GPU is not given to NVidia DGX-2 because it will occupy a whole room but due to the fact that it occupies the power of supercomputing inside it.
Every switch inside this GPU has 18 links which are 8-bits wide allowing them to process at 25GB/s on one signal. So, 18 of these links are bi-directional creating 7.2TB/s or 900GB/s bandwidth.
Every single GPU communicated with the other single GPU at 20 times the bandwidth of PCI-Express.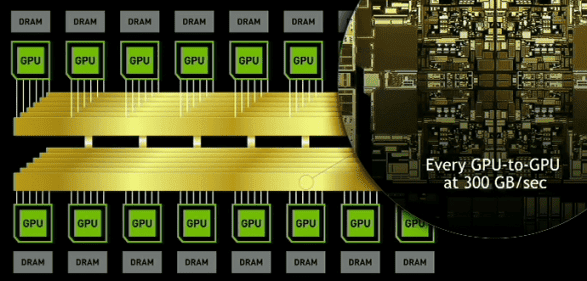 And every signal GPU can make a contact with other GPU without any obstacles because it's not a network, it's a switch.
Yes, it's a non-blocking fabric switch, a memory programming module that is exactly the same as inside a chip.
The latency of this chip is incredible, unlike a network, this a switch through which each GPU talk with another GPU with low latency. In addition, all these things together make NVidia's largest graphics card.
The design of NVidia DGX-2 is also a perfect example of how a high-end graphics card should be.
The amount of airflow is really quite amazing to cool it. NVidia has designed a pore fabric air intake at the front that looks beautiful and incredibly functional.
Air comes traveling through it and flows through all of the chips managing 10KW of power. This thing weighs 350lbs which is really heavy to lift up. I am just thinking that will it fit on my PC or my entire PC is going to be fitted in this thing.

This thing is 10X faster than NVidia DGX-1 which was rocking the floor 6 months ago. It might not be wrong to say that this a supercomputer designed for deep learning.
Networks are getting bigger day by day and so does the GPUs. But our guy here the DGX-2 can take care of those gigantic networks without any worries.
Higher Price but unbeatable performance
The first thing that comes to our mind after learning so many features is the price of NVidia DGX-2. Definitely, for a thing big like this there will be a higher price tag.
It took $100Million in engineering to process this device according to NVidia. And to create the very first DGX-2 it took almost $250Million.
NVidia set the price tag for NVidia DGX-2 at $399,000 which means it's totally out of reach for most of us out there. I am feeling really sorry for the gamers at this moment.
The Best GPU for AI on Planet
Obviously, NVidia DGX-2 is strictly meant for AI companies and not for gamers. As I have discussed above that for people who are focusing on deep learning programs, DGX-2 is the best alternative for them.
The progress that NVidia made so far is incredible to look at. Back in 2012, 2 NVidia GTX 580's took 5 days for deep learning. However, DGX-2 just takes 18 minutes to learn the way you want it.
NVidia has put all its effort into deep learning and this is some new type of computing we haven't seen before. The amount of data is growing exponentially.
There is evidence that with GPU computing, the computation is growing exponentially as well. And as a result, deep learning networks and AI modules are growing in capability and effectiveness at a double exponential.
More data, more computing, both are in exponential growth. And NVidia DGX-2 is here to take care of that growth and computing for you.