Being a full-stack developer demands a powerful laptop capable of executing diverse tasks such as programming, testing, running virtual machines, and handling multiple programs simultaneously.
Welcome to our comprehensive guide on finding the best laptop for full-stack developers.
As the demand for skilled developers continues to rise, having a powerful and efficient laptop becomes essential to stay ahead in this competitive field.
Whether you are a professional full-stack developer or an aspiring one, choosing the right laptop can significantly enhance your productivity, streamline your workflow, and bring out your creative potential.
In this article, we will explore the top laptop options available in the market, considering key factors such as processing power, memory capacity, storage options, display quality, and other crucial features that cater specifically to the needs of full-stack developers.
By the end, you'll be equipped with all the necessary information to make an informed decision and find the perfect laptop that will empower you to bring your coding projects to life.
5 Best Laptops for Full-Stack Developers
Here are the most reliable options to consider:
1. Apple 2021 MacBook Pro: Overall Best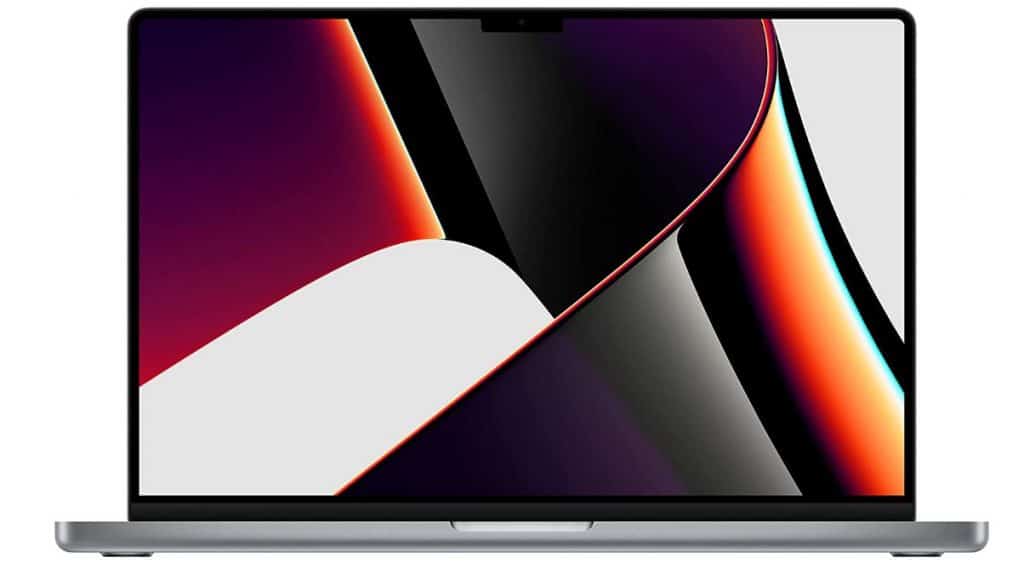 The MacBook Pro 16 is a highly regarded laptop among developers, especially for those within the Apple ecosystem.
Apple MacBook Pro's build quality, reliability, and performance make it a top choice among developers.
A durable and visually pleasing aluminum construction gives the MacBook Pro its sleek and slim appearance.
Display
Our review model features a diagonal display that measures 16.2 inches.
The Retina display of the Apple MacBook Pro gives a delightful user experience with its vibrant colors, intricate details, and outstanding color accuracy.
The viewing experience is further enhanced with True Tone technology, which automatically changes the display's color temperature to match the lighting environment.
Processing Power
Under the hood, the MacBook Pro packs powerful hardware.
It uses a System on chip (SoC), an Apple M1 Pro chip, and 10 core CPU with 8 performance cores, and 2 efficiency cores.
It offers up to 400 GB/sec memory bandwidth, and a 32-core GPU with up to 4x faster performance for graphics-intensive apps and games.
Furthermore, there is a 16-core Neural Engine that offers 5 times faster machine learning capability, delivering abundant processing power for resource-intensive applications.
Storage and RAM
The MacBook Pro is equipped with 512GB of SSD storage and 32GB of RAM.
SSDs ensure fast boot times, quick application launches, and snappy overall system performance.
Keyboard
The MacBook Pro also offers a reliable and comfortable keyboard with good key travel, enhancing the typing experience during long coding sessions.
The trackpad is large and responsive, supporting multi-touch gestures for efficient navigation.
Connectivity
The MacBook Pro offers a number of connectivity options.
Positioned along the right edge, users can find an HDMI-out port, one Thunderbolt 4/USB port, and an SDXC card reader with UHS-II support.
Although the absence of a USB-A port for legacy accessories is unfortunate, the use of dongles becomes necessary.
On the left edge, there is a headphone socket, two more Thunderbolt 4/USB 4 ports, and the newly reintroduced MagSafe 3 charging port.
Price
Even though the MacBook Pro is a high-end laptop, it's crucial to remember that it costs more than other models that are in direct competition.
However, many developers believe that the mix of performance, dependability, and the strong macOS ecosystem makes the investment well worthwhile.
Ultimately, the MacBook Pro is a versatile and powerful laptop that offers an excellent user experience for full-stack development.
What we like:
Gorgeous Liquid Retina XDR display
Incredible performance
HDMI output and SD card reader
Significant improvement in graphics performance over older M1 systems
Function keys replace the touch bar
What we didn't like:
Obtrusive camera notch
Little heavy
2. Dell XPS 15 9520: Best Value for Stack Developers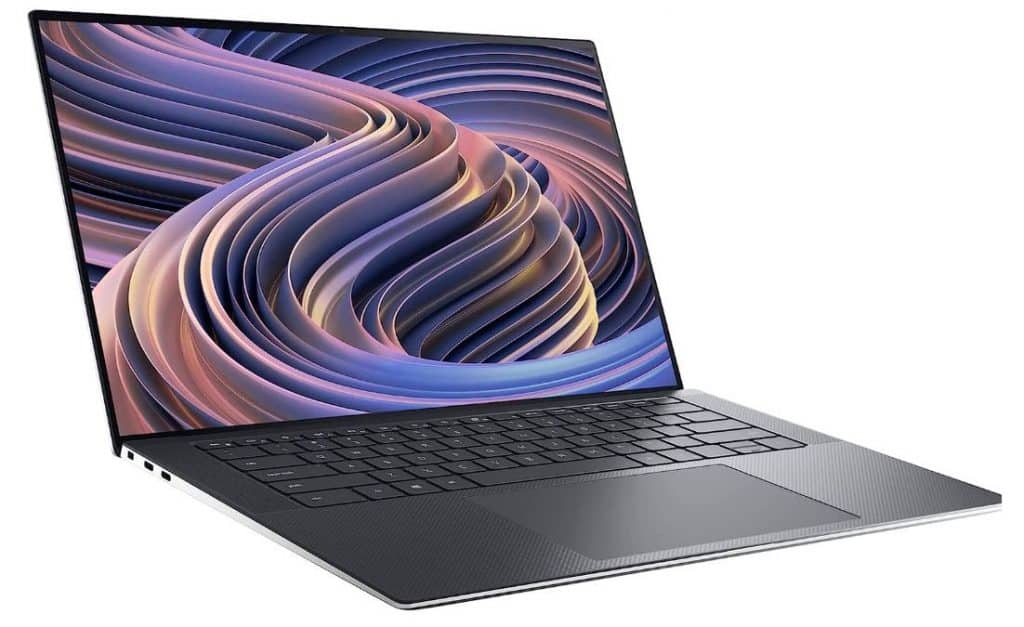 The Dell XPS 15 is a highly recommended laptop for full-stack developers who value both performance and style.
It stands out with its sleek design, impressive display, and powerful hardware configurations.
Display
Dell XPS offers a screen size of 15.6 inches with a resolution size of 1920×1200 pixels.
The display features thin bezels and an InfinityEdge design for a more immersive viewing experience.
It offers sharpness, clarity, and vibrant colors, making it suitable for various tasks including content creation and multimedia consumption.
Processing Power
The XPS 15 is equipped with the powerful 12th Generation Intel Alder Lake Tetradeca-Core i7-12700H processor.
This processor provides exceptional performance for several resource-intensive jobs such as software development, video editing, and 3D rendering.
Storage
The XPS 15 offers a strong and effective computing experience thanks to the pairing of 64GB DDR5 RAM and a 2TB PCIe NVMe M.2 SSD.
The large RAM capacity ensures smooth multitasking and fast data processing, while the spacious SSD storage allows for ample storage space and fast file access.
The ones who require a lot of memory and storage for intensive jobs like video editing, 3D modeling, virtualization, and extensive data analysis should choose this configuration.
Build Quality
The XPS 15 has excellent build quality, a premium feel, and attention to every little detail.
It boasts an aluminum chassis and a carbon fiber palm rest, which improves durability and gives the whole design a touch of elegance.
Keyboard
The Dell XPS 15 offers a comfortable and well-designed keyboard that is suitable for long coding sessions.
The combination of good key travel, responsive feedback, and customizable backlighting ensures an enjoyable typing experience.
Connectivity
The connectivity comprises USB-C, Thunderbolt 2 x Thunderbolt 4, HDMI, an SD Card reader, a fingerprint reader, and a headphone jack.
Battery Life
Dell XPS has excellent power management and huge battery capacity; it can last for a whole workday on a single charge.
This allows developers to work on the go without constantly needing to search for a power outlet.
Its excellent build quality, ample storage options, and comfortable keyboard make it a reliable choice for full-stack developers who seek both performance and style in their computing experience.
What we like:
Sturdy aluminum design
Vivid OLED display
Long battery life for the specs
Strong performance
What we didn't like:
Limited ports
Middling webcam
3. Lenovo ThinkPad X1 Carbon: Price to Performance Ratio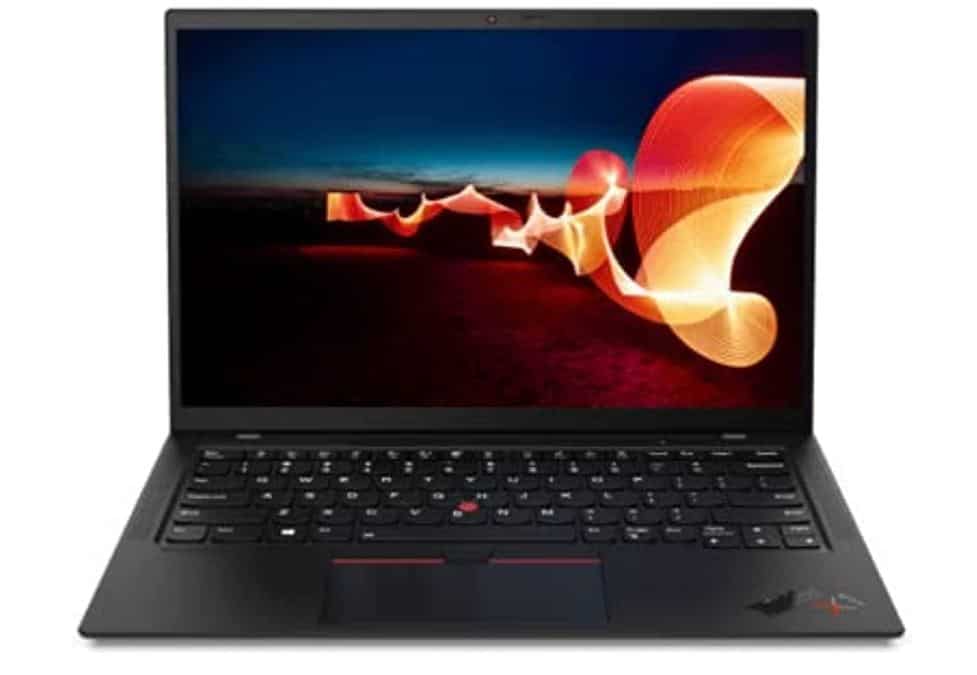 The Lenovo ThinkPad X1 Carbon is a highly acclaimed laptop that is well-regarded among full-stack developers.
It stands out for its lightweight design, durability, strong performance, and business-oriented features.
Design and Construction
The X1 Carbon combines sophistication and elegance.
It has a thin and light carbon fiber chassis that weighs between 2.5 and 2.8 pounds.
The laptop is exceptionally well made, with a sturdy design that can handle daily use and travel.
Display Options
The 14-inch HD display with a resolution of 1920×1200 pixels on the X1 Carbon strikes a solid mix between portability and screen size.
The anti-glare feature helps reduce reflections and improve visibility in brightly lit environments.
The displays deliver sharp and vibrant visuals with good color accuracy, making them suitable for coding, design work, and multimedia tasks.
Keyboard and Trackpad
The ThinkPad X1 Carbon is renowned for its comfortable and highly regarded keyboard.
It features the classic ThinkPad keyboard layout with concave keys, providing a great typing experience.
The keys offer good travel, tactile feedback, and a satisfying typing feel.
Additionally, the laptop's spacious and responsive trackpad enhances navigation and precise cursor control.
Performance: The X1 Carbon offers powerful performance options to meet the demands of full-stack development.
The 11th Generation Intel Core i7-1165G7 processor is a powerful and efficient CPU commonly found in high-performance laptops.
Storage and RAM
The X1 Carbon offers a storage capacity of 512 GB with a PCIe OPAL SSD.
However, 512 GB of storage might be plenty for many individuals, so it is crucial to consider your particular needs and usage.
You might want to think about using external storage or models with more capacity if you work with big media files, virtual machines, or other data-hungry apps.
In terms of memory, the X1 Carbon comes with 16 GB of LPDDR4X RAM.
Connectivity and Ports
The X1 Carbon provides a variety of connectivity options to accommodate various peripherals and external devices.
It consists of two Thunderbolt 4 USB-4 data transfer connections, Power Delivery 3.0 and DisplayPort 1.4a ports, one HDMI 2.0b port, and a 3.5mm jack for headphones and a microphone.
It also features 1 x USB 3.2 Gen 1 port and 1 x USB 3.2 Gen 1 always-on port.
These ports ensure seamless connectivity with monitors, external storage, and other devices commonly used in development workflows.
Battery Life
The X1 Carbon offers impressive battery life, allowing for extended work sessions without needing to be plugged in.
The laptop's battery life can give you from 10 to 15 hours depending on usage.
With its lightweight design, durable construction, ergonomic keyboard, and powerful performance, the Lenovo X1 Carbon presents an appealing choice for developers.
What we like:
Incredible performance
Phenomenal battery life
Business-friendly features
What we didn't like:
A little flexible
High price
4. The LG Gram 17: Big Screen Laptop for Professional Stack Developers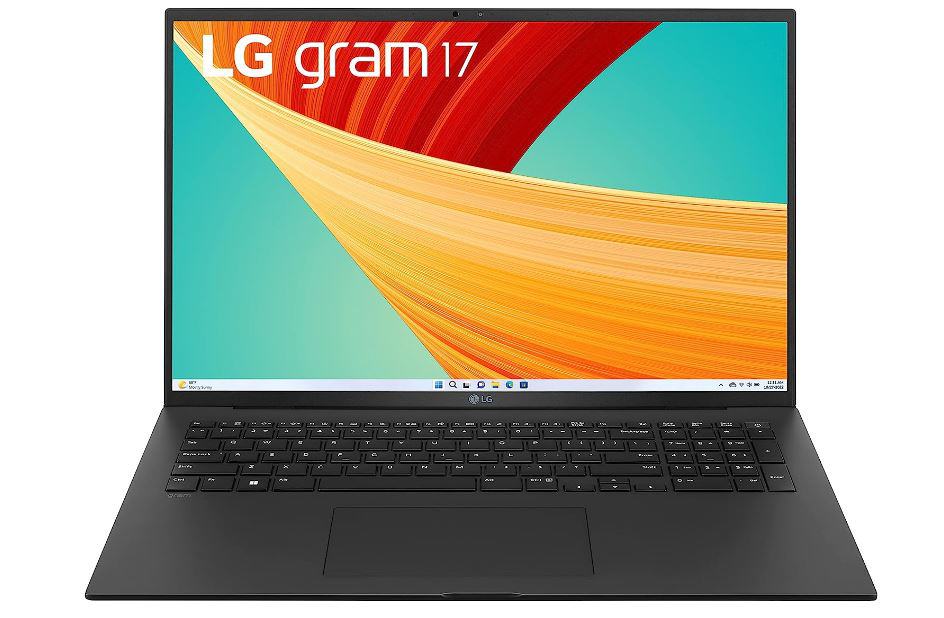 LG Gram 17 is a lightweight laptop that offers portability without sacrificing performance.
With its Intel 13th Gen Core i7 processor and Evo Platform certification, it provides a powerful computing experience for full-stack developers.
Lightweight Design
The LG Gram 17″ lives up to its name with its incredibly light build. This laptop is one of the lightest in its class, weighing only 2.98 pounds.
This makes it easy to carry around, ideal for developers who are frequently on the move.
Display
The LG Gram has a 17-inch IPS display with a resolution of 2560×1600 pixels.
This high-resolution display offers sharp visuals and excellent color reproduction, providing an immersive visual experience for coding, design work, and multimedia tasks.
Processor and Performance
Powered by an Intel 13th Gen Core i7 processor, the LG Gram 17″ delivers strong performance for demanding development tasks.
The 13th Gen Intel Core processors offer improved efficiency, faster speeds, and enhanced capabilities, enabling smooth multitasking, code compiling, and running virtual machines.
RAM and Storage
The LG Gram 17″ comes equipped with ample RAM and storage space, having 32GB of RAM and a 2TB SSD creates a powerful combination, allowing for efficient multitasking, smooth performance, and abundant storage capacity.
This configuration is suitable for professionals working with resource-intensive applications, content creators, gamers, and developers with ample storage for their files and projects.
Battery Life
The LG Gram 17″ boasts impressive battery life, which is essential for developers who need to work on the go or in locations without easy access to power outlets.
It can give you more than 15 hours on a single charge, allowing users for extended work sessions without worrying about running out of power.
Connectivity and Ports
The LG Gram comes with an ample selection of ports, including Intel Wi-Fi 6E and Bluetooth 5.1 Combo, two USB 3.2 Gen 2 Type-A ports, 2 USB 4 Gen3x2 Type-C ports, a Display Port, and Thunderbolt 4.
Keyboard and Trackpad
The LG Gram 17″ features a comfortable and responsive keyboard with well-spaced keys, allowing for comfortable typing during long coding sessions.
The trackpad provides smooth and precise cursor control, enhancing navigation and productivity.
Durability
Despite its lightweight design, the LG Gram 17″ doesn't compromise on durability.
It is built with a durable magnesium-alloy chassis that meets military-grade durability standards, ensuring resistance to shock, vibrations, and extreme temperatures.
Overall, the LG Gram 17″ lightweight laptop offers a powerful and portable solution for full-stack developers.
What we liked:
Light as a feather
Big and high-quality display
Fast performer
Refined port layout
Fans run very quietly
Long battery life
What we didn't like:
Slightly spongy keyboard
Trackpad has palm rejection issues
Webcam not Windows Hello compatible
5. ASUS ZenBook Pro Duo: Expensive Pick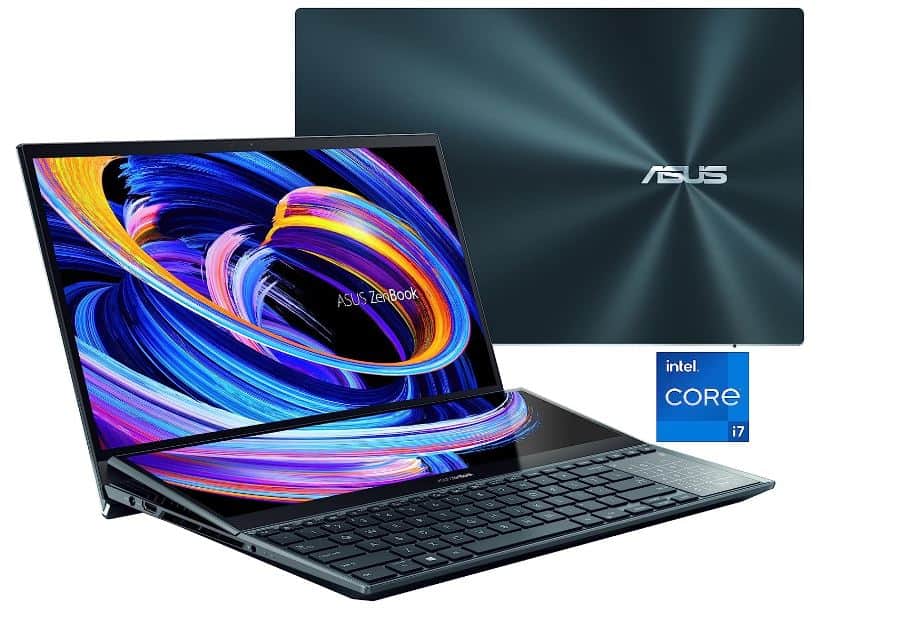 ASUS ZenBook is a unique and innovative laptop that caters to the needs of full-stack developers, creatives, and multitaskers.
It stands out with its dual-screen design and powerful performance.
Dual-Screen Design
The ZenBook Pro Duo 15 features a primary 15.6-inch 4K OLED display, which offers stunning visuals with vibrant colors and excellent contrast.
However, what sets this laptop apart is the secondary 14-inch 4K ScreenPad Plus display that sits above the keyboard.
This secondary touchscreen provides additional screen real estate, allowing for enhanced multitasking and productivity.
It can be used for displaying code, tools, and documentation, or even as a dedicated workspace for tasks like video editing or designing.
Performance
A combination of NVIDIA GeForce RTX 3060 graphics card and Intel Core i7-12700H processor makes the Asus ZenBook a high-performance laptop suitable for gaming, content creation, and productivity.
A powerful 12th generation Intel Core i7-12700H processor with eight cores and sixteen threads offers excellent performance for demanding applications.
RAM and Storage
ASUS ZenBook features 16GB of RAM and 1TB of Storage space.
If you frequently engage in heavy multitasking or professional workloads, you may wish to upgrade the RAM to 32GB.
The 1TB storage capacity provides ample space for storing your files, applications, and games.
Keyboard and Touchpad
The 3-step backlit keyboard of the ZenBook Pro Duo is impressive, offering ample key travel and comfortable spacing between keys.
The switches deliver accurate responsiveness and a satisfying clicking sensation.
In contrast, the touchpad is extremely disappointing. Apologies for the negativity, but it's both small and vertically oriented, making it awkward to use.
Moreover, its placement to the right of the keyboard is disruptive.
Connectivity and Ports
Considering the thickness of the ZenBook Pro Duo, its connectivity options are commendable.
On the left side of the device, there is an HDMI port, a 3.5mm audio jack, and a proprietary connector for the 240-watt power supply.
On the right side, there are two USB-C connectors with Thunderbolt 3 capability, as well as a USB-A 3.2 Gen 2 port.
Build Quality and Design
The ZenBook Pro Duo 15 boasts a premium build quality with a sleek and stylish design.
The laptop features a slim and compact form factor, considering its dual-screen design, making it more portable than expected.
Cooling and Performance Optimization
The laptop incorporates ASUS's cooling system, which features an innovative liquid metal thermal compound and a dual-fan design.
This helps in keeping the system cool and maintaining optimal performance during intensive tasks.
The ASUS ZenBook Pro is a powerful and innovative laptop that offers a unique dual-screen experience.
Its combination of powerful performance, dual displays, versatile design, and thoughtful features makes it an excellent choice for full-stack developers.
What we liked:
Powerful hardware in a thin package
Sturdy, attractive chassis
Secondary display
Long battery life
What we didn't like:
Dual display design compromises ergonomics
Few ports
Factors to Consider When Choosing a Laptop for Full-Stack Development
Processing Power
Always look for a laptop with a fast and efficient processor, such as an Intel Core i7 or i9, or an AMD Ryzen processor.
A powerful processor will handle complex tasks and compile code quickly.
RAM
Choose a laptop with enough RAM, ideally 16GB or more. Having more RAM enables smoother multitasking and running multiple development tools simultaneously.
Storage
Always pick a laptop with an SSD (Solid State Drive), it will speed up the boot times and reduce the application's loading time.
Also, you need to pick at least 256GB of storage space, but 512GB or even 1TB is even better if you have the budget.
Display
A high-resolution and color-accurate display is important for coding and design work. If possible, choose a laptop with a Full HD resolution (1920×1080) or higher.
An IPS or OLED panel provides better viewing angles and color reproduction.
Graphics
While full stack development doesn't heavily rely on graphics, if you work with graphics-intensive tasks like 3D modeling or design, consider a laptop with a dedicated graphics card (GPU) for better performance.
Battery Life
Look for a laptop with good battery life to ensure you can work on the go without constantly needing to recharge. Aim for a minimum of 6-8 hours of battery life.
Keyboard and Ergonomics
A comfortable and responsive keyboard is crucial for coding sessions. Consider laptops with well-spaced keys and good key travel.
Connectivity
If you need to connect external monitors, make sure you have enough USB ports, an HDMI or DisplayPort port, and any other connectors you might need.
Budget
Although premium laptops have strong performance, they are more costly.
However, mid-range laptops often provide a great balance between pricing and performance.
Conclusion
We have carefully examined the best 5 powerful laptops for Full Stack Developers; each laptop offers excellent features, specifications, and pricing.
Writing codes can be an intense task where you have to sit in front of the machine for hours while you play around with programming codes.
You need a laptop with good performance and a good display since it can get a little tiresome for your eyes.
The ideal laptop for full-stack developers is based on personal choices, budget constraints, and specific requirements.
References:
https://www.techradar.com/news/best-laptop-for-programming
https://www.livescience.com/best-laptops-for-coding-and-programming