Choosing the best smartwatches for seniors will be made easier if you pay attention to accessibility and emergency support. Accessibility ensures that a watch is easy to use and has a clear display, even for those with failing vision, the screen is large enough to tap buttons and icons without difficulty.
The same is true for emergency assistance, which may include fall detection that, when required, immediately calls emergency response or a trustworthy contact.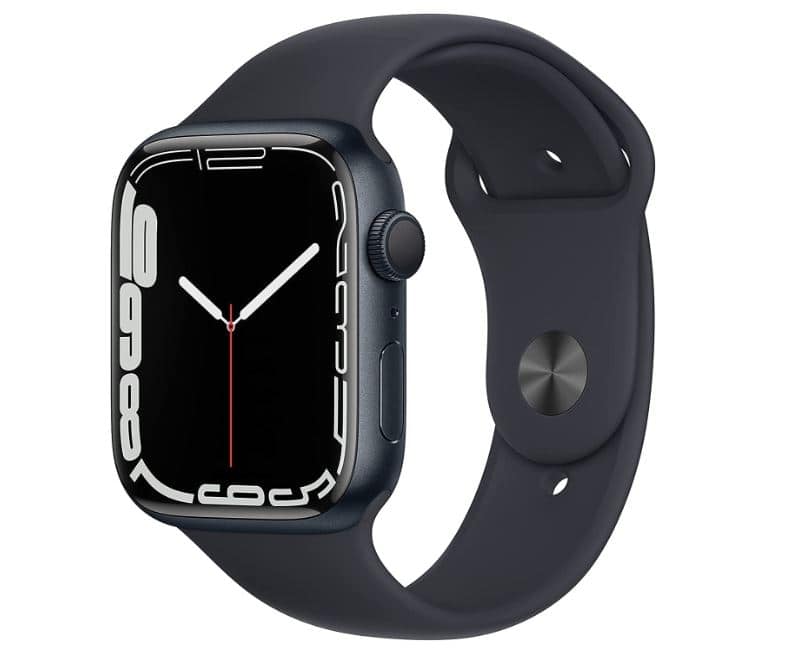 Apple Watch 7 comes with a classic-looking interface that's easy to understand for Seniors. It has an IP6X dust-proof rating and is swim-proof for pools and waves.
You can measure your blood oxygen level or heart rate by wrapping it around your wrist. Track your sleeping pattern or call SOS immediately with just a single touch, it got you covered.
The functionality of the smartwatch, including how easy to use its primary features, as well as its battery life and how frequently it needs to be recharged.
Apple is one of the most well-known tech firms in the world. Aside from phones and music players, it also makes smartwatches.
These gadgets have high-tech features like alarm systems and health monitoring for the safety and well-being of seniors.
Review of the Best Apple Watches for Seniors
We will examine the top Apple watches for seniors in this article. And we'll discuss what sets these items apart from the competition and how to pick the best device for your need.
1. Apple Watch 7 – Overall Best Pick
Apple's 7th-generation wearable, which was superseded by the Apple Watch Series 8, had the same CPU, the same 18-hour battery life, and didn't have any additional health features.
The larger display, however, changed the game and makes going back to earlier versions difficult.
The huge screen of the Series 7 allows wearable computing to be used for many everyday chores, allowing for productive work from your wrist.
The Apple Watch 7 offers a customized version of watchOS 8, while it is also now eligible for watchOS 9.
It features a full QWERTY keyboard, larger calculator keys, a brighter always-on mode, and distinctive watch faces.
Faster charging, more robust construction, and modern case colours are pleasant but practically afterthoughts.
This Apple Watch 7 review lists every change—big or small—that has been made to the product since it was lauded as the best smartwatch money can buy.
Since the Apple Watch 4, the device has undergone its first significant overhaul with the Apple Watch 7.
The display integrates more naturally into the chassis thanks to the slightly softened corners compared to the Series 6 as the first difference.
Even the larger Apple Watch 7 sizes (41mm and 45mm) don't give the impression that the wristwatch is bigger.
It is simpler to differentiate between the Series 7 and Series 6 versions thanks to the Apple Watch 7's brand-new colour palette.
Midnight is mainly black with a hint of blue. Starlight is a stunning mixture of silver and gold.
Apple continues to offer Blue and Red, although they are a little bit brighter this year.
If you prefer a more neutral metal, look for alternatives made of titanium or stainless steel.
Although I don't mind, you have a right to be concerned with how what you wear on a daily basis looks.
The Apple Watch 7 has the same water resistance rating (up to 50 metres) as earlier models, but it has received an IP6X certification for dust protection for the first time.
The newest Apple Watch should be more crack-resistant thanks to altered geometrics, making it a little safer to wear while engaging in physical activity.
Greater screen size is always preferred. It's fantastic how, as wristwatches get larger, they start to resemble miniature iPhones on your arm.
The screen of the Apple Watch 7 is larger than the screens of the Series 3 and Series 6, respectively, by more than 50% and 20%.
The display boundaries are also 40% thinner than before. The screen is curved in such a way that the borders of the user interface are visible from the side and the watch is simpler to read at an angle.
The pour-over effect is obvious with the new Contour watch face, though not as clearly as the promotional movies promise.
The Apple Watch 7 boasts a larger screen, thinner bezels, and an always-on mode that is 70% brighter.
This suggests that you won't notice a change while the face is awake in direct sunlight, unlike when comparing the Apple Watch 6 to the Apple Watch 5.
Instead, you should be able to see your screen better if you drop your wrist. I saw a big change from Series 6 in this instance.
The Apple Watch continues to be one of the top running watches and a solid fitness tracker.
It supports a range of training methods and uses GPS to record your heart rate, steps, and kilometres.
The battery life of the Apple Watch Series 7 can last up to two days, but only if you avoid using popular features.
Instead, the daily activity monitoring, always-on display, and a few phone calls answered from my wrist verified the 18-hour battery life.
When charged with the new Magnetic to USB-C charger that is included in the package, the Apple Watch 7 is said to charge 33% faster than the Apple Watch 6.
However, the Apple Watch 6 charged almost as quickly when I used the USB-C cord to charge it.
The best smartwatch choice for everyone with an iPhone, it's the best Apple Watch yet.
Pros:
Bright large screen
Fast charging
QWERTY keyboard

Cons:
Workouts are basic
Battery life should be long
Only two new watch faces
2. Apple Watch Series 6 – Best Value Apple Watch for the Elderly
With a new sensor, the top-tier Apple Watch Series 6 is a tiny bit faster, brighter, and cheaper, doing just enough to maintain its position as the leader in the smartwatch market.
It is available in two sizes, 40 or 44mm, with a range of casing materials and colours.
The 44mm watch has graphite stainless steel construction. It cannot be used with an Android device and requires an iPhone.
The new watch is just the Series 5 with a new blood oxygen saturation sensor on the back—more on that later.
In "always-on" ambient mode, it also boasts a faster chip and a 2.5x brighter screen, which is notably noticeable outside.
It is available in a few vibrant colours, such as blue or red aluminium.
It is pleasant to wear thanks to the several strap options it offers, such as the new Solo Loop and Solo Braided Loop styles, which are sized bands without a buckle or clasp.
The Series 6 is powered by Apple's most modern S6 chip, which is quick and responsive and beats even the best performance from rival smartwatch manufacturers.
Although it is on paper up to 20% quicker than the S5 chip in the Series 5 and the Apple Watch SE, it doesn't feel all that much faster.
However, compared to the Series 3 chip, which is still available for purchase, it is significantly faster.
Battery life is respectable but not exceptional.
The Series 6 lasts more than 36 hours between charges when the always-on display is on and sleep monitoring is enabled overnight.
Even with two manual ECG readings, two manual blood oxygen records, a tonne of alerts, and a 25-minute run.
A 25-minute outdoor run used roughly 4-5% of the battery, while nocturnal sleep tracking used between 10% and 12%.
The Series 6 charges far quicker than the Series 5: from zero to 100% in as little as 83 minutes, and from zero to 80% in just 56 minutes.
The Series 6 battery's anticipated life expectancy is not specified by Apple.
Similar batteries typically maintain at least 80% of their capacity for at least 500 complete charge cycles.
Series 6's case is made entirely of recycled aluminium, and other parts contain 99% recycled tungsten.
Instead of including a power adapter with the package, it uses a regular USB-A cord with its wireless charging puck.
The most recent version of Apple's WatchOS 7, which is also supported by the Series 3, 4, 5, and Watch SE, comes preinstalled on the Series 6.
Although WatchOS 7 added seven new watch faces and gave users the option to share the settings for the pre-installed watch faces.
The handling of notifications, including calls, texts, and message answers, is good.
Better than any other wristwatch with an iPhone is the Apple Watch's close connectivity with the phone.
Siri and Apple Pay are included in this. Although there are a good variety of third-party apps available, such as Spotify, Google Maps, and Strava.
For the watch to connect to the internet and use apps the iPhone must be within Bluetooth range, the watch must be linked to Wi-Fi, or the watch must have a 4G eSIM.
Once you are connected via one of those three, everything, including notifications from your phone, functions.
A large portion of the watch's functionality, such as tracking your fitness and health, is also fully offline-only.
Therefore, if you go for a run without your phone, it can track your location and provide you with essential stats.
You won't be able to utilise Apple Maps to find your location or receive messages without a 4G subscription for your watch.
Spotify has a drawback for runners. The watch can download songs from Apple Music to its 32GB of total storage for offline listening, but not Spotify.
In addition to the electrocardiogram (ECG) and heart rate sensors from Series 5, Series 6 contains a new sensor on the back that detects the blood's oxygen saturation, or SpO2.
You must manually turn on the Series 6 device and remain motionless with your wrist resting on a table for 15 seconds in order to measure it.
Although I cannot vouch for its accuracy in comparison to true, medial SpO2 monitors, it worked consistently for me and provided readings in the expected healthy range.
However, the new sleep tracking is unsatisfactory. Compared to competitors like Fitbit, Samsung, and Withings, it is limited and basic.
The Apple Watch measures how long you spend sleeping, but it only has a simple set-time alarm and doesn't assess the sleep patterns that can wake you up in the morning.
Additionally, it forces you to use Apple's sleep routine feature, which establishes a wake-up and bedtime and activates do not disturb (DND).
The Series 6 can track a wide variety of sports and has a battery life that will last most of a marathon.
Be aware that while Spotify cannot be played directly from the watch without a phone, Apple Music can.
Pros:
Blood oxygen app
New casings
Brighter display
Tracks sleep
Faster charging
Solid ecosystem
Cons:
Sleep and SpO2 metrics not in-depth
No third-party watch faces
No Android support
3. Apple Watch 4 – A Budget Option
There are four different models of the Apple Watch 4, 40mm, 44mm, with or without LTE, and both.
It is currently available for purchase in practically every nation on earth. It was released on the same day as the iPhone XS and iPhone XS Max in September 2018.
Remember that although Apple no longer offers the Apple Watch 4 for purchase through its website, you may still find it elsewhere online.
The design of the Apple Watch 4 is really what sets it apart from previous models.
This is because, while the additional health benefits are commendable and certainly make this a desirable device for those who require them.
The electro-cardiogram feature (ECG), which has only been made available in a few nations, notably the US and the UK, is another significant addition.
Additionally, there are a number of heart rate notifications, including one that monitors for atrial fibrillation (AF).
If anything concerning about your heart appears to be related to this condition, you will receive a pop-up message.
If your heart rate spikes or falls hard for no apparent cause for a long enough length of time the Watch 4 also has an alert system that will notify you.
Due to our regular jogging exercise, our heart rates are rather low, but the update did periodically ping in to let us know that the heart rate tracking was working.
Aside from the design, which we'll talk about in a bit, the Apple Watch 4's other significant advancements are more subtle.
Charming elements include a Digital Crown that (virtually) clicks, giving the appearance that lists are being checked off the wrist.
The entire system is quite entertaining, and it even makes a little noise.
Pros:
Good battery life
Nice build quality
Beautiful screen
Lightweight design
Loudspeaker

Cons:
Siri is unreliable
Still pricey
Minimum battery life improvements
Heart screening tools remain an unknown
Final Verdict
There are various models of the Apple Watch that are available if you're a senior looking to buy one.
The Apple Watch Series 6 is our top pick for most people in this category since it comes with all the newest features, including an always-on display, fall detection, an ECG monitor, an Sp02 monitor, and other delights.