Pure sine wave inverters are important when it comes to installing a new solar system, or electricity backup system. Almost all of the equipment is designed to use the sign waves. Some household appliances like microwaves and other speed motors will not produce full output if they will not use sign wave power.
If you have a lot of house appliances then you will need 2000W to fulfil the requirement of your appliances. There are a lot of pure sine wave inverters in the market but choosing the right one is very difficult. In the article, we will review the best 2000w pure sine wave inverter available on the market
The List of the Best 2000W Pure Sine Wave Inverter
Here are some of the top considerations:
Xantrex Prowatt SW2000 True Sinewave Power Inverter – Best Overall
Main Features
Built-in Digital Display
USB Port
Low Voltage Shutdown
Over Voltage Protection
GFCI Protection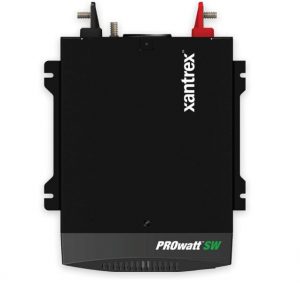 Xantres Pro Watt SW2000 is a pure sine wave inverter with a very good surge capability. It's very good for powering your household devices like refrigerators or small-medium size pumps. They are also designed for mobile use and can be used in RV, Vans, ting houses, and boats.
This inverter has a very nice display which will show you the voltage and battery consumption with respect to the devices connected to it. Also, it has a USB port for charging your cell phone or your tablet o anything which your 5V USB port.
It also has two GFI-protected outlets along with an optional on/off switch which you can mount while installing. You can also install this switch in your mobile application so you can only turn it on when the ignition is on in your car. This feature is very good and it will prevent your battery to drain slowly. Moreover, it's a compact sine wave inverter weighing around 5KG.
Now, this inverter comes with a two-year warranty and is 90% efficient which means you will have stand-by losses. When it does not have the load on it will draw less than 0.8amp. So it's a very little stand-by loss as compared to sine wave inverters in the market. Moreover, this inverter comes with overheat protection, which means if it pulls over 40 Degrees Celsius, it will shut down automatically to protect the unit.
Xantrex Prowatt has also got the low voltage shut down so if the battery gets down to 10.5V, it will shut off the inverter to protect your battery. It also has over-voltage shut down in case your plug it in a 12V battery.
All in all, it's a reliable 2000W sine wave inverter to install with your home power system.
Renogy 2000W 12V Pure Sine Wave Power Inverter – Best Value
Main Features
Overload Protection
Remote Controlled
GFCI Protection
LED Indicators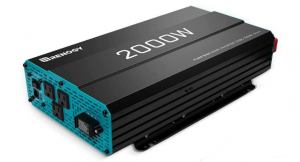 The Renogy inverter comes with two built-in AC outlets and a USB port. It has overload protection for both AC and DC outlets to prevent damage to the components.
It has a special LED indicator for voltage protection, over-temperature protection overload protection, and short circuit protection.
This inverter has high-speed ventilation fans which help to keep the inverter running at lower temperatures. It also has a remote control switch which helps you turn it on or off when it's needed.
This pure sine wave inverter is highly compatible with mobile installations like RV vans etc. However, the only downside is that it lacks an LCD display to monitor the battery and voltage.
Go WISE Power 2000W – Pure Sine Wave Inverter for Small Homes, RVs, and Computers
Main Features
5 Protection Systems
Remote Controlled
3 Output Sockets
Lightweight
USB Port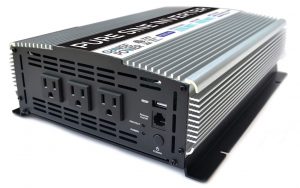 Go WISE Power has an ideal surge capability which makes this inverter perfect for household use. The surge capability of Go wise power is 4000W which is excellent as compared to other low-budget pure sine wave inverters available in the market. It has 3 outlet sockets and a USB port to charge your smart devices.
Moreover, this inverter is perfect for cars RVs and emergency vehicles, and other sensitive computer equipment. It also comes with a remote switch which can be very convenient if are planning to install your inverter in a side area.
It has thermal protection, overload protection, over-voltage protection, under-voltage protection, and low voltage protection alarm. If you will ignore the warning or you are not present it will shut down automatically to save the components.
Novopal – Heavy Duty 2000 Watt Pure Sine Wave Inverter
Main Features
Digital LCD Display
Remote Controlled
Efficient Cooling Fans
Overload Protection
Built-in Fuse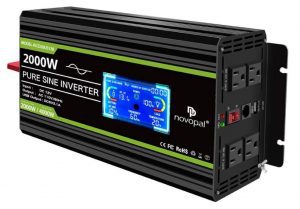 Novopal 2000 inverter is suitable for household use as well as mobile use for RV vans, etc. It has a mice-wired controller with a light display that shows battery status and other warning alarms.
This sine wave inverter has a digital LCD display that can show battery power supply, battery input voltage, ac output voltage, output charge, overvoltage, under-voltage, overload or short circuit warning, and power on or off. The body of
Novopal 2000 watt is made of aluminium to prevent any heat damage to the internal components. It has two silent yet powerful cooling fans which prevent it from overheating.
Also, the unit has 7 major safety protection features temperature control, overload protection, reverse polarity protection, short circuit protection, low voltage protection, and over-voltage protection.
In case one of the signs appears, the inverter will shut itself off to avoid damage to the components.
KRIPOL – An Ideal Pure Wave Inverter for Every Use
Main Features
Wireless Remote Control
Aluminum Alloy Body
Automated Overload Protection
Digital Display for Monitoring
Polarity Reverse Protection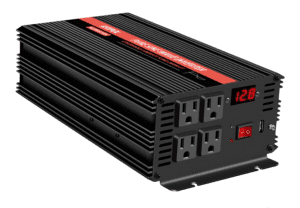 KRIPOL sine wave inverter unit is recommended for household use, mobile use, or emergency vehicles. It has four AC outlets and a USB port along with a digital display that shows power status. It also has a wireless controller which has an effective range of 50 to 80m.
The benefit of wireless control is to control the inverter from a distance without bending down, making it more convenient for you to use instead of a wired controller.
The unit has 7 seven major protection systems which are under-voltage, over-voltage protection, overload protection, over-temperature protection, short circuit protection, ac ground terminal, and reverse connection protection.
If it detects one of the signs it will turn itself off automatically to avoid further damage to the components.
Also, it has two high-speed cooling fans which help to maintain the temperature of the inverter. KRIPOL 2000-watt pure sine wave inverter comes with 1 year of full replacement warranty and lifetime customer service.
In the box, you will find an inverter, user manual, 2 sets of battery cables, 1 wireless controller, and x8 30amp fuses.
Pooxtra 2000W Sine Inverter for Domestic Use
Main Features
Cooling Fans
Remote Controlled
LED Indicators
Overload Protection
Built-in Display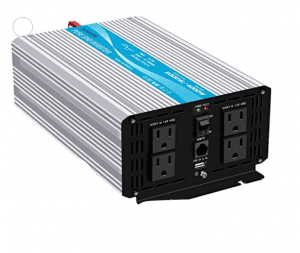 Pooxtra is best for keeping devices safe in your house or in RVs, Vans, or emergency vehicles. It has four AC outlets and a USB port, and a wired remote control through which you can turn it on/off. You can monitor the battery status and other warning signs on the built-in LCD display.
For the cooling system, this inverter is equipped with two efficient cooling fans. Moreover, the inverter holds safety features like over-temperature, overload, low or high voltage, short circuit, etc to keep your components safe. If it detects one of the signs it will automatically turn itself off to avoid damage to the components.
Pooxtra 2000wpure sine wave inverter comes with 12 months of warranty. In the box you will find 1inverter, 2x car battery cables, 1x ground wire, 1 remote control, and a user manual technical guide.
Conclusion
Finally, these were some of the top-rated 2000W pure sine wave inverters to consider at the moment. Now all of these units pack some kind of value for the end-users. However, our recommendation would be to go for the Xantrex Prowatt sine wave inverter as it sits on the sweet spot between price and performance.